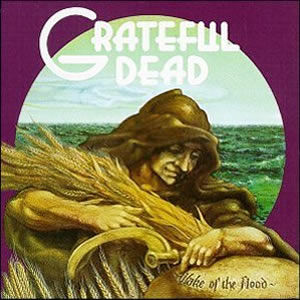 The Grateful Dead's long awaited sixth studio album, Wake of the Flood, marked a new era for the California band. Their first studio album in nearly three years, this was the first album on their independent Grateful Dead Records label as well as the first to feature the couple Keith Godchaux on piano and keyboards and Donna Jean Godchaux on backing vocals. This seven track album features compositions which draw from a blend of influences, ranging from the roots genres of country, folk and ragtime to a seventies modern fusion of funk and jazz rock.
In 1970, the Grateful Dead released two critically acclaimed studio albums, Workingman's Dead and American Beauty, where they scaled back their sound with heavy folk and country influences. Following this breakthrough success, the band did extensive worldwide touring and would release three live albums in three years – Grateful Dead in 1971, Europe '72 in 1972, and Bear's Choice in 1973. Keith Godchaux joined the group in 1971 as a pianist alongside founding keyboardist Ron "Pigpen" McKernan, when Pigpen was moved exclusively to Hammond B3 organ at the time. In 1972, McKernan's health deteriorated, leaving him unable tour, and  ultimately lose his life in March 1973 due to complications from liver damage. Percussionist Micky Hart also temporarily left the band during this era, leaving drummer Bill Kreutzmann as the sole member behind the skins.
In August 1973, the Grateful Dead took a break from touring to record studio versions of new songs which had been in live rotation. The band chose to record Wake of the Flood at the Record Plant in Sausalito, California, near their Bay area home base. The band self produced the album along with help from staff engineers and recorded everything is less than two weeks.

Wake of the Flood

by

The Grateful Dead
Released: October 15, 1973 (Grateful Dead)
Produced by: The Grateful Dead
Recorded: The Record Plant, Sausalito, CA, August, 1973
Side One
Side Two
Mississippi Half-Step Uptown Toodeloo
Let Me Sing Your Blues Away
Row Jimmy
Stella Blue
Here Comes Sunshine
Eyes of the World
Weather Report Suite
Group Musicians
Jerry Garcia – Guitars, Vocals
Bob Weir – Guitars, Vocals
Keith Godchaux – Keyboards, Vocals
Phil Lesh – Bass
Bill Kreutzmann – Drums, Percussion
Sonically, Wake of the Flood moves from very simple to more complex as the album moves along. The opening "Mississippi Half-Step Uptown Toodeloo" has a real loose, live feel as a down-home bluegrass track featuring the fiddle of guest Vassar Clements throughout. Jerry Garcia's lead vocals are somewhat low in the mix of this track which likely got its title as a play on "Mother McCree's Uptown Jug Champs", a mid-sixties bluegrass group started by Garcia, McKernan and guitarist Bob Weir. "Let Me Sing Your Blues Away" introduces Keith Godchaux to the listening audience as lead vocalist and co-writer with lyricist Robert Hunter. The first single from this album, this song has some strong melodic ideas and harmonies which are not completely formed on this recording.
Garcia's complex and rhythmic "Row Jimmy" is the first sonically satisfying song on the album as a ballad accented with clavichord and percussion to complement the usual fine bass by Phil Lesh along with dual guitar licks. The exquisite "Stella Blue" is the best showcase of Garcia's emotional vocals and is an overall well produced and tight ballad with an original and beautiful vibe with Hunter's lyrics telling a story of lost love and sadness.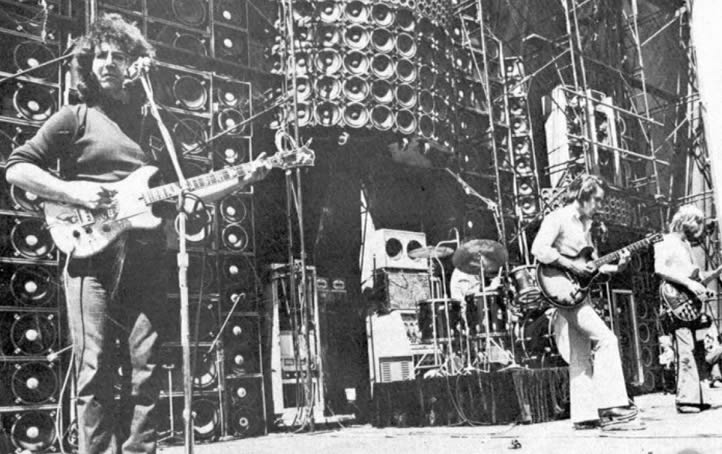 The album's second side starts with the song that gives album its title. "Here Comes Sunshine" features another rich musical mix with an optimistic story of better days to come. The funky track "Eyes of the World" furthers the group's sonic advancement into the fine mixes which they would display later in the 1970s, with great chord progressions, rudiments, rhythms and lead guitar. This leads to the album closer, Weir's fantastic, three part "Weather Report Suite", which showcases incredible, layered guitars and a smoothly put together and exquisitely produced jazz-influenced musical journey throughout. The "Prelude" section is an acoustic instrumental with slowly building rhythmic accompaniment, leading to "Part I", featuring lyrics by guest Eric Andersen. The song addresses the seasons, and their relationship to the narrator's state of mind. "Part II (Let it Grow)" feature's Weir's longtime lyrical partner John Perry Barlow and is the most upbeat part of the suite with music is perfectly laid out with various elements, including rich horns and a closing dual sax and harmonica lead, all making for a fine closing of this album.
Reaching the Top 20, Wake of the Flood fared better on the pop charts than any previous studio album. The Grateful Dead Records did not last all that long, collapsing in 1976, which resulted in this album all but disappearing from the marketplace for about a dozen years until it was issued on CD in the late 1980s.
~

Part of Classic Rock Review's celebration of 1973 albums.