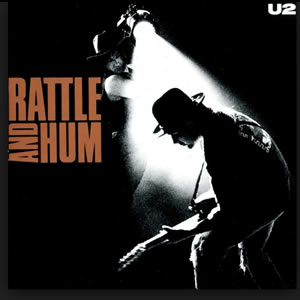 With some major commercial success in the bag by 1988, U2 decided to try something different. The ambitious double length LP Rattle and Hum is a hybrid of new studio tracks and live recordings comprised of select cover songs and previously released originals and this record was released along with a companion documentary film. The result is a collection that is both interesting and entertaining as well as uneven and disjointed, all of which was reflected in the album's mixed critical reception.
The idea for this album was spawned in mid 1987 during the tour supporting their highly acclaimed and commercially successful The Joshua Tree. Film director Phil Joanou pitched the idea to the band and they ultimately chose a late 1987 show  at McNichols Sports Arena in Denver, Colorado as the concert to film and record the bulk of the live material. The project's title was derived from a lyric from the song "Bullet the Blue Sky", which appears here as one of the live tracks.
Rattle and Hum was produced by Jimmy Iovine, with studio tracks recorded at several studios, including the legendary Sun Studio in Memphis, Tennessee. Much of this new studio material incorporated elements of American roots music such as folk, blues, Gospel and soul into U2's distinct rhythmic sound.

Rattle and Hum

by

U2
Released: October 10, 1988 (Island)
Produced by: Jimmy Iovine
Recorded: Sun Studio, Memphis, TN; Point Depot, Danesmoat & STS Studios, Dublin, Ireland; A&M Studios & Ocean Way, Los Angeles; McNichols Arena, Denver, CO; Sun Devil Stadium, Tempe, AZ; 1987-1988
Side One
Side Two
Helter Skelter (Live)
Van Diemen's Land
Desire
Hawkmoon 269
All Along the Watchtower (Live)
I Still Haven't Found What I'm Looking For (Live)
Freedom for My People
Silver and Gold (Live)
Pride (Live)
Side Three
Side Four
Angel of Harlem
Love Rescue Me
When Love Comes to Town
Heartland
God Part II
The Star Spangled Banner
Bullet the Blue Sky" (Live)
All I Want Is You
Group Musicians
Bono – Lead Vocals, Harmonica
The Edge – Guitars, Keyboards, Vocals
Adam Clayton – Bass
Larry Mullen, Jr. – Drums, Percussion
The album opens with an odd sequence of songs, starting with a live cover of The Beatles' "Helter Skelter", which is a bit smoother, cleaner and calmer than McCartney's original. Next comes "Van Diemen's Land", featuring guitarist The Edge on lead vocals for this sparse arrangement with picked electric and much reverb. The lead single from the album, "Desire" is the first place where the heart of the album is reached with a Bo Diddley-like rhythm working well as bedding for Bono's soaring vocals and fine harmonica. The song reached the Top 5 in the US and later won a Grammy Award. "Hawkmoon 269" finishes the original first side as a methodical track, built on repeated rhythms and lyrical motifs along with fine overdubbed, layered guitars.
The album's second side features all live tracks, starting with a cover of Bob Dylans's "All Along the Watchtower", recorded in San Francisco. Although upbeat throughout, the overall vibe is rather lethargic, not even coming close to capturing the magic of the Hendrix version on Electric Ladyland. "Silver and Gold" is a strong rocker with a folk-like lyrical delivery and a strong bass presence by Adam Clayton along with an explosive ending guitar lead by The Edge. Also included on side two are live versions of previous U2 hits "I Still Haven't Found What I'm Looking For" and "Pride (In the Name of Love)", with the former track featuring a Gospel-like arrangement with a chorus by The New Voices of Freedom.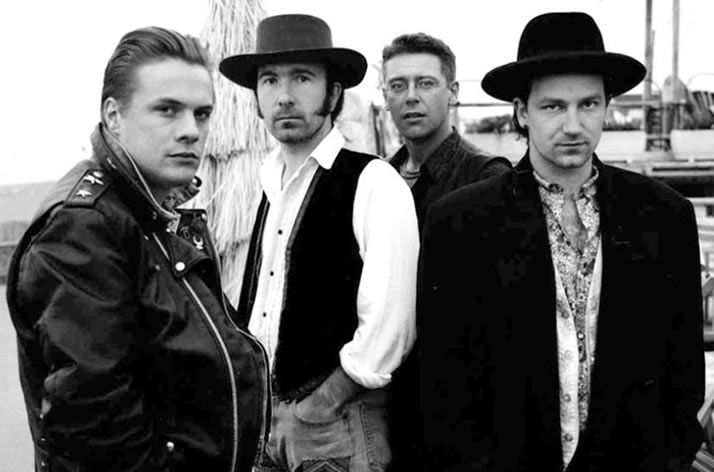 The third side of Rattle and Hum is the album's finest, starting with the exquisite "Angel of Harlem", a fine, lyrically rich Soul rendition which shows the group's musical versatility. Released as the album's second single, the song was a hit on both sides of the Atlantic. "Love Rescue Me" was co-written by Bono and Bob Dylan and it slowly fades in with harmonica and picked electric guitar. Arranged like a classic ballad, the track is quiet during the verses, exploding during choruses where Dylan joins Bono on vocals, and later on features The Memphis Horns. "When Love Comes to Town" features B.B. King on lead guitar and co-lead vocals and is held together with Clayton's thumping bass and rolling drums by Larry Mullen, Jr., all adding further unique elements to this album's potpourri of sound. "Heartland" closes the side through a slow, methodical intro before slowly building towards a full-throated, high octave chorus and arrangement.
The fourth and final side commences with "God Part II", an intense, rhythmic rocker with some dance elements and the chorus hook "I Believe In Love". The song was written by Bono as a sort of sequel to John Lennon's song "God" from his 1970 album Plastic Ono Band. After a short inclusion of Jimi Hendrix's Woodstock performance of "The Star Spangled Banner", comes the climatic live track "Bullet the Blue Sky", recorded at Sun Devil Stadium in Tempe, Arizona, featuring a persistent, mechanical motion. The album concludes with the ballad "All I Want Is You" with fine sonic effects over simple, strummed guitars along with an orchestral arrangement which adds to the song's beauty.
Despite the critical panning, Rattle and Hum topped the charts in over a half dozen countries and went on to sell over 14 million copies worldwide. It also marked the end of an era for the group as they headed into the 1990s and forged a new sound on future albums.
~

Part of Classic Rock Review's celebration of 1988 albums.