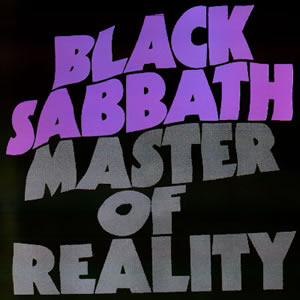 Black Sabbath's third album, Master of Reality, sees the quartet building on the foundations of their two 1970 albums and exploring new fusions of heavy rock n roll. Some of this was by design and some by a spontaneous happy accident resulting from the frenzied recording sessions in between a relentless touring schedule. The result was a highly influential album which was also the group's most commercially successful record of their classic era.
Recorded in late 1969, the group's self-tiled debut album contained a heavy dose of dark themes but was a surprise hit on both sides of the Atlantic. To build on this momentum, Black Sabbath returned to the studio just four months after the debut's release to record Paranoid, which migrated lyrical focus more towards real world themes. Combined, these first two albums altered the rock landscape by solidifying "heavy metal" as a sub-genre. Following Paranoid's release, Black Sabbath launched their their first tour of the USA.
Master of Reality was recorded during the Spring of 1971 with producer Rodger Bain, the group's third and final collaboration with this producer. Leading the group's sound was guitarist Tony Iommi, who expanded his instrumentation to include keyboards and flute and tuned his guitar down a few semi-tones to produce a darker sound. The material on this eight-song album is also very diverse in themes, styles and rhythms.

Master of Reality

by

Black Sabbath
Released: July 21, 1971 (Vertigo)
Produced by: Rodger Bain
Recorded: Island Studios, London, February–April 1971
Side One
Side Two
Sweet Leaf
After Forever
Embryo
Children of the Grave
Orchid
Lord of This World
Solitude
Into the Void
Group Musicians
Ozzy Osbourne – Lead Vocals
Tony Iommi – Guitars, Keyboards, Flute
Geezer Butler – Bass
Bill Ward – Drums, Percussion
The album begins with its most indelible tune, "Sweet Leaf", with an odd but memorable beginning which is actually Iommi choking on a joint between recording takes. The song then instantly launches into a slow, simple but powerful distortion-drenched riff and, after two verses, Sabbath breaks into a rapid jam with bassist Geezer Butler and drummer Bill Ward following Iommi in playing rapidly before returning to the main theme, which feels even more potent at this point. The lyrics are an unabashed love song to a piece of choice vegetation and is credited and is cited as the birth of stoner rock. "After Forever" has a less doomy, more upbeat rock feel with some synthesizer by Iommi who also provides a twangy but heavy opening guitar riff. The lyrics were written by Butler and mainly focus on Christian themes, which contradicted the views that many held of Black Sabbath as Satanic;
"Could it be you're afraid of what your friends might say if they knew you believe in God above? They should realize before they criticize that God is the only way to love…"
The half minute long "Embryo" is an odd interlude, which sounds like it has Scottish origins and acts as an intro to the dramatic side one closer, "Children of the Grave". This mostly straight-forward, heavy jam contains some anti-war themes and has been cited by vocalist Ozzy Osbourne as the group's most "kick ass song".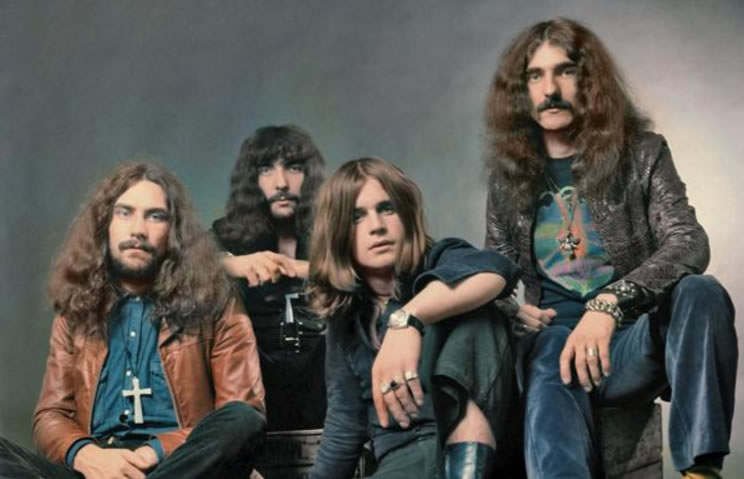 The album's second side features some lesser known tracks, starting with "Orchid", a finger picked, folk acoustic instrumental which at once adds some real character to the album and is slightly surreal in its hypnotic repetition of patterns. "Lord of this World" returns to the doomy metal but with very animated drums by Ward in the beginning and later sloshes through some bluesy rock riffing and slight jamming. "Solitude" starts with some picked guitar and a unique bass pattern by Butler, while Osbourne's somber vocals are almost English folk in verses as a very laid back, dark and moody track. "Into the Void" features the crisp, strong riffing during the extended intro before the song eventually migrates to the classic-style song proper as an interest jam to complete the album.
Certified double platinum after selling 2 million copies, Master of Reality was Black Sabbath's only Top 10 album in the US until the year 2013. The group built on this success with a world tour through 1972, before finally taking a break to work more methodically on their follow-up album.
~

Part of Classic Rock Review's celebration of 1971 albums.