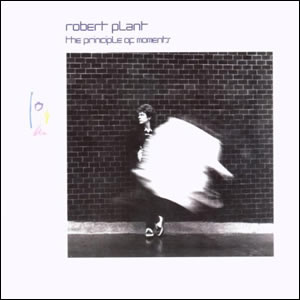 The 1983 release of The Principle of Moments was the second solo album by Robert Plant, following the disbandment of Led Zeppelin in late 1980. The album follows close on the heels of Plant's debut, Pictures At Eleven and employs the same musicians and production team. Recorded in Wales, the production was polished and clinical while maintaining enough rock edge to keep it original and interesting. Plant had declined to tour following his debut because he didn't want to perform any Led Zeppelin songs live and didn't yet have enough original solo material to justify a tour. With the release of this second album, Plant's second life as a major recording artist took was fully spawned.
The Principle of Moments was the first release on Plant's independent label Es Paranza Records, after the folding of Led Zeppelin's label Swan Song, which was also the label from Plant's debut. Swan Song ceased operations due to the failing health of Zeppelin manager Peter Grant. When Swan Song's offices were cleared out in 1983, early demos from Iron Maiden, Heart and other popular bands were found.
The sound of The Principle of Moments fuses new wave rock with some elements of reggae and abstract motifs and is percussion heavy with sharp, high-pitched guitars, led by guitarist Robbie Blunt and drummer Phil Collins. While not as dynamic as in the heart of the Zeppelin years, Plant's vocals are melodic and refined. The album's title comes from the scientific Varignon's Theorem, which states that the moment of any force is equal to the algebraic sum of the moments of the components of that force. With the experimental tracks on this album, Plant seems to be declaring his independence from the Zeppelin sound and celebrating his own "moment" in time.

The Principle of Moments

by

Robert Plant
Released: July 11, 1993 (Es Paranza)
Produced by: Robert Plant, Benji LeFevre, & Pat Moran
Recorded: Rockfield Studios in Monmouth, Wales, 1983
Side One
Side Two
Other Arms
In the Mood
Messin' With the Mekon
Wreckless Love
Thru With the Two Step
Horizontal Departure
Stranger Here…Than Over There
Big Log
Primary Musicians
Robert Plant – Lead Vocals
Robbie Blunt – Guitars
Paul Martinez – Bass, Vocals
Jezz Woodroffe – Keyboards
Phil Collins – Drums
Although not officially released as a single, the opener "Other Arms" reached number one on the Billboard Mainstream Rock chart. Musically, the song continues the style of Pictures at Eleven, melodic and heavy on the chorus backing vocals, a long way from the improvised arrangements of Zeppelin's early days. "In the Mood" (which was officially released as a single) follows and marks the point where the album starts to distinguish itself. Built on bassist Paul Martinez's very simple yet infectious bass line, with Blunt's simple, strummed chords on top and a strong percussion presence by Collins in contrast to laid back music and vocals. Plant's melody rhythm is almost like blue-eyed rap and this translated into a Top 40 single on the pop charts.
Keyboardist Jezz Woodroffe shines brightest on the ballad "Through with the Two Step", where Plant's melodic verse vocals drip with melancholy sweetness to the waltz of Woodroffe's wafty keyboards and in contrast to Blunt's excellent lead later in the song. "Horizontal Departure" is a very upbeat and entertaining, sex-infused rock song, like a new wave version of Zeppelin's "Whole Lotta Love". Again Collins has a very strong and dynamic performances on drums, contrasting against the very measured riffs of Blunt and Martinez.
The album's biggest hit is the closer "Big Log". Reflective and somber, this is a mature song in every respect, musically, lyrically and production-wise. It employs some of the better synth-era techniques – the rubber kick effect, snappy top beat – along with well refined guitars, a swell of long synths, and vocal choruses by session singers John David and Ray Martinez. But this song is a true showcase for Robbie Blunt, one of rock's forgotten great guitarists, whose cleaver Latin phrasing leaves the most indelible mark in this truly unique composition.
The Principle of Moments includes a trio of experimental songs. "Messin' With the Mekon" starts with an almost Jimmy Page-like riff before giving way to a moderate Caribbean groove with measured beats, although the arrangement does seems hollow when trying too hard to fit odd pieces together. "Wreckless Love" contains a mixture of electronic and Middle Eastern textures and other highly experimental arrangement that only gels due to Plant's strong melody. The song features Barriemore Barlow, formally of Jethro Tull, on drums, as does "Stranger Here…Then Oven There". Another experimental song with some brilliant verse vocals, this song also suffers from too many superfluous effects and arrangements, which do little more than interrupt the reggae beat and flow of the song's core.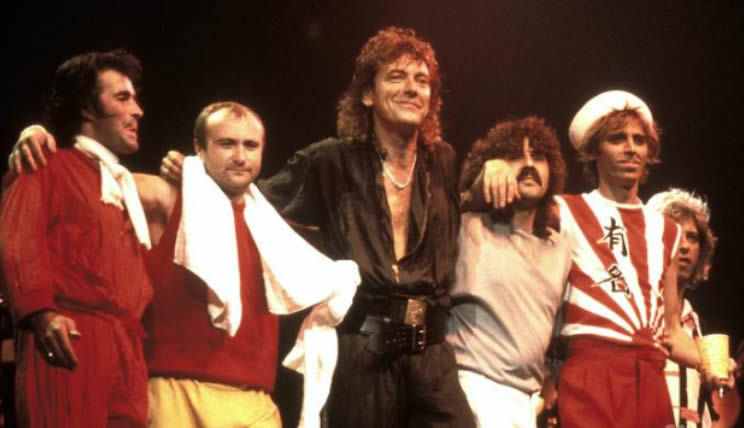 With two Top 10 albums under his belt, Plant launched a successful tour in late 1983, taking the stage for the first time since Zeppelin's Knebworth concerts in 1979. In the following years Plant would work with his former band mates sporadically, starting with the short-lived oldies project The Honeydrippers, while continuing to build his solo career.
~

Part of Classic Rock Review's celebration of 1983 albums.