Buy Love It to Death
Buy Killer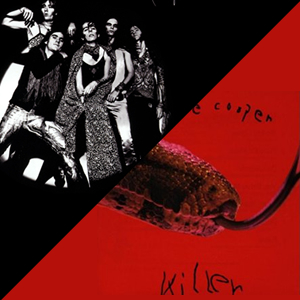 Due to his legendary live shows, Alice Cooper tended to get swallowed up by the stage persona that would come to define his career. But the foundation that preceded the stage act, was built on some very solid, very original, and very interesting music. In 1971, Alice Cooper was not merely the individual Vincent Damon Furnier, but was also a solid and excellent Alice Cooper Band which stood toe to toe with many of the more heralded groups of the day musically. Book-ending the year were two classic releases from this group, Love It to Death and Killer.
The band consisted of former members from the sixties rock band The Spiders, which Furnier joined as a 16-year-old in 1964. The Alice Cooper name and persona was adopted in 1968 and the following year they released their debut album Pretties for You. In 1970, the group recorded and released Easy Action, which was mired in production and censorship issues, temporarily halted the group's momentum.
That all turned around in 1971, with the release of these two albums, which are similar in many ways. Both were recorded at the RCA studios in Chicago, with the same performers and the same producer, the legendary Bob Ezrin. These albums are also similar in tone and style, which took a quantum leap here from the band's previous two albums. With this in mind, Classic Rock Review has decided, for the first time, to combine two albums into a single review.

Love It to Death

by

Alice Cooper Band
Released: January 12, 1971 (Warner Brothers)Produced by: Bob Ezrin
Recorded: RCA Mid-American Recording Center, Chicago, 1970
Side One
Side Two
Caught In a Dream
I'm Eighteen
Long Way To Go
Black Juju
Is It My Body
Hallowed Be My Name
Second Coming
Ballad of Dwight Fry
Sun Arise
Killer

by

Alice Cooper Band
Released: November, 1971 (Warner Bothers)Produced by: Bob Ezrin
Recorded: RCA Mid-American Recording Center, Chicago, 1971
Side One
Side Two
Under My Wheels
Be My Lover
Halo of Flies
Desperado
You Drive Me Nervous
Yeah, Yeah, Yeah
Dead Babies
Killer
Band Musicians (Both Albums)
Alice Cooper – Vocals, Harmonica
Michael Bruce – Guitars, Keyboards
Glen Buxton – Lead Guitars
Dennis Dunaway – Bass
Neal Smith – Drums
If we were to compare these albums with each other, Love It to Death would get a slight edge overall, primarily because it is more complete throughout. This album also contains the brilliant "Ballad of Dwight Fry", which is perhaps one of the greatest overlooked songs ever, due to it's haunting original theme and the quality of the music itself.
The song has some perfectly layered acoustic, a crisp bass line by Dennis Dunaway, an organ rotation by Ezrin, and a crazy, moaning electric guitar by Glenn Buxton. A perfect backdrop for the spastic, insane vocals of Cooper, which draw heavy influence from the poetry and theatrics of Jim Morrison and The Doors.
Love It to Death also contains more diversity than its successor, with "Black JuJu" drawing from Pink Floyd circa Saucerful of Secrets and "Sun Arise" being nearly the polar opposite, a happy-go-lucky pop song in the vein of the AM hits of the day. But the core of this album is made up of straight-out rockers.
Guitarist and keyboardist Michael Bruce actually had a bigger hand in songwriting than Cooper himself and his songs are some of the most recognizable on either album. On Love It to Death, these include the upbeat "Caught In a Dream" and "Is It My Body", along with the slightly doomier but brilliant "I'm Eighteen", the biggest early hit for Alice Cooper.
But while Love It to Death is the more complete album, the best "side" of music is the first side of Killer. "Under My Wheels" kicks things off with a guest appearance by guitarist Rick Derringer, followed by "Be My Lover", both of which are solid, accessible rockers by Bruce, and give the impression that this album will be much more mainstream than it's predecessor.
However this notion is quickly dismissed, as the band launches into the progressive "Halo of Flies", a King Crimson-esque virtuoso that features extraordinary playing, especially from drummer Neil Smith, and proves, without a doubt, that Alice Cooper was much more a band than an individual in 1971.
The side concludes with "Desperado", an excellent and completely original song that alternates between a moody crooner and an agitated shouter. It was allegedly written as a tribute to Morrison, who had died in Paris shortly before the making of Killer.
After this solid sequence of songs on the first side, Killer runs out of steam on the second, as the material becomes a little thin and gets very repetitive. Nonetheless, this album is worth owning right alongside Love It to Death.
Over the next two years, Alice Cooper the band would put out three more albums and continue to gain in popularity. Unfortunately, the live show cast an ever larger shadow and the band broke up by 1975, with Alice Cooper the individual carrying on as a solo act for decades to come.
~

Part of Classic Rock Review's celebration of 1971 albums.