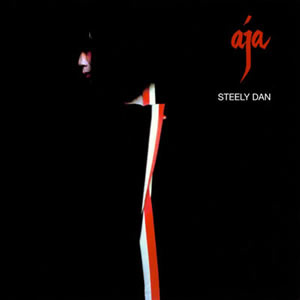 Aja was the best album produced by the Steely Dan. With the sixth album by the group, driven primarily by keyboardist and vocalist Donald Fagen and bassist Walter Becker, the songs became more sophisticated and oriented towards the individual songwriters. In fact, Fagen and Becker never really intended to have a band at all, just a songwriting team for ABC Records and producer Gary Katz. But when it became apparent that the duo's songs were too complex for the average ABC artist, they enlisted four more musicians and formed Steely Dan (named after a sex toy in William Burrough's poem "Naked Lunch") in 1972. Although Katz and engineer Roger Nichols would produce all their classic albums in the seventies, the musicians surrounding Fagen and Becker would change rapidly. In fact, by 1974 the band had ceased touring and concentrated on studio work.
For Aja, Fagen and Becker decided to utilize the vast amount of session musicians available in the Los Angeles area, especially top-notch jazz and rock musicians. In all, nearly forty musicians would perform on the seven-song album, including six different drummers, seven different guitarists, and eight to ten vocalists. Fagen and Becker were sonic perfectionists, not compromising on their envisioned sound. With the musicians, they obsessively employed a two step process that involved first perfecting their part and then getting beyond to where it sounds improvised and natural. For most of Aja they accomplished this well.
The album became the group's best-selling album and their first to go platinum. It also won a Grammy Award for Best Engineered Non-Classical Recording in 1978 and has become regarded by most as Steely Dan's finest work. Last April (2011), the album was added to the United States National Recording Registry and deemed to be "culturally, historically, or aesthetically important".

Aja

by

Steely Dan
Released: September 23, 1977 (ABC)
Produced by: Gary Katz
Recorded: Hollywood, CA & January-July 1977
Side One
Side Two
Black Cow
Aja
Deacon Blues
Peg
Home At Last
I Got the News
Josie
Primary Musicians
Donald Fagen – Keybords, Synths, Vocals
Walter Becker – Bass, Guitars, Vocals
The album crashes in with the simple bass and key groove of "Black Cow", modern sound by 1977 standards. But with the introduction of the fine chorus made of multiple voices, it is clear this is Steely Dan. The song gradually builds through a vibraphone lead by Victor Feldman, later swelling into some fine brass which adds a much more jazzy touch to the already upbeat tune. Although the writers claim a "black cow" is simply a milkshake from their childhood days around New York City, it may be a jazz metaphor on 1970s nightlife. The main riff of the song was reused for the hip hop "Deja Vu (Uptown Baby)" by Lord Tariq & Peter Gunz.
The title song "Aja" follows as a progressive jazz suite that hops skips and jumps all around the musical palette. It incorporates elements of Caribbean music, progressive rock, and swing within the eight minute epic, which incorporates pieces of older, unreleased songs. The song is the longest and most musically complex song that Becker and Fagen ever attempted and it features several virtuoso performances, including those by drummer Steve Gadd, guitarist Denny Dias, and tenor sax by Wayne Shorter that is the purest jazz Steely Dan ever recorded.
"Deacon Blues" is the absolute pinnacle of the Steely Dan sound. It is built of complex piano chord patterns that never really seem to repeat and flavored with just the right amount of brass, laid back at some intervals, forceful and pulling at others. There great vocals throughout, starting with the perfectly delivered lead by Fagen and the ensemble of backing vocals during the choruses. The drum beat by legend Bernard "Pretty" Purdie is perfect, a guide rail along the tour that keeps all moving at a constant pace despite the ever changing sonic surprises throughout the song's duration. Becker described the lyrics as "close to autobiography", about suburban kids looking for some king of alternative culture, imagining what it is like to be a jazz musician or beat poet in the city. The song contains the memorable lyric;
"They've got a name for the winners in the world, I want a name when I lose / They call Alabama the Crimson Tide, call me Deacon Blues…"
Here they use the analogy of college football success (Alabama Crimson Tide) and failure (Wake Forest Demon Deacons) in the 1970s, stressing their desire to be with the losers, the outsiders, the alternative. "Deacon Blues" was also a rarity in being a complex and extended piece which also became a popular hit, peaking at #19 on the Top 40 charts.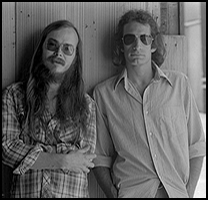 The biggest pop hit from Aja is "Peg", which contains a funky guitar riff, lead horns, slap bass, and layers of jazzy vocal harmonies led by Doobie Brother Michael McDonald. Even this relatively simple song, has a jazz oriented edge and an uncanny melody. Ever the perfectionists, the song's guitar solo was attempted by seven different session guitarists before Fagen and Becker agreed that Jay Graydon's version was the best. Still, Graydon worked on it for about six hours before they were satisfied.
"Home At Last" is a nostalgic look back at New York after Fagen and Becker relocated to California. The song once again features Purdie on drums (doing his famous "Purdie Shuffle") as well as Chicago blues-man Larry Carlton on guitar. "I Got the News" follows as a typical mid seventies Steely Dan tune, perhaps the most uninspired on this album.
The album concludes with "Josie", the most rock-oriented song on the album, albeit heavily funk oriented. In fact, the album's liner notes refers to the song as "punkadelia", a fusion of funk with a more sardonic lyric. The recording features several more studio innovations ranging from the incorporation of synthesizers to the inclusion of a garbage can lid by drummer Jim Keltner.
Aja is a measured and textured album, filled with subtle melodies and lush instrumental backdrops. On this album Steely Dan would reach heights that they could not replicate in the future, as they would release only one album (1980's Gaucho) over the following two decades. Aja was Donald Fagen and Walter Becker at their finest.
~

Part of Classic Rock Review's celebration of 1977 albums.