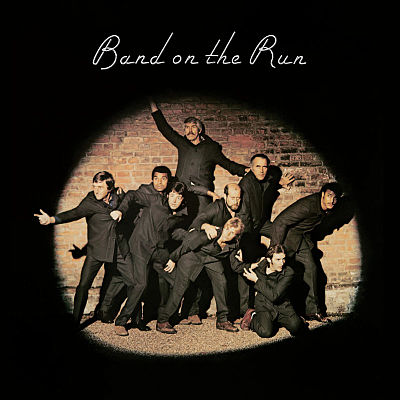 Paul McCartney finally hitting on all cylinders in his post-Beatles career with Band on the Run. It was his fifth such album since the 1970 breakup of the Fab Four and the third with his new group, Wings. He had made a respectable solo debut and a another good album, Ram in 1971, with his wife Linda McCartney. But then came the first two Wings album – the utterly forgettable Wild Life in late 1971, and the somewhat better but vastly uneven Red Rose Speedway in early 1973. During 1972 and 1973, McCartney was putting out much better material as non-album singles than the material on his albums. But that all changed with Band on the Run, an album which would be widely considered his finest.
The songs were all written by Paul and Linda McCartney at their Scottish retreat in the Summer of 1973. Red Rose Speedway was a commercial success and that was followed up by the Top Ten charting song "Live and Let Die" from the James Bond film of the same name. The couple also wanted to find an exotic locale to record this album and discovered that EMI had an international affiliate in Lagos, Nigeria. Coming into the project, Wings were a five person group. However, lead guitarist Henry McCullough and drummer Denny Seiwell dropped out of the band on the eve of their departure for Africa. This left Wings as a trio with guitarist and pianist Denny Laine along with the McCartneys. Paul McCartney took on the roles of the departed musicians as well as produced the album. Engineer Geoff Emerick was the fourth and final person to make the trip to Lagos.
Upon arriving however, the four discovered a militant nation with corruption and disease and a ramshackle studio which was under equipped with only one 8-track tape machine. Several incidents also plagued Wings during their time in Lagos stay. Paul and Linda were robbed at knife point while out walking one night and the thieves got away with a notebook full of handwritten lyrics and song notes, and cassettes containing demos for songs to be recorded. On another occasion a local political activist accused the group of being in Africa to exploit and steal African music and threatened to riot at the studio until McCartney who played the songs for him proving that they contained no local influence whatsoever. Paul McCartney also suffered a sudden bronchial spasm during one session which left him unconscious. Despite all of these distractions, the album did manage to get recorded on time and with limited post-production done back in London.
The album's cover photo was shot by Clive Arrowsmith and features an expanded "band". Along with Paul, Linda and Denny the photo includes journalist Michael Parkinson, comedian Kenny Lynch, actor James Coburn, columnist Clement Freud, actor Christopher Lee, and boxer John Conteh. While not quite as iconic as Sgt. Pepper's Lonely Hearts Club Band, the cover of Band on the Run has become one of the most famous in rock history.

Band On the Run

by

Paul McCartney & Wings
Released: December 5, 1973 (Apple)
Produced by: Paul McCartney
Recorded: Lagos, Nigeria, August–September 1973
Side One
Side Two
Band On the Run
Jet
Bluebird
Mrs. Vanderbilt
Let Me Roll It
Mamunia
No Words
Helen Wheels
Picasso's Last Wors (Drink to Me)
Nineteen Hundred and Eighty-Five
Band Musicians
Paul McCartney – Lead Vocals, Guitars, Bass, Piano, Drums & Percussion
Denny Laine – Guitars, Keyboards, Percussion, Vocals
Linda McCartney – Keyboards, Vocals
Although Paul McCartney had previous and future albums where he played virtually every instrument, this album is probably his most important accomplishment. Beyond stepping in at the last moment to provide the bulk of guitars and drums, McCartney also forged fine vocal melodies and chameleon–like changes in tone and inflection to fit the mood of each track. His arrangements are spectacular, especially on the mini-suites, and the productions are rich. This was also the album where McCartney first really started to develop his own style on bass and brought it up to the forefront of the mix.
The opening title song "Band On the Run" is one of the absolute classics of McCartney's solo career. This three-part medley follows sequentially (at least among album tracks) the 4-part medley which ended Red Rose Speedway. After a complex two-minute intro, the third, acoustic-driven title part is the melodic payoff. The song strikes the balance between being experimental with unique structure yet accessible enough to make it impossible to be ignored by the pop world. McCartney credits George Harrison for coining the term "Band on the Run" during an acrimonious Apple board meeting in the Beatles' final days.
"Jet" is a great follow-up to the fantastic opener with layers of sound, and an exploding chorus (like a jet). This rocker has great harmonies and background vocals in general and the title may have been influenced by the McCartney's Labrador Retriever. Unlike most of the rest of the album, recorded in Nigeria, "Jet" was recorded back at EMI's Abbey Road Studios in London.
The first side concludes with a couple of unique rockers. "Mrs Vanderbilt" is a driving acoustic tune with chanting vocal inflections during the verses and a great bass line throughout, which really stands out. The opening lines borrow from a catchphrase from music hall performer Charlie Chester. While recording in Lagos, the studio suffered a power outage so overdubs were later added in London. "Let Me Roll It" contains a bluesy rolling guitar riff during the verses and use of tape echo on the vocals, following a Fafsa organ and bass intro. The tune has long been considered to be an answer to John Lennon's "How Do you Sleep?" from his 1971 album Imagine.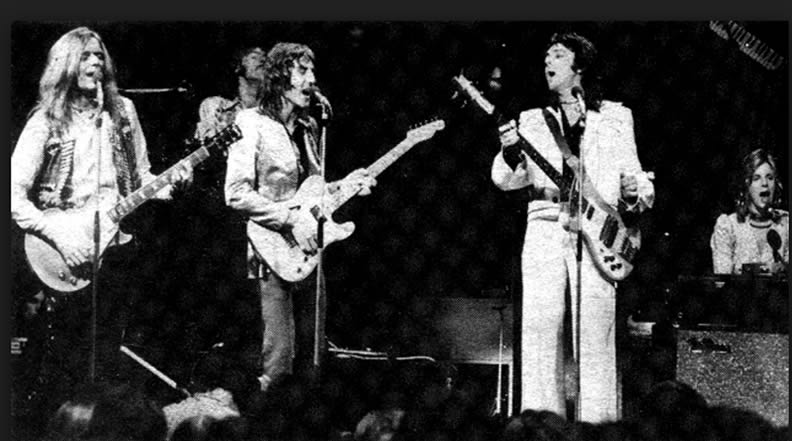 Side two begins with the very bright and acoustic "Mamunia" with more melodic and bouncy bass throughout. The lyrics are a bit nonsensical, more wordplay than meaning, but a cool synth lead near the end adds some variety and a new level to the sound. "No Words" is an electric song with judicious use of orchestra and sounds a lot like Harrison, vocal-wise. It jumps through several sections rapidly with differing instrumental arrangements, sounding somewhat under-developed and confused. It was the only song on the album partially credited to Denny Laine. "Helen Wheels" takes a simpler rock/pop approach with some whining vocal effect above a hook good enough to make it a hit song, peaking at #10 in the U.S. and #12 on the U.K.
"Picasso's Last Words (Drink to Me)" is another attempt at a multi-part suite, starting as an acoustic, almost Scottish folk tune and evolving through sections with clarinets, heavy strings, and even some odd percussion added by Ginger Baker, who was also recording in Nigeria at the time. The repetitive nature tilts a bit towards the infamous "You Know My Name (Look Up the Number)" with its repetitiveness and contains slight reprises of "Jet" and "Mrs Vanderbilt" in the mix. The album concludes with "Nineteen Hundred and Eighty-Five", a great closer which really gets into the beat and rhythm with a vaudeville flavor. It takes some judicious breaks for vocal chorus with sustained organ before coming back to great effect and builds towards a climatic ending with heavy brass brought in to add to the tension before it finally breaks and abruptly reprises in the chorus of "Band on the Run" which fades the album out.
Band on the Run was the top-selling album of 1974 in both England and Australia and it won the Grammy for "Best Pop Vocal Performance By a Duo, Group or Chorus" in early 1975. The album was also the last time the group would be called "Paul McCartney & Wings" as they would simply be "Wings" for the duration of their existence and it was also McCartney's final album on the Apple Records label which he started with his fellow Beatles five years earlier.
~

Part of Classic Rock Review's celebration of 1973 albums.