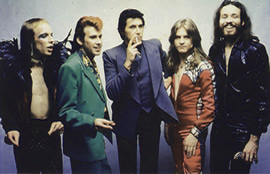 When you're an early-1970s rock band that tours with your own fashion designer, hair stylist, photographer and "PR consultant", chances are you'll take some heat. Roxy Music, the English glam-art band formed by Bryan Ferry, Brian Eno and Graham Simpson, was a big proponent of style, so much so that legendary rock critic Lester Bangs said the band represented the "triumph of artifice", Despite their early detractors, the band proved highly influential to both the glam-rock movement and new wave/punk musicians, including David Bowie, the Sex Pistols, Siouxsie and the Banshees, the Cars, Grace Jones, Kate Bush and many more.
While very popular in the U.K., the band's lush, highly produced tracks, prominently featuring electronic synthesizers, were not widely embraced in the United States. Like his band mates, lead singer Ferry was an ex-art student, and saw rock n' roll as performance art. Eno, who became widely known for his ambient productions, proved to be a pivotal influence over David Byrne and the Talking Heads.
They are perhaps best known in the U.S. for their music videos, each a minor cinematic masterpiece. A seamless integration of music and film propelled Roxy hits, including "More Than This" and "Love Is the Drug". Some of their best work came late in their career, including the great make-out album Avalon, which showcased Ferry's theatrical, crooning voice.
The band continued to perform through the early 2010s, remaining true to their dedication to style and production values. We agree with Rolling Stone magazine, which ranked Roxy Music number 98 on their "100 Greatest Artists of All Time" list. The brought the swag, the sex appeal and the surreal to every show they performed. On the 42nd anniversary of their first appearance at the Great Western Express Pop Festival, we celebrate one of the most influential bands of the rock era.
~
Article by Marcelo Molina