Buy The Lamb Lies Down on Broadway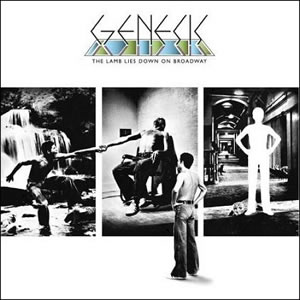 Perhaps the most "out there" album by Genesis as well as out Classic Rock Review Album of the Year, The Lamb Lies Down on Broadway, is a rich double-length concept rock opera. The complex album was built in two phases with the overall story arc and lyrics written by front man Peter Gabriel and much of the music composed earlier by the other band musicians. Serendipitously, it all came together with some truly brilliant moments both musically and lyrically. However, this was not enough to prevent the ultimate parting of ways between the group and Gabriel, who departed Genesis about a year after this album's release.
After the success of their 1973 album Selling England by the Pound and the subsequent tour, Genesis headed to the famous Headley Grange mansion (which Led Zeppelin and Bad Company had previously inhabited) to write and develop material. However, the building was in poor condition and, believing the house was haunted, several band members found it difficult to sleep. Gabriel was absent from these sessions due to personal problems and most of the music was worked out by keyboardist Tony Banks, bassist.guitarist Mike Rutherford and drummer Phil Collins. In fact, Rutherford had began composing a theme based on Antoine de Saint Exupéry's The Little Prince but Gabriel insisted on composing an original story himself to the point where there was friction at the mere suggestion of a lyrical adjustment.
Lead guitarist Steve Hackett, who was a standout on the previous two albums, admitted he was pretty much "an innocent bystander" on this album, although he did manage to conjure a handful of impressive guitar leads. In contrast, The Lamb Lies Down on Broadway was probably the finest overall musical effort for Banks and Collins. Banks' range on this album stretched from his use of both the nearly outdated Mellotron and some brand new synthesizers, while this may be Collins' best overall performance as a drummer on an album which is highly rhythm driven.
Co-produced by John Burns, the album contains some advanced musical techniques and some very modern compositional approaches that touch on the yet-to-be formalized genres of punk and new wave. The album also features Brian Eno, who is credited with the "enossification" of several tracks with his mastery of synthesizers.

The Lamb Lies Down on Broadway

by

Genesis
Released: November 18, 1974 (Atco)
Produced by: John Burns & Genesis
Recorded: Island Mobile Studios, Wales, August–October 1974
Side One
Side Two
The Lamb Lies Down on Broadway
Fly On a Windshield
Broadway Melody of 1974
Cuckoo Cocoon
In the Cage
The Grand Parade of Lifeless Packaging
Back in N.Y.C.
Hairless Heart
Counting Out Time
The Carpet Crawlers
The Chamber of 32 Doors
Side Three
Side Four
Lilywhite Lilith
The Waiting Room
Anyway
Here Comes the Supernatural Anaesthetist
The Lamia
Silent Sorrow In Empty Boats
The Colony of Slippermen
Ravine
The Light Dies Down on Broadway
Riding the Scree
In the Rapids
It
Group Musicians
Peter Gabriel – Lead Vocals, Flute, Oboe
Steve Hackett – Guitars
Tony Banks – Piano, Keyboards
Mike Rutherford – Bass, Guitars
Phil Collins – Drums, Percussion, Vocals
Banks has a long classical piano intro to the title track, "The Lamb Lies Down on Broadway", which persists throughout behind the rock arrangement. Gabriel's new vocal style for this album is also established here, as is Rutherford's aggressive bass approach. Lyrically, the song introduces the protagonist Rael, who emerges from a night of mischief to witness an odd occurrence, and includes a slight rendition of The Drifters' "On Broadway" in its outro. "Fly on a Windshield" is a direct sequel to title song, with strummed acoustic and spooky backing effects. Rutherford described the original inspiration as "Pharaohs going down the Nile" prior to Gabriel's lyrics being added. In the story, Rael witnesses a big cloud solidify like a screen and follow him as he flees up Broadway, showing up pictures of what existed around it in the past. These images are described in "Broadway Melody of 1974", a short but highly excellent track with a simple, choppy rock riff.
"Cuckoo Cocoon" is the first song on the album set up like a recent Genesis song, with picked guitar, melody, flute, and good vocal melodies. In the story, Rael regains consciousness to find himself wrapped in a cocoon and in some sort of dark cave. On the album's first side, the group seems to try too hard to link songs in a continuum, However, the intro to "In the Cage" contains an exception link as it builds towards driving rhythms. The song itself builds tension with odd timings and beats, as all the instruments seem to be doing their own independent thing but yet somehow all jive together. There are exception rhythms by Rutherford and Collins and fantastic, multi-part leads by Banks in the long mid section. Noticing he is trapped in one of several linked cages, Rael sees his brother John for the first of several encounters that add metaphor to the deeper story. Next, Rael is spun into an empty modern hallway with a highly polished floor. much like a modern department store for "The Grand Parade of Lifeless Packaging". Musically, this is a radical turn from the dramatic to the light and entertaining as this marching song builds with each verse, employing grand effects and instrumentation along the way.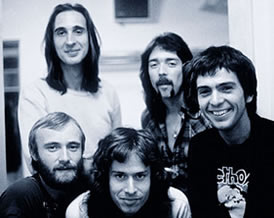 The album's second side begins with "Back in N.Y.C.", which was way ahead of its time musically. Gabriel's vocals are at their most desperate and strained in an excellent rock manner above the synth motifs and pounding rhythms. Much tension is built through the music of Banks, Rutherford, and Collins, especially in the bridge section. This is the first of three tracks where we learn of Rael through retrospective stories, here revealed to have been a thug and pyromaniac in his past. "Hairless Heart" is the first instrumental of the album with some English style acoustic slight pedal guitar by Hackett and a thicker synth lead by Banks. The title reverts back lyrics in "Back in N.Y.C." and seems to indicate a softer side to the character. "Counting Out Time" is the last of the retrospective trio, a light and entertaining pop song with just a touch of funk and wild, synth-effected guitar lead in the most "enossified" of any song thus far on the album. This lighter song speaks of Rael's first intimate encounter, which he tried to execute through specific instructions from a book entitled Erogenous Zones.
"The Carpet Crawlers" brings us back to the present and the main plot, and is one of the most heralded tracks on the album. This pleasant and moody contains good harmonies by Collins and Gabriel's lead vocals get more and more animated as the song goes along as more and more is being discovered by Rael in this dark room. Here, the protaganist finds himself among others for the first time as they point upwards towards an endless staircase that leads to a chamber which they "got to get in to get out". "The Chamber of 32 Doors" starts with dramatic intro and guitar lead until the song proper is driven by bouncy bass of Rutherford, which slow to three-note measured rhythm during next desperate post-verse section. This fine, multi-part composition finds Rael facing the difficult choice of choosing the appropriate door. Here there is a bit of editorializing on the types of people to trust in this endeavor;
"I'd rather trust a countryman than a townman, You can judge by his eyes, take a look if you can, He'll smile through his guard, Survival trains hard. I'd rather trust a man who works with his hands, He looks at you once, you know he understands, Don't need any shield, When you're out in the field…"
The person Rael chooses to lead him is the blind "Lilywhite Lilith" who feels her way through but leads him to a cave that he believes will bring him death. Musically, the song contains dual lead vocals in a pretty heavy rock song with multiple rock guitars and an outro refrain that revises "Broadway Melody 1974" but with more dynamic vocals. "Lilywhite Lilith" is also the only track credited solely to Gabriel and Collins. "The Waiting Room" is the wildest, sound-effect laden piece of experimental music, which Collins called "The Evil Jam" when it was started by Hackett and Banks back at Headley Grange. "Anyway" was deveoped from an unused 1969 composition called "The Light" and is often overlooked as a classic. This beautiful and desperate piano tune captures the mood and the various thoughts when it appears that Rael's death is imminent. Just a hint of synths compliment the piano and later rock section with harmonized guitar lead by Hackett and great philosophical lyrics by Gabriel;
"Does Earth plug a hole in Heaven or Heaven plug a hole in Earth, how wonderful to be so profound when everything you are is dying underground…"
By contrast, "Here Comes the Supernatural Anaesthetist" is short, light and with little substance lyrically but its rock jam makes it entertaining overall. in all, the latter part of side three is the weakest part of the album, where it doesn't quite seem to flow well. "The Lamia" contains a quirky intro as it really doesn't fit with previous track. This long, story-telling piano ballad is very poetic and profound and probably the best song lyrically, but is slow developing musically until it finally ends with good lead by Hackett that seems to be cut off too soon. Here Rael faces death again in an erotic act that kills his seductive attacker. The most overt filler, "Silent Sorrow in Empty Boats" is all effect-laden, slow and surreal, but a weak way to end a side of a record.
A long, minute and a half instrumental intro with Eastern musical influence using various sound effects and percussion starts the extended "The Colony of Slippermen". Soon, it breaks into upbeat and bouncy theatrical sound, in the same vein as "The Battle of Epping Forest" from their previous album. Rael is a little disillusioned, when the grotesque Slipperman reveal that the entire colony have one-by-one been through the same glorious romantic tragedy as he and now Rael shares their physical appearance and shadowy fate. The only escape from this colony is through a dreaded visit to the notorious Doktor Dyper who will remove the source of his "desire" problem. During the long middle section, the story turns but music remains upbeat and entertaining. After a most dramatic loss, Rael calls for his brother John to help him, but he refuses.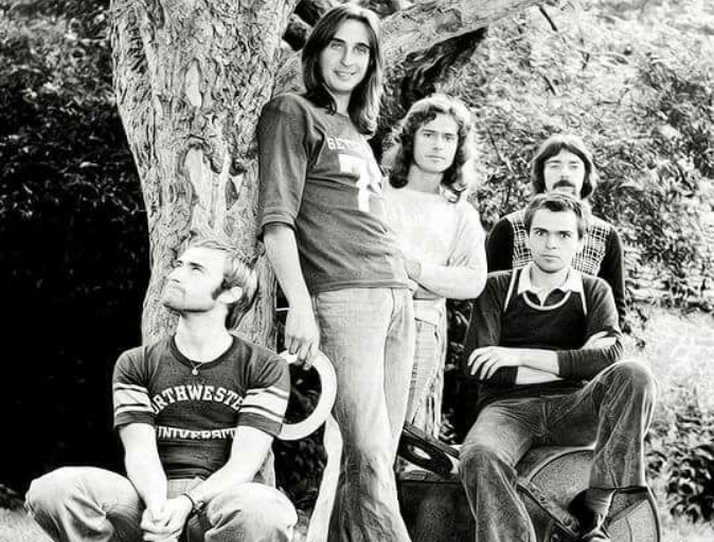 After "Ravine", another link song with little substance, comes "The Light Dies Down on Broadway", a recurrence of the opening song, but much more calmer and moderate. This is the only track where Gabriel did not write the lyrics (Banks and Rutherford took care of that) and it offers Rael a choice to "escape" back through a portal to New York City or save his drowning brother who had fallen in the rapids. He chose the latter, which carries through the next two tracks and the climax of the story. "Riding the Scree" is funky with odd-timed beats and carnival elements under a long synth lead by Banks. "In the Rapids" contains good guitars by Hackett throughout with layers as the piece builds in intensity. The moral of the story revealed here as Rael hauls his brother's limp body out of the water and looks to find it is not John's face, but his own. Collins remarked that the entire concept was about split personality, as Rael believed he is looking for John but is actually looking for a missing part of himself.
The closing track "It" contains fastly-strummed guitars and is upbeat and optimistic. This track is almost an epilogue outside of the main theme, as a song of discovery and revelation and directly quotes the Rolling Stones (then brand new) "It is only rock and roll but I like it" for it's final line. Ultimately, the entire meaning of this complex story is defined by "It", and "It" appears everywhere, either you get "It" or you don't.
The Lamb Lies Down on Broadway reached number 10 in the UK, but didn't cracking the US Top 40. Upon its release, Genesis went on a world concert tour and, at Gabriel's insistence, performed the album in its entirety over 100 times. Gabriel had already revealed to the band that he was leaving before the tour commenced, but did not make this public until after the tour in Summer of 1975. Although the album was hardly a success at the time, it is now considered a Genesis classic.
~

Part of Classic Rock Review's celebration of 1974 albums.