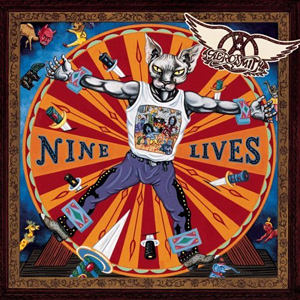 The last in a string of albums over a decade long commercial run, Nine Lives saw Aerosmith return to their traditional record label as well as return to their core blues-rock sound. Released in Spring 1997, a year later than originally intended, this album was produced through an arduous process, which included two distinct recording processes with two different producers as well as some internal personnel issues which further delayed its release.
Aerosmith had re-signed to a $30 million contract with their early career label, Columbia Records in 1991, but first needed to fulfill their contractual obligation with Geffen Records. Hence, the 1993 blockbuster studio album Get a Grip as well as the 1994 quasi compilation, Big Ones (which included the new hits "Dueces Are Wild" and "Blind Man") were released on Geffen. The next studio album was originally slated to be released by Columbia in 1996 and the band entered the studio with producer and composer Glen Ballard in Miami.
However, Aerosmith's drummer Joey Kramer needed to leave these sessions due to medical reasons and these early versions of the songs were deemed unsatisfactory by the record label. During this same period, the group also fired their long time manager and they appeared to be in disarray before re-grouping in New York in September 1996 along with Kramer and new producer Kevin Shirley. Here, the band decided to scrap the previous tracks and re-record the album from scratch.

Nine Lives

by

Aerosmith
Released: March 18, 1997 (Columbia)
Produced by: Kevin Shirley and Aerosmith
Recorded: Avatar Studios and The Boneyard, New York City, September–November 1996
Track Listing
Group Musicians
Nine Lives
Falling in Love (Is Hard on the Knees)
Hole in My Soul
Taste of India
Full Circle
Something's Gotta Give
Ain't That a Bitch
The Farm
Crash
Kiss Your Past Good-Bye
Pink
Attitude Adjustment
Fallen Angels
Steven Tyler – Lead Vocals, Paino, Keyboards, Percussion
Joe Perry – Guitars, Dulcimer, Vocals
Brad Whitford – Guitars
Tom Hamilton – Bass, Chapman Stick
Joey Kramer – Drums


Each song on Nine Lives features a co-writer from outside the quintet. Things do not start strong with the title song's multi-tracked cat wails nearly ruining the entire album when it is a mere 15 seconds old and, what's even more offensive, this meow effect is not even original, as vocalist Steven Tyler had used it before on the song "Cheshire Cat" from the 1982 Rock In a Hard Place. Co-written by Ballard, "Falling in Love (Is Hard on the Knees)" is an accessible bluesy rocker with a comic edge and a generous use of horn arrangements, which all worked to make it a radio hit.
The album really starts to become interesting with the Desmond Child 6:10 – an underrated power ballad, "Hole in My Soul", with an excellent melody in the pre-chorus and chorus and a slightly unhinged slide lead by Joe Perry. Desmond Child, who also helped pen the equally excellent "Ain't That a Bitch". This later track features a cinematic entrance with strings and distance brass before the song proper kicks in as pure blues rock with Tyler's vocals stealing the show above much musical atmosphere. This includes several subtle guitar licks, just enough strings to maintain the slightly surreal atmosphere and a slight but effective descending bass solo by Tom Hamilton.
"Taste of India" is a sixties-style psychedelic twist during a wild intro before finding an interesting beat and hard rock riff by rhythm guitarist Brad Whitford. This fusion of several styles and the pointed sarangi by guest Ramesh Mishra, make this a true original. Further sub-genres are explored through the album's heart with the country-tinged Southern rocker "Full Circle", the harmonica-laden heavy blues of "Something's Gotta Give", the urban atmospherics of "The Farm" and the frenzied, driving punk rocker, "Crash".
The true climax of the album comes with the clever and entertaining "Pink". Co-written by Richard Supa, this track is accessible, bluesy and original.  The song found both international commercial success as well as scored the band their fourth Grammy award of the decade for best song by a duo or group. The album's remaining tracks, "Kiss Your Past Goodbye", "Attitude Adjustment", and "Fallen Angels" are all fine tunes on their own but suffer due to the album's vast length as well as the juxtaposition to other fine tracks like "Pink", which far overshadow these more standard tunes. In this sense, less may have been more for this album.
Nine Lives topped the US album charts and reached the Top 10 in nearly a dozen other countries, making it a worldwide hit by any commercial standard. The momentum carried into the next year when the non-album single, "I Don't Want to Miss a Thing" became Aerosmith's first and only number one pop song, marking the ban's final high-water mark of a long and fruitful career.
~

Part of Classic Rock Review's celebration of 1997 albums.