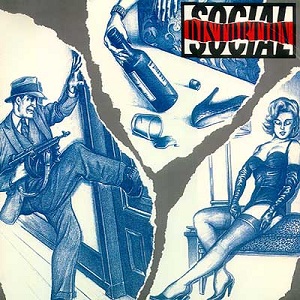 After working for over a decade to refine their sound, Social Distortion finally got their opportunity for a major label release in 1990. Their third overall album, Social Distortion,  displays the group's unique mixture of blues and rockabilly flavored punk rock. Led by primary composer and vocalist Mike Ness, the group found the time and resources to find their true sound. They also found themselves fortuitous beneficiaries of a changing musical environment, which was growing more receptive to alternative sounds.
Social Distortion was formed in 1978 by Ness and guitarist Dennis Danell. By 1981, the group released their first of many singles, which was followed by their debut album, Mommy's Little Monster in 1983, released on their own independent label. After a brief hiatus in the mid eighties, the band reformed with new members John Maurer on bass and Christopher Reece on drums and released their second album, Prison Bound in 1988.
After signing with Epic Records in 1989, the band returned to the studio with producer Dave Jerden. Now armed with more time and money than ever before, Social Distortion worked out a lean and powerful sound, partially influenced nearly in equal parts by The Ramones and by Johnny Cash.

Social Distortion

by

Social Distortion
Released: March 27, 1990 (Epic)
Produced by: Dave Jerden
Recorded: Track Record in North Hollywood, CA, August–October 1989
Track Listing
Group Musicians
So Far Away
Let It Be Me
Story of My Life
Sick Boys
Ring of Fire
Ball and Chain
It Coulda Been Me
She's a Knockout
A Place in My Heart
Drug Train
Mike Ness – Lead Vocals, Guitars
Dennis Danell – Guitars
John Maurer – Bass, Vocals
Christopher Reece – Drums, Percussion


Social Distortion begins with the track "So Far Away", written by Ness and Maurer. The two guitar riff attack with rapid rhythms highlights a very simple song structure, while the clear lyrical message gives song its head wagging creds. "Let It Be Me" is pure, raw, punk straight from the seventies and a good overall energetic performance highlighted by the creative way Ness drawls out the main title hook, all very adolescent and rebellious while still being apt musically. "Story of My Life" is one of the more melodic tracks with root rock n roll elements and nice backing vocals and medleys.
While entertaining enough, "Sick Boys" is really nothing new in its musical approach, just a bunch of Na Na Na's to make it sing-along-able. The fully punked-out cover of Johnny Cash's "Ring of Fire" subtly lets the main melody ring out through the distortion and is vastly entertaining even if it falls far short of the original 1966 masterpiece. The song was a minor hit, reaching #25 on the Modern Rock Tracks. Another hit radio , "Ball and Chain" features bright music which is contrasted by rough vocals, but they melodic enough to make it all work.
Coming down the stretch, the album gets only stronger. "It Coulda Been Me" is notable because of its fine harmonica interludes and a great lead later, while maintaining a sound that is very catchy and accessible. A long, upbeat drum leads into "She's a Knockout", a song which tilts towards heavy blues rock, at least musically. After a false stop halfway through, the whole song repeats again, virtually verbatim. "A Place in My Heart" is one of many tracks on this album which have a standard, love song-type title while actually being upbeat and intense. "Drug Train" is a bluesy romp to close the album, with excellent playing by each member, while sparse but effective lyrically. With a good harmonica and slight blues guitar leads, this track ends the album on a high note.
While Social Distortion only peaked at #128, it did remain on the album charts for over 20 weeks. More importantly, it set the band up for more success through the nineties and influenced a new sub-genre known as "cow punk".
~

Part of Classic Rock Review's celebration of 1990 albums.