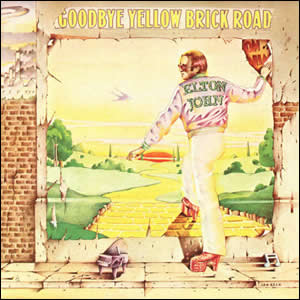 We've been down this road before of critiquing double albums which would have worked better as a single album. See our recent review of Exile On Main Street by The Rolling Stones or stayed tuned for our look at The Beatles' White Album later this year. Goodbye Yellow Brick Road, the 1973 double-length album by Elton John may also fit this mold. The album starts extremely strong, with deeply produced and thoughtful compositions through the first side and a half, but then the bottom falls out with a barrage of trite filler before a slight recovery towards the end of side four. The album comes at the end of an incredibly prolific, four and a half year span for John and lyricist Bernie Taupin. In that span which began in mid-1969, the pair had composed and recorded a live album, a film soundtrack, and six studio albums before this double seventh album.
After a failed attempt to record in Jamaica, the album was recorded in a 18th century castle outside Paris, France called the Château d'Hérouville, where Elton John had recorded his previous two albums, Honky Château in 1972 and Don't Shoot Me I'm Only the Piano Player earlier in 1973. Taupin reportedly wrote all the lyrics to the album's 17 songs in two and a half weeks while John composed most of the music in three days while in Jamaica.
The album was produced by Gus Dudgeon, who was not initially expecting to produce a two-record collection. However, John and Taupin had composed 22 tracks for the album and ended up recording 18 of these (two of which were fused together for the opening medley). This diverse double album recapped many of the styles (for good and bad) which John explored through his first four years in the spotlight and even added a bit of prog rock with the epic opener "Funeral for a Friend (Love Lies Bleeding)". This eleven minute epic starts with a long, multi-part instrumental with doomy organs accented by synths performed by engineer David Hentschel, and of course plenty of piano, all meant to replicate the type of music John envisioned played at his own funeral. When the song proper finally kicks in, it is riff-driven and melodic with a backing vocal chorus and a very active guitar by Davey Johnstone.

Goodbye Yellow Brick Road

by

Elton John
Released: October 5, 1973 (MCA)
Produced by: Gus Dudgeon
Recorded: Château d'Hérouville, Hérouville, France, May 1973
Side One
Side Two
Funeral For a Friend
Love Lies Bleeding
Candle In the Wind
Bennie and the Jets
Goodbye Yellow Brick Road
This Song Has No Title
Grey Seal
Jamaica Jerk-Off
I've Seen That Movie Too
Side Three
Side Four
Sweet Painted Lady
The Ballad of Danny Bailey (1909–34)
Dirty Little Girl
All the Girls Love Alice
Your Sister Can't Twist
Saturday Night's Alright for Fighting
Roy Rogers
Social Disease
Harmony
Primary Musicians
Elton John – Lead Vocals, Piano, Organ, Mellotron
Davey Johnstone – Acoustic, Electric, & Slide Guitars, Banjo, Vocals
Dee Murray – Bass, Vocals
Nigel Olsson – Drums, Vocals
The ballad "Candle In the Wind" was a recurring theme throughout Elton John's career, with three separate versions released as singles and reaching the pop charts in 1974, 1988, and 1997. This original version has the most rock "decor" with a strongly distorted guitar above the piano melody and more great harmonies, fitting the epic theme of this album. It's lyrics pay homage to Marilyn Monroe, with the actual phrase "candle in the wind" first used in tribute to Janis Joplin.
"Bennie and the Jets" is a choppy piano song with glam overtones about a fictional band (much like David Bowie's The Rise and Fall of Ziggy Stardust & the Spiders from Mars). It would go on to become one of John's most popular songs, but the artist was against releasing it as a single in the first place because original version in its first carnation was too "dry". Some live effects were added by Dudgeon to give the song some atmosphere, which livened it up enough for John to capitulate.
The title song "Goodbye Yellow Brick Road" is the finest composition on the album. It was written by Taupin, playing homage to the first movie he even saw as a child, The Wizard of Oz, and facing the realities of life as he had now grown up. John performs a signature vocal part in an extraordinarily high register, which Dudgeon claims is totally natural and completely improvised by John in the studio. The slowly-building arrangement reaches a full orchestral climax that leaves the listener wanting for more.
Side two has a couple of more fine tunes, the piano folk "This Song Has No Title" with light flute and soaring vocal melodies, and the upbeat "Grey Seal", with a driving bass by Dee Murray to complement John's boogie piano, with a definite 70s pre-disco sound. Then the album reaches its first song to not feel cohesive nor epic, like a bad joke in a serious drama, called "Jamaica Jerk Off", a dreadful mock-reggae. "I've Seen That Movie Too" finishes the side in an attempt at another mellow classic that doesn't quite measure up to the brilliance of "Rocket Man" or "Tiny Dancer".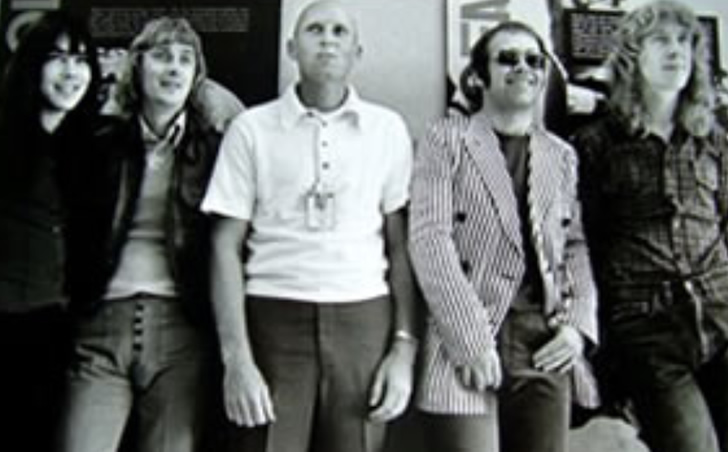 The album's third side is, by far, the most forgettable, "Sweet Painted Lady" is a "shock" song about a prostitute where Taupin uses explicit and cheap lyrics ("getting paid for being laid, I guess that's the name of the game") in a lame attempt to add some sleaze to the act. "The Ballad of Danny Bailey (1909–34)" has a slight "The Night Chicago Died" or "Bad Bad Leroy Brown" quality, but is otherwise very forgettable. "Dirty Little Girl" is essentially "Bennie and the Jets" reformed in both music and melody to present a screed against a promiscuous woman. The only somewhat interesting song on the side is "All the Girls Love Alice", about a young groupie with lesbian appeal, that musically returns to the higher quality.
The final side starts with "Your Sister Can't Twist (But She Can Rock 'n' Roll)", a totally retro tune right down to the bad Sha-Na-Na-style harmonies, with the only really interesting element being John's Fafsa organ lead during the bridge. A much more convincing rocker is "Saturday Night's Alright for Fighting", a straight-up hard rock song with drummer Nigel Olsson shining brightest along with the driving, riff-driven electric guitar of Johnstone. The song was a surprise hit single, reaching the top 10 in the UK and the top 20 in the US, despite being banned on many radio stations fearing that the title would incite violence.
The final three songs on the album gains back some of the credibility built up earlier. "Roy Rogers" is a lazy country waltz with guitar pedal effects meant to replicate a steel guitar. "Social Disease" is also country-tinged with barking dogs and inclusion of banjo and twangy guitars by Johnstone above the choppy piano of John. "Harmony" closes the record finely with acoustic guitar, thoughtful, melodic progressions, and (of course) fine vocal harmonies. The song was considered as a fourth single, but by then it was too close to Elton John's eighth album, 1974's Caribou.
In all, Goodbye Yellow Brick Road was a very good album (filler and all) and was the climax of Elton John's early, artistically lucrative, peak years. His output is terms of quality and quantity began to thin out through the late 1970s, but he would come back strong in the 1980s with another successful phase in his career.
~

Part of Classic Rock Review's celebration of 1973 albums.