While Jimi Hendrix is an undeniable rock legend on his own, the group Jimi Hendrix Experience were a formidable power trio for a short but important period. Electric Ladyland was the last of three albums by the Experience and this double LP was their creative and musical apex. The only album to be produced Hendrix himself, the recordings spanned over a year in duration and were made on two continents using different (4 track/8 track) technologies. Naturally, this resulted in a very eclectic album that pivots on Hendrix's vast talents and unique interpretations ranging from folk to pop to psychedelic blues.
The initial material for this third album was produced by Bryan "Chas" Chandler and recorded before the release of the group's second album, Axis: Bold As Love, in December 1967. That album was a Top Ten commercial success on both sides of the Atlantic and set the stage for Electric Ladyland in mid 1968. Following those first recordings in London, production resumed during the Spring of 1968 at the brand new Record Plant Studios in New York City. During this time, Hendrix fell out with Chandler and assumed production responsibilities himself.
The result is an album of interesting compositions and unequaled sonic coloring. Splitting time between sixties psychedelic epics and timeless blues jams led by one of the greatest rock guitarists ever. Further, many of the tracks on the album expand beyond the traditional sound of the power trio by featuring collaborations with a range of outside musicians playing an array of instruments.

Electric Ladyland

by

Jimi Hendrix Experience
Released: October 25, 1968 (Reprise)
Produced by: Jimi Hendrix
Recorded: Olympic Studios, London & Record Plant Studios, New York, July 1967-August 1968
Side One
Side Two
…And the Gods Made Love
Have You Ever Been (To Electric Ladyland)
Crosstown Traffic
Voodoo Chile
Little Miss Strange
Long Hot Summer Night
Come On (Part I)
Gypsy Eyes
Burning of the Midnight Lamp
Side Three
Side Four
Rainy Day, Dream Away
1983 (A Merman I Should Turn to Be)
Moon, Turn the Tides…Gently Gently Away
Still Raining, Still Dreaming
House Burning Down
All Along the Watchtower
Voodoo Child (Slight Return)
Primary Musicians
Jimi Hendrix – Guitars, Keyboards, Percussion, Lead Vocals
Noel Redding – Bass, Acoustic Guitar, Vocals
Mitch Mitchell – Drums, Percussion, Vocals
A totally freaky use of backwards masking, tape loops, and sound effects make up the experimental opener "…And the Gods Made Love". In an interview, Hendrix explained the choice of this track to open the album saying, "we knew people will jump on to criticize (this track), so I put it first to get it over with." The smooth and soul-influence, yet odd-timed "Have You Ever Been (To Electric Ladyland)" follows as the default title song. The song comes complete with Hendrix overdubbing high-pitched harmonies and doing a bang-up job.
"Crosstown Traffic" is one of the earliest tracks on the album, recorded in London and on a four track machine. Beyond the tight, funk-influenced arrangements, this track features a compressed piano fed through miniature, hand-built Leslie speakers for a totally unique vibe. Featuring Traffic's Dave Mason on backing vocals, "Crosstown Traffic" was released as a single and reached the Top 40. Mason's band mate, Steve Winwood, plays organ on "Voodoo Chile", a 15 minute bluesy tune a real live club feel, despite being recorded in a New York City studio. This song stays steady until the very end when it becomes frantic in a climax before breaking down into faux live sounds to end the first side.
The second side begins with "Little Miss Strange", the most unique song on the album. Written by bassist Noel Redding, who also plays acoustic guitar and sings lead vocals, This British pop-oriented track does contain overlain and harmonized electric guitars by Hendrix, and great drumming (along with additional vocals) by Mitch Mitchell. "Long Hot Summer Night" sounds a lot like something from the contemporary group Cream, contains great riffs through the verses and features guest Al Kooper on piano. The first cover song on the album is Earl King's "Come On (Part I)", as a great rock version of pure blues song with a sound right out of the future (the seventies).
"Gypsy Eyes" is another great track of rudiments and riffs, a pure Hendrix classic. The song is infamous as an example of Hendrix's studio perfectionism, as he and Mitchell recorded well over 50 takes, while Redding got fed up and abandoned his bass duties, leaving Hendrix to overdub that instrument himself. This was an early indicator of the upcoming break up of the Jimi Hendrix Experience. The very psychedelic but extremely interesting and musically fruitful "Burning of the Midnight Lamp" features an over-the-top harpsichord and a great backing vocal ensemble. Featuring imaginative lyrics and released as a single from the album, the song builds to a crescendo towards end, completing the fine second side.
Unfortunately, the third side is far less rewarding albeit interesting because of sheer uniqueness. "Rainy Day, Dream Away" sounds cool and loose with a long warm up, but when it finally kicks in to the song proper, it feels unfocused and asymmetrical, fading out too fast during the second verse. "1983… (A Merman I Should Turn to Be)" is a thirteen and a half  minute progressive which seems to deliberately take up space, with the exception of the middle improv section which includes an intense drum roll by Mitchell, breaking through the otherwise calm and serene setting. The song features a third member of Traffic, Chris Wood on flute. "Moon, Turn the Tides… Gently Gently Away" has more sound effects rotating in and out, but is really not very substantive.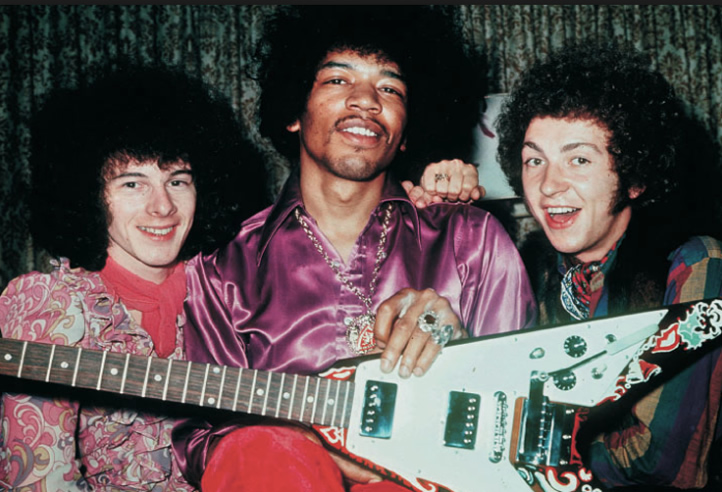 The final side begins with the reprise "Still Raining, Still Dreaming", a slightly more upbeat of song which starts side three, almost like a do-over, but still very loose and unfocused. The album recovers with "House Burning Down", a wild, upbeat psychedelic funk with a marching rock beat during the verses. Perhaps a bit too acid-y with the pan effects, but still an enjoyable listen with a wild ending.
Although a cover of a Bob Dylan song from late in 1967, "All Along the Watchtower", is perhaps the best Jimi Hendrix recording ever. It is sonically superior to anything else on the album, with a dark mood set perfectly and just the right amount of musicianship and effect. The lyrics echo lines in the biblical Book of Isaiah and the music features wild overdubs above the core acoustic chords along with some of Hendrix's finest vocals ever. Hendrix had received advanced tapes from Dylan and began recording "All Along The Watchtower" less than a month after it was released on Dylan's album John Wesley Harding. Rolling Stone Brian Jones provided some percussion on the song. One of the most popular opening riffs in rock and roll breaks into the droning rock beat of the closer "Voodoo Child (Slight Return)". The funky guitar sits beneath a pure psychedelic Delta blues riff which ends the double album on a high note.
Electric Ladyland reached #1 on the US album charts as well as #6 in the UK. After the dissolution of Jimi Hendrix Experience in early 1969, Hendrix formed the short-lived Gypsy Sun and Rainbows to perform at Woodstock that summer before forming the Band of Gypsys, with whom he would record one studio album. That album was recorded at Electric Lady Studios, which Hendrix opened in Greenwich Village, New York City.
~

Part of Classic Rock Review's celebration of 1968 albums.