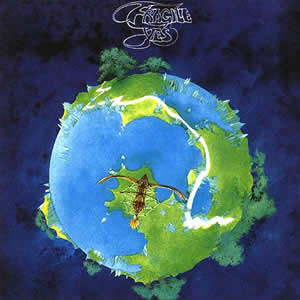 Fragile, the fourth album by Yes is really a bridge between its rock-influenced predecessor, The Yes Album, and the nearly pure prog albums which would follow. The album features four tracks of full band performances, three of which were of eight minutes length or longer interspersed by five short tracks each showcasing an individual member of the band. This approach makes for a very interesting and dynamic mix as some laid back and introspective, individual tracks give way to a much bolder, harder, and more aggressive style of playing by the band as a whole during the full-lineup extended tracks.
The album was recorded in September 1971 and co-produced by Eddy Offord, who worked on most of the band's earliest material. During the recordings there was a major lineup change, reportedly due to keyboardist Tony Kaye's refusal to embrace the Moog synthesizer and stick exclusively to the Hammond organ. Kaye was replaced by Rick Wakeman. Often using as many as a dozen keyboards on stage, Wakeman added a bit flair to the band's performance and completed the picture of their classic lineup.
More than any other album, Fragile is an absolute showcase for bassist Chris Squire, who also happens to be the only person to appear on every Yes album (a band known for constant lineup shifting). Squire may have been the first to truly bring this instrument, which is normally buried in the low end of the mix, to the forefront and in unique and inventive ways. Although the album was released in November 1971 in the UK, it was held over until January 1972 across the Atlantic, because there was still chart momentum for The Yes Album in the states.

Fragile

by

Yes
Released: January, 1972 (Atlantic)
Produced by: Yes and Eddie Offord
Recorded: Advision Studios, London, September 1971
Side One
Side Two
Roundabout
Cans and Brahms
We Have Heaven
South Side of the Sky
Five Per Cent for Nothing
Long Distance Runaround
The Fish (Schindleria Praematurus)
Mood For a Day
Heart Of the Sunrise
Band Musicians
Jon Anderson – Lead Vocals
Steve Howe – Guitars, Vocals
Rick Wakeman – Organ, Synths
Chris Squire – Bass, Vocals
Bill Bruford – Drums, Percussion
The opener "Roundabout" is the ultimate journey song, a musical odyssey which moves from Steve Howe's signature, classical guitar intro to a frantic bass-driven riff by Squire to an even more frantic organ solo by Wakeman. The song's lyrics were written by lead vocalist Jon Anderson and inspired by a long tour ride through Scotland, which alternated between stretches with mountain and lake scenery and traffic-clogged roundabouts.
The middle of side one contains the first two "individual" pieces. "Cans and Brahms" extracts from Brahms' 4th Symphony in E Minor as arranged and performed by Wakeman. Although a complete left turn from the dynamic opener, it fits in with the larger context of the album. Anderson's "We Have Heaven" is a much more interesting vocal sound scape by Anderson. Multi-tracked melodies are accompanied only by a simple guitar and drum beat. "South Side of the Sky" closes the side and seems to predate some of the syncopated music of future bands like Devo. The eight minute song contains many musical forays and sound effects, including fine piano by Wakeman and wordless vocal harmonies by Anderson, Howe, and Squire during a unique middle section.
Drummer Bill Bruford launches side two with the frantic, 35 second "Five Per Cent for Nothing", a wild intro to "Long Distance Runaround", the most pop-oriented song on the album. The song way be the best example of the band's tightness as Howe's bright and economical guitar cutting is counteracted by Squire and Bruford's simultaneous complex rhythms, without a single moment of confusion. It is like holding three individual thoughts concurrently and not having any get muddled in the slightest. Contrarily, the verse and chorus sections contain Anderson's simple and melodic vocals over the slow rock rhythm of Wakeman's choppy keyboard. The song segues into "The Fish (Schindleria Praematurus)", Squire's official individual showcase, although there is certainly a case that he shines on several other tracks.
"Mood For a Day" is a solo guitar piece by Howe, a Spanish-flavored flamenco centerpiece, which sounds at times like a cross between a warm-up exercise and a heartfelt recital. It is still entertaining enough to keep listeners on their toes and showcases Howe's many styles. "Heart of the Sunrise" starts with Squire and Bruford offering one last, intense riff sequence to launch the closer. The longest track on the album, the song is yet another musical journey with lyrics about being lost in a city. This final track gives the album an overall sense of symmetry by closing in the same general neighborhood where it opened.
Fragile propelled Yes in popularity from a small but dedicated following to international stardom. The album reached number 4 in the U.S. and stayed on the charts for nearly a year, the band's biggest ever commercial success. Yes would take a sharp turn towards pure progressive rock on their next three albums through the mid 1970s.
~

Part of Classic Rock Review's celebration of 1972 albums.