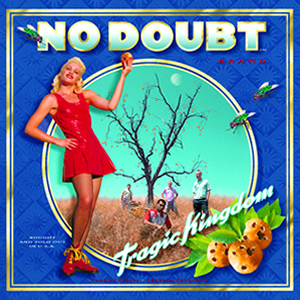 No Doubt offered an upbeat breath of fresh air to the mid nineties with their dynamic masterpiece, Tragic Kingdom. This third overall studio album by the California-based rock band found tremendous commercial and chart success and sustained seven singles over the period between late 1995 and early 1998. Led by the dynamic vocals of Gwen Stefani, the group composed songs blending a diverse array of musical genres including blues, rock, ska, reggae, grunge, new wave and punk.
The group was formed in 1986 by keyboardist Eric Stefani, with his sister Gwen occasionally joining in on backing vocals when they practiced in their parents' garage. Bassist Tony Kanal later joined after catching one of the band's early shows and began a (initially) secret relationship with Gwen. In early 1988, guitarist Tom Dumont and drummer Adrian Young joined No Doubt, rounding out the band's long-standing lineup. Impressed by the group's rabid live following, No Doubt was signed to a multi-album deal by Interscope Records in 1990. However, the group's initial two releases, their 1992 self-titled debut and the self-produced The Beacon Street Collection failed to gain widespread success.
Producer Matthew Wilder was brought on board to produce Tragic Kingdom. The album included recordings made over a two and a half year period between March 1993 and October 1995, with recordings made in nearly dozen studios in and around Los Angeles. This album would also be the last to feature Eric Stefani, who was the primary composer of the material on the first two albums. After Eric officially left the band in 1994, most of the other group members stepped up to co-write the new material.

Tragic Kingdom

by

No Doubt
Released: October 6, 1995 (Interscope)
Produced by: Matthew Wilder
Recorded: Los Angeles, March 1993–October 1995
Album Tracks
Group Musicians
Spiderwebs
Excuse Me Mr.
Just A Girl
Happy Now?
Different People
Hey You
The Climb
Sixteen
Sunday Morning
Don't Speak
You Can Do It
World Go 'Round
End It On This
Tragic Kingdom
Gwen Stefani – Lead Vocals
Tom Dumont – Guitars
Eric Stefani – Piano, Keyboards
Tony Kanal – Bass
Adrian Young – Drums, Percussion
The opener "Spiderwebs" starts with a steady reggae show piece with some brass before it quickly changes into a more frenzied and rock-oriented ska groove. Dumont's crisply squeezed guitar chords and Kanal's thumping bass lines accompany a steady beat by Young. Released as a single, the song reached the Top 10 on the Billboard Modern Rock chart. "Excuse Me Mr." features a more frenzied ska riff and is especially entertaining during the bridge section where a frantic drum shuffle is accompanied by honky tonk piano and some fat brass. This song was originally composed as an acoustic folk song but the recording was lost in a studio accident, causing the group to re-write and re-record a punked-up version. "Just a Girl" features a wild sounding guitar riff accented by slight bass and steady hi-hat fused drums through the intro and verses and, later on, Eric Stefani adds a soaring synth lead over the ever-intensive rhythms. The lead single from the album, the song charted twice in the Top 40, eventually peaking at number 3. The lyrics, written by Gwen Stefani, tell of her own experiences dealing with female stereotypes;
Take this pink ribbon off my eyes, I'm exposed and it's no big surprise / Don't you think I know exactly where I stand, this world is forcing me to hold your hand…"
"Happy Now?" is a more vocal and lyric driven track with strong guitar riffing and chords. This is one of several tracks which lyrically deal with Gwen Stefani's recent breakup with Kanal, after a seven year relationship. "Different People" features strong rudiments and a great animated bass line, while "Hey You!" has a unique and excellent arrangement with a heavy sixties vibe brought on by the overt sitar and harpsichord as well as the more subtle structuring of the rock groove. "The Climb" is a dramatic blues song written by Eric Stefani and it features cool penny-whistle organ parts under the verses with several guitar textures by Dumont. The song goes through several trans-formative sections and a long ending dissolve where each musician gets to add bits of embellishment in turn. Following the standard ska of "Sixteen", a drum shuffle fades in along with a driven bass which makes it closer to pure reggae with heavy rock guitars and dynamic, dramatic vocals.
The album's first and only ballad, "Don't Speak", offers one its most indelible moments. The song starts with Eric Stefani's slow, rocking electric piano in verses but breaks into jazzy acoustic choruses complete with a later excellent flamenco acoustic lead by Dumont. Slight use of strings and brass are just enough to bring out the emotions without getting overly sappy, shining the spotlight on Gwen Stefani's vocals, which are best at their very best on this album. The song would go on to become the breakthrough single. received tremendous airplay, and helped elevate the album as well as previously released singles. It would also go on to be nominated for Song of the Year at the 1998 Grammy Awards.
Coming down the stretch, Tragic Kingdom features more entertaining tracks such as "You Can Do It", which is funky, seventies style soul with heavy brass, disco strings, wah-wah guitar and rounded bass patterns. "World Go 'Round" returns to the upbeat reggae with horns and Hammond organ and plenty of brass, while the closing title song is a strong and steady, guitar and vocal driven rocker which is set up like a theatrical mini-suite complete with horn sections and a rapid fingerboard guitar lead. The best of this lot is "End It on This" (which should have been the album closer). This last, great song on the album has a definitive new wave feel with rapid guitar riffs and bass notes accented by melodic piano patterns. The choruses feature especially potent keyboards and bass which work together to give a feel of rapid melodic motion. The song then steadies into a traditional guitar lead section before an intense and fantastic outro section.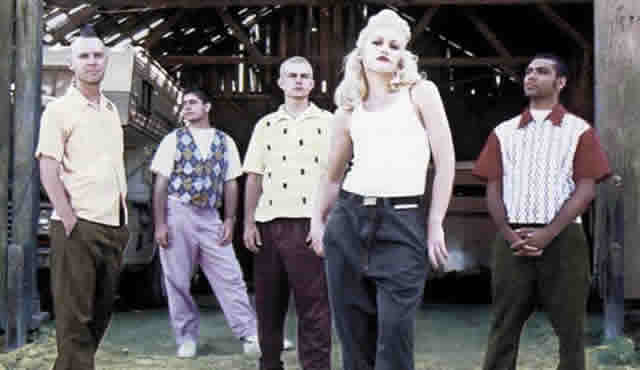 Following Tragic Kingdom's release and success, No Doubt embarked on a an extensive tour which lasted about two and a half years. A 1997 performance from this tour was recorded in the group's home city of Anaheim and released as a Live in the Tragic Kingdom DVD. The band would not follow-up with another studio album until Return of Saturn was released in 2000, a half decade after Tragic Kingdom.
~

Part of Classic Rock Review's celebration of 1995 albums.