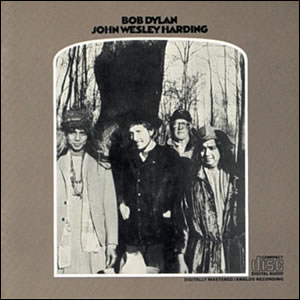 After a relatively long hiatus from recording due to a serious motorcycle accident, Bob Dylan returned to simple form and constructs with his eighth studio album, John Wesley Harding, at the end of 1967. This simple, folk and country album with a slight hint of spirituality was a notable departure from the Dylan's previous three albums in 1965 and 1966 (Bringing It All Back Home, Highway 61 Revisited and the double-length Blonde On Blonde).
It had been over a year since the release of Blonde On Blonde when Dylan began work on John Wesley Harding in the Autumn of 1967. The July 1966 motorcycle accident near his home in Woodstock, NY, gave him the opportunity to break from nearly five straight years of non-stop touring, recording and promoting. After his recovery, Dylan spent a substantial amount of time recording informal demos with members of The Band, later dubbed "the basement tapes" and released on a 1975 album of the same title. Oddly, although Dylan submitted nearly all of the basement tape tunes for copyright, he decided not to include any of this material for his next studio release.
Instead, Dylan went to Nashville with producer Bob Johnston and a simple rhythm section made up of bassist Charlie McCoy and drummer Kenneth Buttrey. In total, the twelve album tracks took under twelve hours of studio time to record and the release of John Wesley Harding was just as expedited, arriving in stores less than four weeks after the final recordings were made. A unique attribute of this album is the inclusion of liner notes written by Dylan, which incorporate song details through the telling of fictional stories.

John Wesley Harding

by

Bob Dylan
Released: December 27, 1967 (Columbia)
Produced by: Bob Johnston
Recorded: Columbia Studios, Nashville, October–November, 1967
Side One
Side Two
John Wesley Harding
As I Went Out One Morning
I Dreamed I Saw St. Augustine
All Along the Watchtower
The Ballad of Frankie Lee and Judas Priest
Drifter's Escape
Dear Landlord
I Am a Lonesome Hobo
I Pity the Poor Immigrant
The Wicked Messenger
Down Along the Cove
I'll Be Your Baby Tonight
Primary Musicians
Bob Dylan – Lead Vocals, Guitars, Keyboards, Harmonica
Charlie McCoy – Bass
Kenneth A. Buttrey – Drums
Most of the tracks on this album were first constructed lyrically with musical arrangements worked out later. The opening title track features a bright acoustic with bouncy bass and rhythms and tells the tale of real-life Texas outlaw John Wesley Hardin (the song and album title spelled his name incorrectly). "As I Went Out One Morning" is almost too short as its fine rhythmic pace seems to be abruptly ended just as the track is heating up. In contrast, "I Dreamed I Saw St. Augustine" is more like traditional, Dylan-flavored folk with a slight nod towards Country or Gospel in its delivery.
The most indelible two and a half minutes on the album, "All Along the Watchtower" has a strong rotating rhythm to accompany Dylan's memorable lyrical passages which echo passages from the Biblical Book of Isaiah. This song would be brought to full realization with the much more famous Jimi Hendrix Experience version on the 1968 double album Electric Ladyland. "The Ballad of Frankie Lee and Judas Priest" features a bright storytelling atmosphere that is almost farcical in its light delivery while at once attempting to portray a moral message. Closing out the original first side is "Drifter's Escape", where Dylan's desperate, weepy vocals and soulful harmonica are in nice contrast to consistent, monotone rhythms.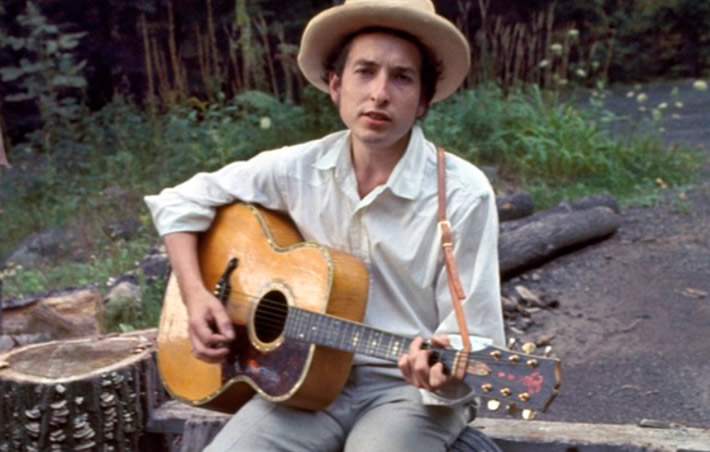 The waltzy, piano based tune "Dear Landlord" starts side two with interesting chord progressions, followed by the wicked harmonica intro which sets the scene for "I Am a Lonesome Hobo". These are followed by the rather forgettable folk songs "I Pity the Poor Immigrant" and "The Wicked Messenger" before a refreshing change of pace late to complete the album. Both "Down Along the Cove" and "I'll Be Your Baby Tonight" were recorded during the final album sessions and each feature Pete Drake on pedal steel guitar (an inclusion which Johnston wanted to use more on the album, but was overruled by Dylan). Both of these tracks are warm, cheerful love songs, with the closer having a distinct Country arrangement which seems to preview Dylan's next studio release, Nashville Skyline in 1969.
Even though Bob Dylan intentionally had this album released without publicity or accompanying singles, it still charted very highly in both the US and UK. Following its release, Dylan made his first live appearance in nearly two years, Backed by The Band at a Woody Guthrie memorial concert in January 1968, but returned to seclusion for much of the rest of that year.
~

Part of Classic Rock Review's celebration of 1967 albums.