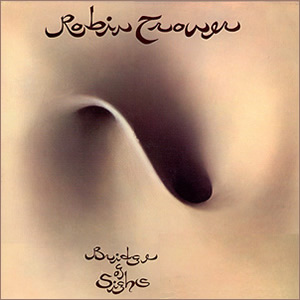 Full of subtle but solid and rewarding tracks which are well composed and sonically masterful, Bridge of Sighs is the album where Robin Trower may have advanced the rock guitar a bit. This second solo album by Trower is the most solid and heralded output of his career, filled with consistent tracks of strong blues-rock with just a sprinkle jazz flare and improvisation that prevents the music from ever getting caught in a rut. Complimenting Trower's guitar work are bassist and lead vocalist James Dewar along with drummer Reg Isidore, who complete this outstanding power trio and added their own fantastic performance contributions.
From 1967 through 1971, Trower was guitarist for the band Procol Harum, spanning most of that band's successful career. Trower first worked with Dewar in a short-lived supergroup Jude before the two branched out with Isidore to commence Troer's solo career. The debut album Twice Removed from Yesterday was released in 1973, but to little critical or commercial success.
Recorded and released in 1974, Bridge of Sighs was produced by Matthew Fisher, keyboardist for Procol Harum and Trower's former band mate. Former Beatles' engineer Geoff Emerick also helped out with forging the sound of this album. The album reached the Top 10 in the United States and stayed on the charts for the better part of a year.

Bridge od Sighs

by

Robin Trower
Released: April, 1974 (Chrysalis)
Produced by: Matthew Fisher
Recorded: Olympic and AIR studios, London, Early 1974
Side One
Side Two
Day of the Eagle
Bridge of Sighs
In This Place
The Fool and Me
Too Rolling Stoned
About to Begin
Lady Love
Little Bit of Sympathy
Musicians
James Dewar – Lead Vocals, Bass
Robin Trower – Guitars
Reg Isidore – Drums
"Day of the Eagle" sets a frantic pace for the album during the beginning rudiments, before the song settles into upbeat, bluesy groove with good, soulful vocals by Dewar. The guitar sounds are much more impressive than the actual techniques in this sonic explosion which starts the album. The title track, "Bridge of Sighs" follows as the most indelible track. Starting with gated chimes and long, decaying guitar notes, the song's vibe is like bending the fabric of space and time. Droning and intense throughout, "Bridge of Sighs" never relents from its slower than slow pace, which works out well when Trower opts for long and slow outro with sound effects rather than the obligatory guitar lead in the coda section.
Wind effects from previous track serve as a bridge to lead into the calm but foreboding love song, "In This Place". Every note is accented beautifully by the precise beats of Isidore, while this song is a true showcase for Trower in every other way. Here, the guitarist shows his true a mastery of fat, sustained tones above several other outstanding guitar textures. It seems almost a shame that the song is so short. "The Fool and Me" is an upbeat blues/rock jam, co-written by Dewar, that puts a strong cap on the first side as a real gem with mocking guitars and funky, strategic pauses. The second side starts with "Too Rolling Stoned", the longest and best overall track on the album. It starts with a funky, bass-fueled song proper where Dewar especially shines on bass and vocals. Midway through, the track reaches an extended, slow rock guitar jam that meanders through the coda. This long ending part seems to be an intentional contrast to the early parts of the song, as a simple and direct beat with a clap and "party" sounds persist under Trower's animated guitar lead.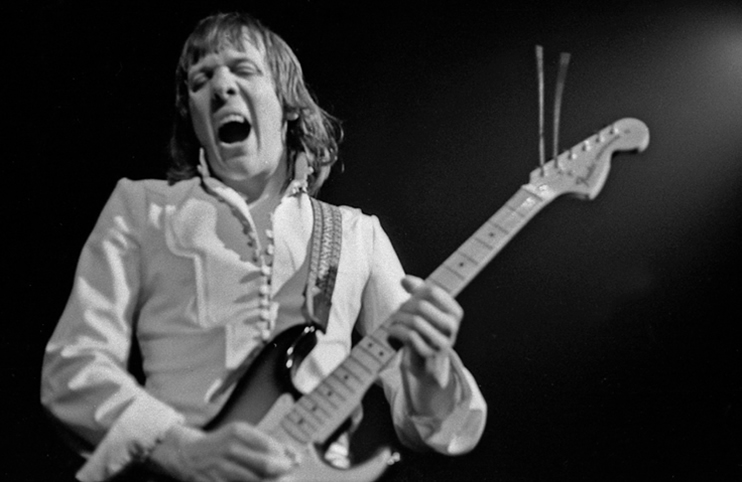 "About to Begin" is a calm jazzy number that seems to go in one direction, almost as a pause in the action during a movie drama. "Lady Love" is a very direct rocker which seems to be the only real attempt at a pop crossover on Bridge of Sighs. Still, this track contains soem great, late sixties-style blues guitar leads and Isidore's drums and percussion play an equally important role in another song where the only weak spot seems to be that it is too short. The album concludes with more blistering blues rock of "Little Bit of Sympathy". This one has a long mid-section sans bass but with extra hand percussion, giving it a cool edge. When the full rock arrangement kicks back in, the group is in full form with Trower doing more unique and inventive techniques to keep the listener wanting for more.
Bridge of Sighs would go on to a strong influence on the rock guitar sounds of the late seventies and beyond. Trower continued recording solo records, releasing one album per year through 1978, but never again quite reaching the heights of this album.
~

Part of Classic Rock Review's celebration of 1974 albums.