Buy Fly By Night
Buy Caress Of Steel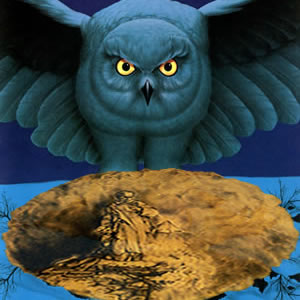 1975 was the year when Rush truly became Rush with the first recordings following the arrival of drummer and lyricist, Neal Peart. During the course of that year, the group released two albums, Fly By Night and Caress of Steel, which document the Canadian trio's remarkable evolution from straight-forward hard rockers to a distinct style of complex, progressive rock featuring dynamic musical arrangements and a multitude of lyrical depth. Over the course of this year, the group also experienced a dramatic rise and fall in mainstream popularity, as these albums had vastly different receptions in terms of sales and critical response. This fact would ultimately forge the band's musical vision for years to come.
After a half decade of building their following in the Toronto area, Rush released their independently produced self-tiled debut album in early 1974 with drummer John Rutsey backing up bassist and lead vocalist Geddy Lee and guitarist Alex Lifeson. In the summer of 1974, Rutsey was forced to depart due to health difficulties. Peart had recently returned to his native Ontario after several years in England and auditioned for the newly opened position with Rush. The group desperately needed to find a replacement for Rutsey in order to fulfill their tour obligations, which launched with a show as an opening act in front of 11,000 in Pittsburgh just two weeks after Peart joined the band. Now signed to Mercury Records, Rush was able to enter the studio with a proper producer in late 1974.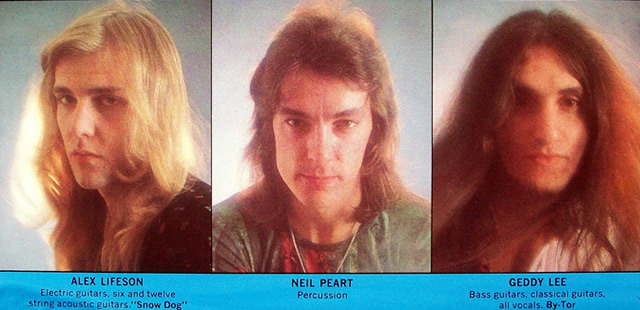 Terry Brown first worked with the group when he remixed the debut album for larger release (the original pressings for Rush were only 3500 copies). Impressed by his talents, the group asked him to produce their sophomore effort, Fly By Night. This album was recorded in bits and pieces between the group's various gigs on the tour circuit over the Winter of 74-75. Aside from his percussive talents, Peart (an avid reader) had many lyrical ideas which made him chief (and eventually sole) lyricist and added more dimensions to the group's sound and imagination. However, with the exception of one extended suite and one acoustic folk tune, Fly By Night stayed pretty much within the heavy rock/blues bounds established on the debut album, but with a richer, hi-fidelity sound.
In contrast, Caress of Steel, showed the group quickly moving towards progressive rock with two multi-part suites accompanying three traditionally arranged rock tracks. These longer pieces used various textures and sonic dynamics to portray the desired dramatic effect, which worked in some places but not so much in others. The group was very ambitious and enthusiastic about this third album, following the commercial triumph of the second, but it sold fewer copies and has become one of Rush's most overlooked recordings. Both Fly by Night and Caress of Steel were recorded at the state-of-the-art Toronto Sound Studios on 24-track analog tape, which would remain the highest professional recording standard through the mid 1990s. Including these two albums, Brown would produce ten consecutive releases by Rush through 1982's Signals.

Fly By Night

by

Rush
Released: February 15, 1975 (Mercury)
Produced by: Terry Brown & Rush
Recorded: Toronto Sound Studios, Toronto, December 1974–January 1975
Side One
Side Two
Anthem
Best I Can
Beneath, Between, and Behind
By-Tor and the Snow Dog
Fly By Night
Making Memories
Rivendell
In the End

Caress of Steel

by

Rush
Released: September 24, 1975 (Anthem)
Produced by: Terry Brown & Rush
Recorded: Toronto Sound Studios, Toronto, June–July 1975
Side One
Side Two
Bastille Day
I Think I'm Going Bald
Lakeside Park
The Necromancer
The Fountain of Lamneth
Group Musicians (Both Albums)
Geddy Lee – Lead Vocals, Bass
Alex Lifeson – Guitars
Neal Peart – Drums, Percussion
The world's first introduction to Peart both lyrically and percussively comes with "Anthem", which opens Fly By Night. A frenzied beginning with oddly-timed riff and beat gives way to the musical main phrase of "Anthem", with the verses highlighted by Lee's animated bass underneath his soaring, high-pitched vocals. During the lead section, Lee and Peart show how tight they keep the rhythms as Lifeson goes off in a Jimmy Page bluesy lead on a song which features lyrics inspired by elements of the philosophy of Ayn Rand. "Best I Can" was composed solely by Lee and sounds closer to material from the debut than the opening song. However, there is enough edge here with just the slightest flourishes by Peart on the drums and Lifeson providing a wah-wah laced lead, to make it all interesting. Lifeson contributes Zeppelin-esque, bluesy double guitars on "Beneath, Between & Behind", with Peart adding some lyrics which appear to be about the rise and decline of the United States as it headed for its Bicentennial;
"Ten score years ago, defeat the kingly foe, a wondrous dream came into being /
Tame the trackless waste, no virgin land left chaste /
All shining eyes, but never seeing…"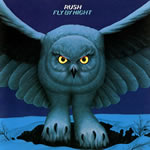 "By-Tor and the Snow Dog" is the first of many sci-fi/fantasy inspired epics by Rush during the late 1970s. The eight and a half minute track works well as a good narrative accompanied by upbeat, almost funky hard rock throughout and with plenty of dramatic pause for theatrical flourishes. There is a wild, triple guitar lead by Lifeson during the "battle scene" after the second verse, which concludes with a tremendous rudiment section with each successive phrase being slightly shortened than the previous. A calm, effect-driven section takes up some time in the middle before Lifeson returns with his "victorious" lead prior to the concluding final verse. Overall, this track is the best production by Terry Brown on this album.
"Fly by Night" starts the original second side as the most popular and successful track on the album of the same name. Musically driven by Lifeson's riffs and progressions, the song's lyrics were written by Peart when departing for London in 1971 in an attempt to "make it" in music, an endeavor which ultimately failed but, ironically, led to his getting the gig with Rush back in Canada. "Making Memories" is a simple acoustic funk about the group's early experiences on the supporting group touring circuit. Eventually released as a single in 1977, the track features great electric guitar overtones and a later blistering lead by Lifeson.
After six consecutive fast-charged songs, the platinum selling Fly By Night concludes with two relatively laid back numbers. "Rivendell" features Lee on finger-picks acoustic, with Lifeson adding some pedal-effected guitars throughout. Although there are no drums on this track, Peart added the poetic lyrics on Tolkein's fictional paradise, which Lee delivers in a reserved, folk-singer like method. "In the End" is, unfortunately, the weakest song on the album as its finale. Not terrible, but essentially acoustic and electric versions of the same repeated song stretched to seven minutes with simple, pre-Peart lyrics.
Caress of Steel kicks off with "Bastille Day", a very heavy rock song musically, but with some interesting time changes and style caveats. Lifeson's first lead is quite jazzy, with a back-to-back second lead being pure heavy metal. Lyrically, Peart throws in plenty of historical and poetry references about societal turmoil  and the French Revolution specifically. "I Think I'm Going Bald" is a bit less effective than the opener. Almost a joke song, but with some philosophical undertones. In this musically moderate tune, Peart got the idea for its title and theme from both the track "Goin' Blind" by fellow touring mates Kiss and due to LIfeson's obsession with his hair. The third and final standard length song is the exquisite and excellent "Lakeside Park". This song portrays the simplicity and magic of fun events during childhood and adolescence and features a simple vibe with more complexity in its structure. Of particular note are the pauses between verses and prior to the outro section, where Peart adds very interesting drum fills that somehow fit into the slight time allotted without missing a beat.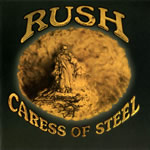 "The Necromancer" is the side one closing epic fantasy, which incorporates the members of Rush (three travelers, men of Willowdale) into the narrative as they face an evil supernatural force in the forest. Peart's spoken narration introduces each of the suite's three distinct sections, starting with Lifeson's multiple guitar textures of "Into the Darkness". This is followed by the hard-rock oriented "Under the Shadow", with a single, uni-directional verse followed by a strong jam section, leading to the moderate finale with simple chords called "Return of the Prince".
The entirety of Caress of Steel's second side is the over nineteen minute "The Fountain of Lamneth", which in reality is not not a cohesive long piece, but several short pieces wrapped by a common intro and reprise theme. In fact, each of the six parts of this were listed as separate "songs" on some later cassette versions, and not even in the same running sequence. The intro "In the Valley" has three distinct musical phrases with Lee providing distinctive "voices" for each. It starts as a pleasant folk acoustic song, then breaks into a thunderous electric-driven heavy metal part which alternates with interlude sections which are cool and jazzy. For the concluding chapter, "The Fountain", the arrangement repeats in reverse order, giving an arc of symmetry to the whole piece.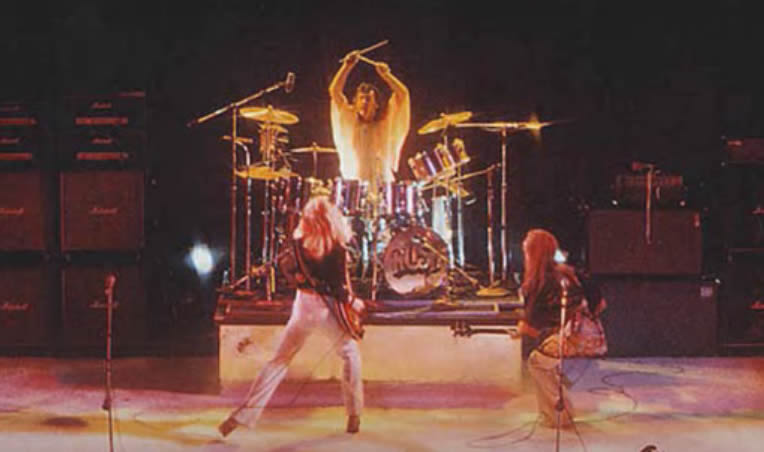 The four middle parts of "The Fountain of Lamneth" are each rather interesting and original, starting with "Didacts and Narpets", Peart's wild drum piece with shouted vocal lines and sounds is very new wavish in approach. "No One at the Bridge" has a dark feel initially, which slightly gives way to patient musical interludes and gentle sonic swells. This piece uses a ship lost at sea as a metaphor for a feeling of being lost on a personal level. "Panacea" and "Bacchus Plateau" are both solo compositions by Lee, something that will become exceedingly rare over time. "Panacea" features Lee playing a classical acoustic with Lifeson slowly adding electric overtones with very cool pedal effects during the verses, with a fuller band arrangement during the choruses. "Bacchus Plateau" is a more pop oriented rock song with an upbeat sound and vibe that somewhat betrays the lyrical theme of demise;
"Draw another goblet from the cask of '43, crimson misty memory, hazy glimpse of me / Give me back my wonder – I've something more to give. I guess it doesn't matter, there's not much more to live…"
To the dismay of the band and their label, Caress of Steel, would not attain gold certification for nearly twenty years after its release. The effect of this "commercial failure" on Rush was immediate, as they were soon playing smaller concerts and given an ultimatum by the record company for success on their next release. They delivered in a big way with 1976's classic 2112, which combined the better elements of both Fly by Night and Caress of Steel. The rest, as they say, is history.
~

Part of Classic Rock Review's celebration of 1975 albums.