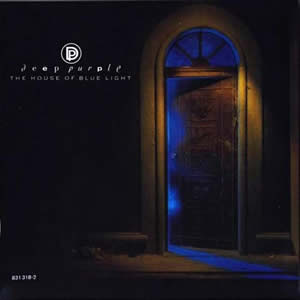 Through the years, Deep Purple went though a bunch of lineup changes with only drummer Ian Paice remaining with the band throughout all phases. In fact, there have been so many different versions of the band that a labeling system (MarkI, Mark II, Mark III, etc.) has been established, with most rock historians agreeing that the "Mark II" lineup was the most potent and significant. This Mark II lineup itself had three different phases, the first during the band's most popular period 1969-1973, and the last for a single studio album in 1993. In between, the Mark II lineup had a significant "reunion" period from 1984 to 1988. The House of Blue Light came right in the heart of this Renaissance period for the band, adding a strong dose of classic rock legitimacy to an area dominated by modern trends and hair bands.
Following the surprise success of 1984's Perfect Stranger, the band ran into difficulty getting the follow-up album recorded, with much of it re-recorded after unsatisfactory initial attempts. Bassist Roger Glover had spent much of the late seventies and early eighties working as a producer and began providing this service to the band once the Mark II lineup reunited. He chose a remote theatre in Northern Vermont to record the album using a mobile recording unit to try and find the appropriate atmosphere for the creative process. Still the band struggled to gel during recording and production and some earlier personal rifts began to resurface.
When the album was released in early 1987, there were distinct versions between LP/cassette and CD releases with the CD version offering some extensions to song lengths. Curiously, when the album was remastered for further digital publication, the shorter LP versions of the songs were preserved for future listeners.

The House of Blue Light

by

Deep Purple
Released: January 17, 1987 (Atco)
Produced by: Roger Glover & Deep Purple
Recorded: The Playhouse, Stowe, Vermont, 1986
Side One
Side Two
Bad Attitude
The Unwritten Law
Call Of the Wild
Mad Dog
Black and White
Hard Lovin' Woman
The Spanish Archer
Strangeways
Mitzi Dupree
Dead or Alive
Band Musicians
Ian Gillan – Lead Vocals, Harmonica
Ritchie Blackmore – Guitars
John Lord – Keyboards
Roger Glover – Bass
Ian Paice – Drums, Percussion

On the first side of The House of Blue Light, the band seems to make a concerted effort to nail an '80s-flavored rock radio hit and many have compared these songs to those by guitarist Ritchie Blackmore's band Rainbow, which had a lifespan between the two major Mark II runs. This is especially true with the bouncy song "Call Of the Wild", an accessible keyboard driven tune with refined vocal hooks. "Mad Dog" and "Black and White" further this trend as upbeat, straight-forward eighties rockers that, frankly, could have been done by scores of bands less talented than Deep Purple.
One song that stands out is "The Unwritten Law", which is intense, drum-driven, and dramatic. Vocalist Ian Gillan hearkens back to his dynamic younger years with vocal improvisation while Paice carries the day and adds further evidence that he is one of rock n roll's most under-appreciated drummers. The album's opener "Bad Attitude" features keyboardist Jon Lord and his signature sound of playing a Hammond organ through a Marshall stack to form one of the coolest rock tones.
The second side of the album is actually much more interesting. After the intense, riff-driven opener "Hard Lovin; Woman" comes the excellent "Spanish Archer", with a surreal Eastern flavor provided by Blackmore. With all members player and singing with an intense, reckless abandonment, this song is a bona fide classic for any era of Deep Purple. "Strangeways" follows as a lyric-driven screed on society, which is cool and entertaining nonetheless.
The bluesy "Mitzi DuPree" is one of the more unique songs on any Deep Purple album as Gillen guides the listener through a literal story about an exotic woman over some tavern-style piano by Lord and cool bass by Glover.
Although the album was ultimately a commercial disappointment. the music of The House of Blue Light has stood up to the test of time well. Deep Purple kept their momentum through 1988 with the successful live album Nobody's Perfect, before personal issues lead to Gillan leaving the band again for a short spell.
~

Part of Classic Rock Review's celebration of 1987 albums.