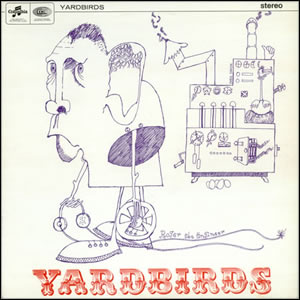 The Yardbirds put out their strongest album ever in 1966 as well as their only album of all original material. It originally had an eponymous title but has come to be known as Roger the Engineer because of the sketch (drawn by guitarist Chris Dreja) on the album's cover of Roger Cameron, the album's engineer at Advision Studios in London. The album was co-produced by bassist Paul Samwell-Smith, who left the band shortly after and was replaced by Jimmy Page, who filled in on bass until Dreja mastered the instrument and Page returned to his primary instrument, the electric guitar. But the central influence that shaped the sound of this album was the innovation and experimentation of lead guitarist Jeff Beck. His heavy blues and guitar distortion is considered by many to be the earliest precursor to heavy metal.
Beck joined the Yardbirds in May 1965 after founding guitarist Eric Clapton decided to leave the band. With Beck, the group began to expand their heavy blues base into different sects of rock and roll including unexplored areas of psychedelia, middle-aged chants, and Indian-influenced music. Primarily a singles-oriented band, each 7-inch release by The Yardbirds added new dimensions to the band's sound or expanded on the ideas of the previous single. With Beck's first full album with the group and the band's first attempt at an album of all-original material, the band brought this experimentation to a new level, while still holding on to the core of blues roots.

The Yardbirds

by

The Yardbirs
Released: July 15, 1966 (Atco Original)
Produced by: Paul Samwell-Smith & Simon Napier-Bell
Recorded: Advision Studios, London, Spring-Summer, 1966
Side One
Side Two
Lost Woman
Over, Under, Sideways, Down
The Nazz Are Blue
I Can't Make Your Way
Rack My Mind
Farewell
Hot House of Omagarashid
Jeff's Boogie
He's Always There
Turn into Earth
What Do You Want
Ever Since the World Began
Band Musicians
Keith Relf – Lead Vocals, Harmonica
Jeff Beck – Lead Guitars, Vocals
Chris Dreja – Guitars, Piano, Vocals
Paul Samwell-Smith – Bass, Vocals
Jim McCarty – Drums, Percussion, Vocals
The album starts strong with "Lost Woman", with a driving bass line and some fantastic dynamics from the guitar-free verse to guitar-intense chorus. The bridge contains a drum run with harmonica, guitar and bass spread out nicely, leading to a simmering guitar jam by Beck that ever intensifies towards the end.
"Over Under Sideways Down" may be the most popular song on the album due to its catchy, mid-eastern-inspired guitar riff over an upbeat, bluesy bass line, almost like two songs put together. The song was co-written by drummer Jim McCarty, who plays a classic rock beat throughout, holding the song together nicely while the fine lyrics paint a picture of the "upside-down" nature of fame.
Jeff Beck's sole foray into lead vocals is on his pyschedelic blues song "The Nazz Are Blue", a fine example of the better results of experimentation on this album. In the heart of the album are several more experimental and avant garde songs, such as "Hot House of Omagarashid" and "Turn Into Earth", each driven by a steady, percussive beat an odd, sometimes haunting chants along with other sound effects. There are also a fair share of standard, upbeat blues songs like "Rack My Mind", with a simple guitar riff and harmonica and the instrumentals "Farewell" and "Jeff's Boogie", where Beck shows off some fascinating speed technique for the day. "I Can't Make Your Way" is almost folk, with multiple vocal harmonies and harmonica by Relf, and an edgy guitar interlude which sparks some life in the song. "He's Always There" combines a Bossa-nova beat with a rock arrangement, something that would be expanded upon later by The Doors as well as directly sampled by The Pussycat Dolls.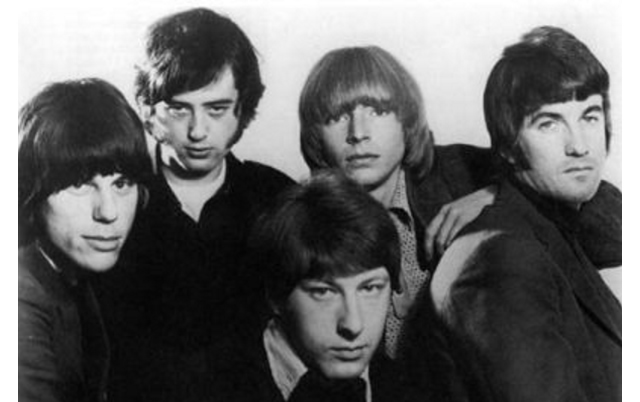 Two songs which were not originally included on the album, but have been included on all modern day pressings of the album are "Psycho Daisies" and "Happenings Ten Years Time Ago". Recorded after the departure of Samwell-Smith, both tracks include the dualing lead guitars of Beck and Page, one of the few Yardbirds recordings to do so. "Happenings Ten Years Time Ago" also includes Page's future Led Zeppelin bandmate John Paul Jones as the session bass player and has become a classic song in its own right with its frantic guitars and erratic, psychopathic rhythm.
A bold and innovative album, "Roger the Engineer" has been described as a heavy blues oriented version of a Beatles album. Unfortunately, The Yardbirds would never again make an album like this. By October 1966, Beck was out of the group and Jimmy Page took the forefront as the band's lead guitarist and producer. The next two years saw the original Yardbirds unravel as each member, save Page left to pursue other interests. Undaunted, Page went on to find replacements for the departed members in singer Robert Plant, drummer John Bonham, and Jones on bass to form "The New Yardbirds", which eventually became Led Zeppelin.
~

Part of Classic Rock Review's celebration of 1966 albums.