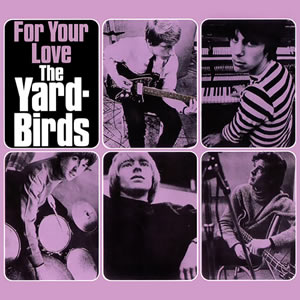 About four years ago, we reviewed the 1966 album by The Yardbirds commonly known as "Roger the Engineer", which saw the final days in the band for guitarist Jeff Beck. Today, we circle back to Beck's earliest days with the group when he replaced Eric Clapton during the later stages of the debut studio album For Your Love, which was released 50 years ago today on June 13, 1965. The music on For Your Love was recorded over an extended time and features many different compositional styles.
The Yardbirds were formed in London in 1963 and got their name from a nickname of jazz saxophonist Charlie Parker. They got their first break by taking over for the Rolling Stones at the Crawdaddy rhythm and blues club. Here the quintet forged their reputation and were soon enlisted to be the backing band for Sonny Boy Williamson when he toured England in 1964. Clapton was complemented by rhythm guitarist Chris Dreja and vocalist/harmonica player Keith Relf, who all helped the band forge their distinct style of American-inspired English blues. The group's first release was the December 1964 live cover album Five Live Yardbirds, which featured tracks that would later be reused for the late 1965 album Having a Rave Up.
The group's manager Gorgio Gomelsky produced the album through the hodge-podge method of assembling previously released singles and B-sides. In total, the album contains mostly covers and outside compositions along with a few group-penned originals, but it all makes for a fascinating peer into this moment in rock history.

For Your Love

by

The Yardbirds
Released: June 13, 1965 (Epic)
Produced by: Giorgio Gomelsky & Manfred Mann
Recorded: London, March 1964–April 1965
Side One
Side Two
For Your Love
I'm Not Talking
Putty (in Your Hands)
I Ain't Got You
Got to Hurry
I Ain't Done Wrong
I Wish Your Would
A Certain Girl
Sweet Music
Good Morning Little Schoolgirl
My Girl Sloopy
Group Musicians
Keith Relf – Lead Vocals, Harmonica
Eric Clapton – Lead Guitars
Jeff Beck – Lead Guitars
Chis Dreja – Guitars
Paul Samwell-Smith – Bass, Vocals
Jim McCarty – Drums, Vocals
The album commences with its title song, which was at once the first real hit for the band as well as the single song which made Clapton decide to depart. "For Your Love" was presented to the band by publisher Ronnie Beck and everyone in the group, aside from Clapton, loved it. Written by then 19-year-old Graham Gouldman, the song contains a distinct harpsichord by session man Brian Auger and is overall a strong departure from the blues-rock style of most of the other material on the band. Still, it was melodic and catchy and peaked in the Top 10 on the pop charts of both the UK and US. Clapton played the sessions for this song and then immediately left the group.
When Clapton departed, Gomelsky asked Jimmy Page, then the top session man in London, to join the group. However, Page was busy and happy with his session work and suggested Beck, who was sort of an understudy, for the position which Page would ultimately fill himself a few years later. Beck immediately makes an impact on "I'm Not Talking", with its  heavy rock, crunchy riffs and rudiments along with great rhythmic elements by bassist Paul Samwell-Smith and drummer Jim McCarty. "Putty (In Your Hands)" contains a cool 60s groove while the bridge has some jazz elements, while Calvin Carter's blues classic, "I Ain't Got You", features the fine harmonica playing by Relf for the first time on the album.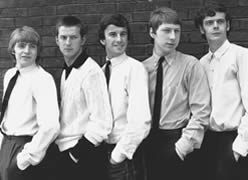 "Got to Hurry" is the first real original composition as an instrumental credited to Gomelsky (as "Oscar Rasputin"), but really a jam composed by the group. Rhythmically, this instrumental has surf music elements while it also acts as a showcase for Clapton's bluesy leads. "I Ain't Done Wrong" is a driving rocker with blues vocals by Relf and some great rudimental riffs thrown in for fun, while "I Wish You Would" is another blues standard with consistent, upbeat guitar rhythm by Dreja and Relf adding harmonica between every line during the verses. This side two opener also has a bridge section which builds towards a frenzied crescendo and was released as a single in August 1964. Although "A Certain Girl" was just the 'B-side' for the previous track, but is the first real shot at pop with a bright sound, strong melody, call and response vocals, and a blistering pop lead by Clapton which sounds like a souped-up Byrds lead.
The Yardbirds sound like a whole different band on "Sweet Music", a song produced by Manfred Mann who also brought in some outside session players and vocals. The track is interesting because of the players involved, but really out of place on this album. In contrast, "Good Morning Little Schoolgirl" is pure fifties-style pop style with harmonized vocals, Relf's fine harmonica, and an outstanding, bluesy lead by Clapton. The song was originally composed and recorded by Williamson nearly three decades earlier. "My Girl Sloopy" is an interesting album closer as a fun rendition of a song which had not yet been made famous as "Hang On Sloopy" by The McCoys. The vocals here are odd but entertaining, especially the exaggerated high pitched harmonies and this extended track adds some Beatles elements.
While For Your Love barely broke the Top 100 on the album charts, it set The Yardbirds up for their first American tour, where Beck began to forge his own sound as well as help direct the group's evolving sound through the mid sixties.
~
Part of Classic Rock Review's celebration of 1965 albums.