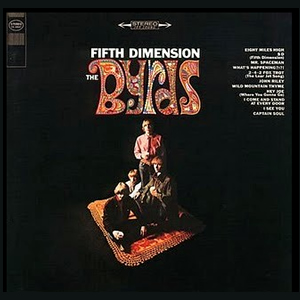 The Byrd's third album, released in the summer of 1966, Fifth Dimension saw a change both in style and personnel for the folk-rock group. Earlier in the year Gene Clark, who had previously been a chief songwriter, departed. The remaining quartet picked up some of the compositional slack while also moving the overall sound in a more psychedelic direction. The result was a record which was both uneven yet highly influential in the overall progress of rock and roll.
Formed in Los Angeles in 1964, the group found immediate success in 1965 with the albums Mr. Tambourine Man and Turn Turn Turn, both of which featured corresponding title songs that reached #1 on the American pop charts. With this, The Byrds were being promoted as "America's answer to the Beatles". The stress of this sudden success, along with a fear of flying, led Clark to depart the group in February 1966, shortly as they had begun recording tracks for the Fifth Dimension album.
Guitarists and vocalists Jim McGuinn and David Crosby stepped in to increase their songwriting efforts for this third album, but the group still needed to record four cover songs to complete the project.

Fifth Dimension

by

The Byrds
Released: July 18, 1966 (Columbia)
Produced by: Allen Stanton
Recorded: Columbia Studios, Hollywood, January-May 1966
Side One
Side Two
5D (Fifth Dimension)
Wild Mountain Thyme
Mr. Spaceman
I See You
What's Happening?!?!
I Come and Stand at Every Door
Eight Miles High
Hey Joe
Captain Soul
John Riley
2-4-2 Fox Trot (The Lear Jet Song)
Group Musicians
Jim McGuinn – Guitars, Vocals
David Crosby – Guitars, Vocals
Chris Hillman – Bass, Vocals
Michael Clarke – Drums, Harmonica
The album begins with "5D (Fifth Dimension)", a very Dylan-esque folk song by McGuinn which is short but builds in intensity towards it's end. The lyrical theme explains Albert Einstein's theory of relativity and the recording features guest Van Dyke Parks on organ. "Wild Mountain Thyme" follows as one of a pair of traditional folk songs repurposed with the Byrds 12-string signature sound on this album. The other is "John Riley" on side two, with both being introduced to the band by McGuinn. "Mr. Spaceman" is an upbeat folk/rock with a more earthy sound than the previous tracks, whimsical but very melodic lyrics and an interesting lead guitar.
After the disjointed psyche-rocker "I See You" comes Crosby's best composition on this album, "What's Happening?!?!" This features a moderate folk/rock vibe but with slight psychedelic overtones as it consistently alternates between verse lines and instrumental passages. The first side ends with the dark "I Come and Stand at Every Door", written about a child who perished at Hiroshima with graphic details. Starting the flip side is "Eight Miles High", the most popular song on the album and the only one composed and recorded while Gene Clark was still a bandmember. It features a good rockin' intro with fine, harmonized vocals delivering lyrics written about the group's flight to London in 1965, which can be interpreted as a blatant allegory about an LSD trip. With this, the song was both influential in developing the emerging musical style of psychedelia while failing to reach it's commercial potential (although it did still reach the Top 20 in both the US and UK) as many radio stations refused to play it.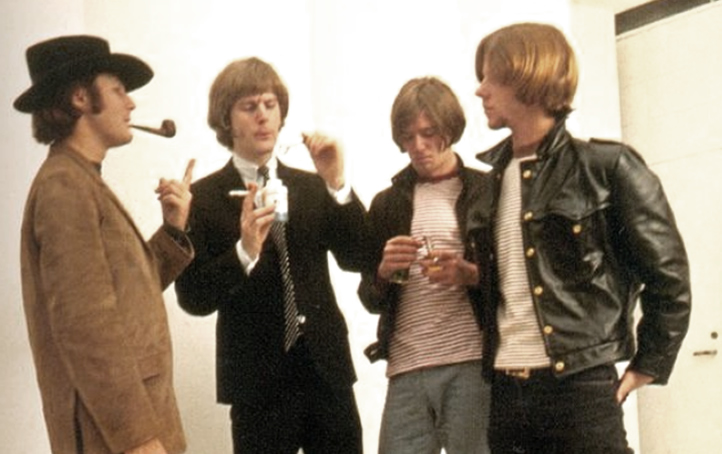 Unfortunately, most of the rest of side two is simply album filler. There's a forgettable version of the oft-covered "Hey Joe", the uninspiring cover of "John Riley" and the weird closer "2-4-2 Fox Trot (The Lear Jet Song)", which features heavy sound effects above a simple repeating country/folk trope. The only somewhat interesting track here is the instrumental "Captain Soul", composed by all four group members including bassist Chris Hillman and drummer Michael Clarke with Clarke overdubbing harmonica above an entertaining surf-rock like backing rhythm.
Fifth Dimension peaked in the Top 30 in both the US and UK albums charts, making it less commercially successful than its 1965 predecessors. Later in 1966, The Byrds recorded their fourth album, Younger Than Yesterday, with a similar approach integrating elements of psychedelia and jazz. It was  released in 1967.
~

Part of Classic Rock Review's celebration of 1966 albums.