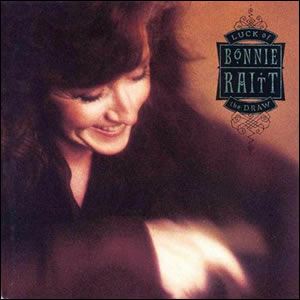 It had taken nearly two decades for Bonnie Raitt to achieve the commercial success that critics had long felt she would achieve. That success came with Raitt's 1989 album Nick of Time, her tenth album overall. She followed this up with the 1991 album Luck of the Draw, an even more popular release which has sold close to 8 million copies in the United States alone to date. The album spawned many radio-friendly hits and introduced Raitt to a general pop audience. This is a bit ironic in that Raitt's claim to fame had long been as an outside-the-mainstream female blues performer who uniquely played signature bottleneck slide. Although some of this legacy cascaded into Luck of the Draw, it wasn't quite the front and center element which made this album successful.
While in college in the late 1960s, Raitt became enthralled with the blues and eventually played alongside such established blues legends as Howlin' Wolf, Sippie Wallace, and Mississippi Fred McDowell. In the Fall of 1970, a reporter from Newsweek caught her act at a nightclub in New York City and the subsequent article spawned much interest in Raitt from major recording labels. She recorded her debut album in 1971 and during the 1970s released a series of roots-influenced albums which incorporated elements of blues, rock, folk and country. By the mid 1980s however, her sales began to slump and it appeared that her run was over when she made this dramatic commercial comeback.

Luck Of the Draw

by

Bonnie Raitt
Released: June 25, 1991 (Capitol)
Produced by: Don Was & Bonnie Rait
Recorded: Ocean Way Recordings & Capitol Studios, Los Angeles, Spring 1991
Track Listing
Primary Musicians
Something to Talk About
Good Man, Good Woman
I Can't Make You Love Me
Tangled and Dark
Come to Me
No Business
One Part Be My Lover
Not the Only One
Papa Come Quick (Jody and Chico)
Slow Ride
Luck Of the Draw
All At Once
Bonnie Raitt – Guitars, Piano, Vocals
Turner Stephen Bruton – Guitars
Bruce Hornsby – Piano, Keyboards
James "Hutch" Hutchinson – Bass
Curt Bisquera – Drums
With Raitt taking writing credit for only four songs on Luck of the Draw, and none of these "hits", this album was created mainly around her talent as a performer and collaborator. The down side of this method is that while it has her face and voice throughout, it is not a personal look into the artist.
"Something to Talk About" was written by Canadian songwriter Shirley Eikhard, who has written for Ann Murray, Emmylou Harris and Cher. The song was actually rejected by Ann Murray's producers her own album Something to Talk About. Raitt's guitar work on this pleasant, bouncy pop song makes it an interesting listen and a way to kickoff the album out with some sass .
The duo, "Good Man, Good Woman" with Delbert McClinton is a predictable pop song with a steady back beat accented by McClinton's harmonica. This is followed by "I Can't Make you Love Me", perhaps Raitt's biggest hit on this record. Her voice is understated while she hits all the right notes. It is the bare simplicity and honesty of her voice against the soft piano played by Bruce Hornsby that give this song it's universal appeal. How much more honest can lyrics be, "I can't make you love me if you don't" – a simple truth to which almost any listener can relate. The remainder of the album's "hits" – "Slow Ride" and "Not the Only One" – are also pop songs that may have been hits performed by other artists, but find a happy home in this collection.
The songs that Raitt wrote herself include "Tangled and Dark", a jazzy song with a cool sax interlude and "Come to Me", which is drenched in Caribbean rhythms and gutsy lyrics like "I ain't looking for a man Baby can't stand a little shaky ground/He'll give me fire and tenderness/And got the guts to stick around. The most insightful and heartfelt performance is the album's closer, "All At Once", which offers a glimpse into the difficulties of a family going through a divorce. The anger and confusion of trying to come to terms with damaged relationships penned in lyrics such as "Looks to me there's lots more broken than anyone can really see/Why the angels turn their backs on some is just a mystery to me."
Record companies had been trying to make a superstar out of Bonnie Raitt for years. They did not achieve success until they started capitalizing on her assets – her expressive vocals and her guitar skills while using collaborators in pursuit of commercial success. The resulting album drops Bonnie Raitt the folksy blues singer guitar player into a pillow of pop perfection.
~

Part of Classic Rock Review's celebration of 1991 albums.