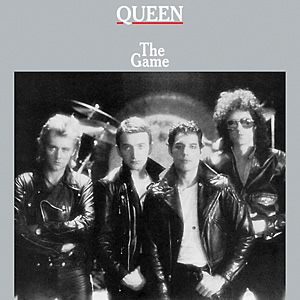 Queen reached their commercial peak in the U.S.A. with the 1980 release of their eighth studio album, The Game. This was the only album by the band to reach the top of the charts in America and it eventually surpassed 1977's, News of the World, as Queen's top seller with over four million copies distributed. The songwriting on this album is very spread out and diversified, with all songs written individually by band members and each of the four members writing at least two tracks each on this ten track album, which is solid throughout and contains no real weak tracks or filler material.
Queen rode the success of News of the World into a huge world tour in late 1977 and early 1978. They followed this up with the recording and release of the album Jazz, which reached the Top Ten in the US. After another large world tour, the group released their first live album, the double-platinum selling, Live Killers, in 1979. Later that year, the group participated in Paul McCartney's Concert for the People of Kampuchea, with a live rendition of their 1974 track "Now I'm Here", being featured on the subsequent album.
Co-produced by Reinhold Mack at his studio in Munich, The Game was recorded during two distinct phases. Four of the tracks were recorded during the summer of 1979, with the remaining six being produced nearly a year later in early 1980. This album marked the first time that Queen used a synthesizer, a practice they would adopt through most of their later work. Guitarist Brian May stated that the band was "trying to get outside what was normal" and Mack's recording approach was different than what they had done through their first seven studio albums. The group also employed some pop sub-genres to their tradition "classic rock" core, with elements of new wave and disco spread throughout this record.

The Game

by

Queen
Released: June 30, 1980 (EMI)
Produced by: Reinhold Mack & Queen
Recorded: Musicland Studios, Munich, Germany, June 1979 – May 1980
Side One
Side Two
Play the Game
Dragon Attack
Another One Bites the Dust
Need Your Loving Tonight
Crazy Little Thing Called Love
Rock It (Prime Jive)
Don't Try Suicide
Sail Away Sweet Sister
Coming Soon
Save Me
Group Musicians
Freddie Mercury – Piano, Keyboards, Guitar, Vocals
Brian May – Guitars, Keyboards, Vocals
John Deacon – Bass, Guitars, Piano
Roger Taylor – Drums, Vocals
The album begins with the quasi-theme song "Play the Game", written by lead vocalist Freddie Mercury in the style of a classic Queen piano ballad, with great rock elements. It all starts with spacey and shrieking synth sound effect before settling into the warm and delicate verse. Everyone in the group brings their 'A' game to this track, as middle section blends the heavier rock elements led by May with some more wild synth effects. "Dragon Attack" was composed by May and is the first track built on pure textures, a practice which Queen would expand on later on this album and on later albums. The song features a slight drum solo by Roger Taylor before it reaches its heights with some wild, dueling guitars above the middle section with a unique arrangement that allows these guitars to creep in and totally invade the song's core.
The hit song "Another One Bites the Dust" was composed by John Deacon and is largely built on his simple bass riff which was inspired by the contemporary group Chic. Later, the song takes on a funky element when May adds guitar in the second verse before it goes "pure disco" during a bridge which includes a simple dance beat strewn by various synth sound effects. The formula worked, as "Another One Bites the Dust" sold seven million copies as a single, reached the Top Ten in Britain, and became Queen's second and final #1 hit in the United States.
Queen's initial #1 hit is also on The Game, although it was released nearly a year earlier. "Crazy Little Thing Called Love" was written by Mercury as a tribute to the late Elvis Presley. This is also one of the few tracks in the Queen catalog where Mercury plays guitar, as he claimed he composed it in just ten minutes while strumming the few chords that he knew. This all worked out, as a rockabilly track with great style, rich harmonies, and a potent bass line and guitar riffing. Preceding the hit track in the album's sequence is Deacon's very pop-oriented "Need Your Loving Tonight", a bright and light tune driven by melody and produced with a much different approach than the more up-front and focused tracks on the album.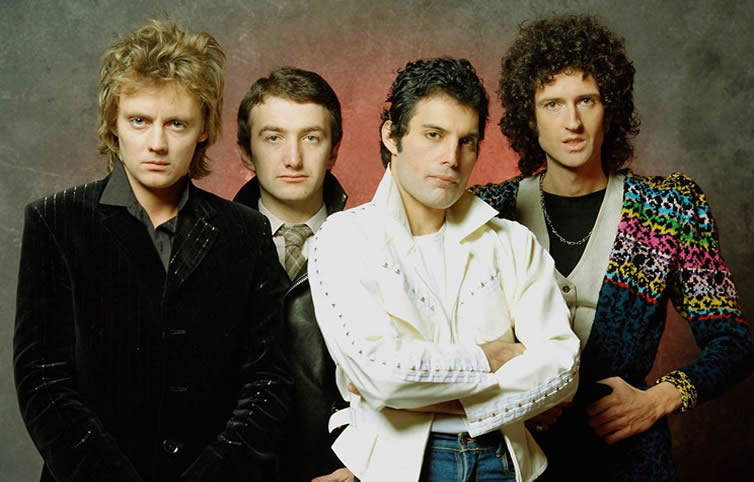 The second side commences with "Rock It (Prime Jive)", written by Taylor. This song is in two distinct parts, with Mercury crooning during the long intro and Taylor taking over during the new-wave influenced body of the song. While the song really doesn't go anywhere from here, it is still intense and interesting enough in its upbeat approach. "Don't Try Suicide" is a song that's hard to peg. It does have some very cool sonic motifs throughout, but it is so extremely corny in its PSA-style message that it almost sounds like it should have reserved for a non-album project;
"Don't do it, Don't do it, Don't-do it, Don't put your neck on the line, Don't drown on me babe, Blow your brains out, don't do that – yeah…"
The album's final three tracks were each recorded during the 1979 sessions. "Sail Away Sweet Sister" is a fine tune by May where the guitarist takes lead vocals and performs his most potent, harmonized guitar lead on the album. This song also features English folk elements and more great harmonies and production. Taylor's, "Coming Soon" , is percussion driven with a stylistic blend somewhere between ELO and Cheap Trick, along with some heavy new wave elements to top it off. The album concludes with May's "Save Me", which starts as a sad song of lament but soon launches into a dynamic theatrical piece. While Mercury is back on lead vocals, May played most of the instruments on the track including acoustic and electric guitars, piano and synthesizer. While not a big hit in the US, this album closer peaked at #11 on the UK Singles chart.
The Game was a true worldwide hit, reaching the Top Ten on charts in eleven different nations and achieving Gold or Platinum status in all major pop music markets. Queen and producer Reinhold Mack were also nominated for a couple of Grammy Awards in 1981, another measure of peak success for Queen.
~
Part of Classic Rock Review's celebration of 1980 albums.