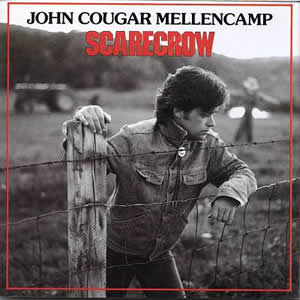 While much of popular music in 1985 was moving towards more synth-based compositions and refined production, John "Cougar" Mellencamp decided to return to his roots on Scarecrow. In fact, Mellencamp was so dedicated to incorporating the sound of classic 1960s music that he mandated to his band that they learn about a hundred old singles verbatim while rehearsing for recording the album. The result was a highly entertaining and successful album which set the template for many future works.
Mellencamp's breakthrough album was 1982's American Fool, his fifth release as "John Cougar". Following this success, he insisted on using his birth name, Mellencamp, on future releases. 1983's Uh-Huh was another commercial success and the first to feature both Larry Crane and Mike Wanchic on guitars.
Co-produced by Don Gehman, the album was the first to be recorded at Mellencamp's studio in Belmont, Indiana, known as "The Belmont Mall". Along with the definitive 60s music theme, the lyrical theme of this album was the transitional economy which saw the ruin of many family farms during the era, giving the album an overall bittersweet tone.

Scarecrow

by

John Cougar Mellencamp
Released: November 4, 1985 (Riva)
Produced by: Don Gehman & John Mellencamp
Recorded: Belmont, Indiana, March 20-April 29, 1985
Side One
Side Two
Rain On the Scarecrow
Grandma's Theme
Small Town
Minutes to Memories
Lonely Ol' Night
The Face of the Nation
Justice and Independence '85
Between a Laugh and a Tear
Rumbleseat
You've Got to Stand for Somethin'
R.O.C.K. in the U.S.A.
Primary Musicians
John Cougar Mellencamp – Lead Vocals, Guitars
Larry Crane – Guitars, Vocals
Mike Wanchic – Guitars, Vocals
John Cascella – Keyboards
Toby Myers – Bass, Vocals
Kenny Aronoff – Drums, Percussion, Vocals
The main album theme is portrayed on the opening track, "Rain On the Scarecrow", co-written by George M. Green. Mellencamp's chanting lyrics are dark and desperate, while musically this track builds on a sixties-type folk riff with bright guitars and a direct bass by Toby Myers. "Grandma's Theme" follows as a short interlude of a traditional tune called "In the Baggage Coach Ahead", sung by Laura Mellencamp, John Mellencamp's actual grandmother. This links to "Small Town", a standard folk-rocker built with a strong and direct drum beat by Kenny Aronoff. The song reached #6 on the  US pop charts and was adopted as a rustic theme by many subsequent interests.
"Minutes to Memories" is another co-composed by Green and this stays in the same vibe as the previous song with some interesting percussive effects and other little sonic treats. This song does get interesting and intense later on with backing vocals by Mimi Mapes complimenting the rest of the ensemble. "Lonely Ol' Night" starts with simple, dueling riffs, which are worked in well with the steady beat of the song. This popular track contains some of the best melodies on the album, with the title inspired by a line from the 1963 film, Hud, starring Paul Newman. "The Face of the Nation" is built with a unique bass riff by Myers accompanied by bouncy guitar by Crane and choppy keyboards by John Cascella throughout, However, it is Aronoff's drumming which shines brightest on this track.
Scarecrow's original second side begins with "Justice and Independence '85",a drum-driven funk rocker which attempts to cleverly use titles as names for members of a family. "Between a Laugh and a Tear" is the song on the album which sounds closest to the old "John Cougar" sound, as a direct rocker with subtle guitar riffs and backing vocals by guest, Rickie Lee Jones. The catchy "Rumbleseat" is acoustic pop with plenty of melody and entertaining riffs, more great bass by Myers and a perfect blend of guitars by Wanchic and Crane. "You've Got to Stand for Somethin'" stays in same vein as much of the other songs musically but seems to randomly drop famous people and events and seems to try too hard to make a profound point.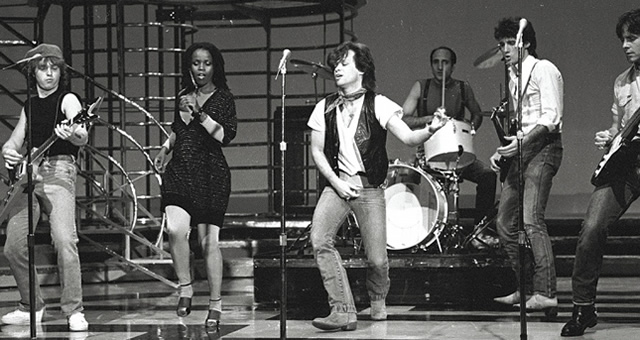 The closing track, "R.O.C.K. in the U.S.A. (A Salute to 60's Rock)",  finds the intended sound perfectly. This catchy, Top 10 pop hit with definitive sixties elements and topical tributes, features a cool mid section with a nice array of short instrumental leads, including a penny whistle organ by Cascella. Despite all this, Mellencamp was initially reluctant to include the song on the album, feeling it was too light-hearted in contrast to the more serious songs.
Following its release, Scarecrow peaked at #2 in the US and spawned a major tour through 1985 and 1986. In the spirit of the album's theme, Mellencamp helped organize the first Farm Aid benefit concert, an annual event which continues three decades later.
~

Part of Classic Rock Review's celebration of 1985 albums.