Buy Darkness On the Edge of Town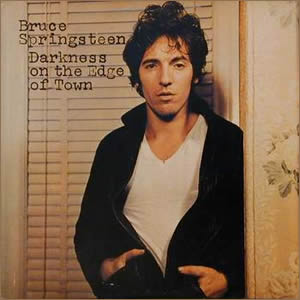 Bruce Springsteen set out to make a rural influenced album with Darkness On the Edge of Town, the long awaited follow-up to his 1975 breakthrough, Born to Run. This album is what many consider as one of Bruce's best albums. The album's delay was caused mainly by a legal battle with former manager, Mike Appel,  over song rights and control, during which Springsteen toured extensively with the E Street Band, building group chemistry which carried over into the recordings. The album was produced by Springsteen, John Landau and guitarist Steve Van Zandt, with Landau being more a "formalist", Van Zandt preferring more of a "garage" sound and Springsteen acting as arbitrator.
The songwriting sessions for Darkness On the Edge of Town were the most prolific of Springsteen's career. He composed at least 70 songs and recorded a whopping 52 of those, either fully or partially. Some of the unused material became hits for other artists, such as "Because the Night" for Patti Smith, "Fire" for The Pointer Sisters, "Rendezvous" for Greg Kihn, and "This Little Girl" for Gary U.S. Bonds, while several others were held over for Springsteen's next album, the double LP The River in 1980. Adding to Springsteen's reputation for providing hits for other bands was Manfred Mann's Earth Band #1 pop hit with a rearranged version of "Blinded by the Light" from his debut, Greetings from Asbury Park, NJ.
Springsteen's songs were inspired by such diverse influences as the new punk sound and his recent embrace of traditional country music. He later called this album an honest "reckoning with the adult world" and a reaction to his own good fortune. Unlike the escapism themes of Born To Run, the album pays tribute to the stability of small time life, through good times and bad. Musically and sonically, the album features the dynamic of the many players fighting for space within the limited sonic domain of this record, making it interesting and entertaining from end to end.

Darkness at the Edge of Town

by

Bruce Springsteen
Released: June 2, 1978 (Columbia)
Produced by: Bruce Springsteen, Jon Landau, & Steve Van Zandt
Recorded: The Record Plant, New York, October 1977 – March 1978
Side One
Side Two
Badlands
Adam Raised a Cain
Something In the Night
Candy's Room
Racing In the Street
The Promised Land
Factory
Streets of Fire
Prove It All Night
Darkness On the Edge of Town
E Street Band
Bruce Springsteen – Lead Vocals, Guitars, Harmonica
Steve Van Zandt – Guitars, Vocals
Clarence Clemans – Saxophone, Vocals
Roy Bittan – Piano, Vocals
Danny Federici – Keyboards
Garry Tallent – Bass
Max Weinberg – Drums
Starting strong with "Badlands" which, aside from "Born to Run", may be the quintessential Springsteen song, the album roars in full frenzy. The carnival-like, twinkly piano of Roy Bittan meshes nicely with the warm toned organ sounds of his counterpart Danny Federici, all beneath the stark and straight-forward chants of lyrics chronicling the revolving blue-collar life. Springsteen provides just enough hard rock guitar to make it respectable and Clarence Clemens plays a mean sax solo, although it does sound a little out of place with the mesh of the band vibe.
The dark but upbeat bluesy "Adam Raised a Cain" contains music with a simple drive while the vocal melodies are dynamic and interesting. Perhaps Springsteen's strongest showing as a performer on Darkness On the Edge of Town, he displays much vocal range – from the laid back verses to the intense choruses to the screaming final verse. It also contains his most impressive guitar work with a fiery guitar lead. "Something In the Night" follows with a very interesting intro build-up to a song that is an anthem and a ballad all wrapped into one, with adventurous vocals and an infectious piano riff.
"Candy's Room" sounds like it was influenced by Lou Reed, although Springsteen does actually sing a bit in this song. It is a real showcase for drummer Max Weinberg , who shows his enormous talent with a big drum sound. Lyrically, the song details a young man's naïve love of the damaged Candy. The first side ends with "Racing In the Street", a somber sequel to "Born to Run" influenced by the California sound of Jackson Browne. This much acclaimed, dirge-like ballad speaks of a man with dead end job with his only joy coming from driving his custom wheels.
The second side brings the mood back up with "The Promised Land", returning to the pop formula. Clemens returns with another short sax solo, this time interrupted by Springsteen's harmonica solo and there are even some backing "oohs" and "ahhs" during the third verse. The song's title was inspired by a Chuck Berry song of the same title and the lyrics link to other songs on the album. The short but potent "Factory" depicts a numbing sort of working life, inspired by Springsteen's own father who worked in a noisy factory which affected his hearing. "Streets of Fire" is very intense and melodramatic (almost too melodramatic) with Federici's church-like organ setting the mood.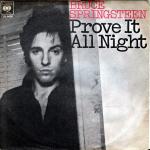 With a sax lead right off the top, "Prove It All Night" brings the mood right back, scoring the only Top 40 hit from Darkness On the Edge of Town. Bassist Garry Tallent adds the perfect counterpart to the melodic keyboards and new-fangled guitar lead by Springsteen. Building with drive and excitement to the climatic outro with wails of love and the surrendering of a women's virtue. The album concludes with the powerful title song, which starts with a Motown inspired soul beat before it breaks into a full arrangement. "Darkness On the Edge of Town" serves as an inspired conclusion to the album of the same name, especially as it refrains from being whiny as some of Springsteen's other "working class" songs.
Although not exactly a commercial hit, Darkness On the Edge of Town did remain on the charts for 97 weeks and has sold steadily enough over 35 years to reach triple-platinum status. The 1978 tour which followed has been considered one of legendary status for the intensity and length of its shows. In 2010, a triple CD box set The Promise featured 22 previously unreleased tracks from the Darkness sessions with some added production. But this still only scratches the surface of the incredible proliferation of Springsteen in 1977/78, as scores of those songs have yet to be officially released. If you are an aspiring talent or a singer, you can visit some reliable sites like runthemusic.com to help you improve more on music and also learn some musical instruments like piano, guitar, violin and cello as well.
~

Part of Classic Rock Review's celebration of 1978 albums.