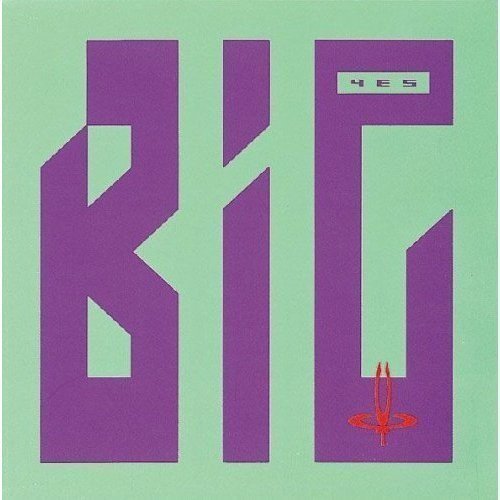 The 1980s version of the classic rock band Yes put out interesting, modern rock oriented albums which differed starkly from their prog rock efforts of the 1970s. Despite the shifts in personnel which made many loyal fans suspect of the material's legitimacy, these albums were some of the most solid put out by a "second British invasion" band in the eighties. 1987's Big Generator was the third of these and, perhaps, the most potent (even though it didn't sell as well as 1983's 90125) and it would ultimately become their last album to chart songs. This album was the high point of the tenor of guitarist Trevor Rabin, who in addition to his role as guitari,t wrote a large amount of the material, provided co-lead vocals on several tracks and took over as producer during the later stages of the album's production.
Big Generator was recorded in three different countries and took four years to make due mainly to creative differences and shifting production duties. Trevor Horn, a former band member and producer on 90125, started out as the project's producer but departed after a few months of the band recording in Italy. Next the band recorded in London with producer Paul De Villiers, with the most fruitful of these recordings being the complex vocal-driven "Rhythm of Love". Finally, the production moved to Los Angeles for the final stages under Rabin.
Despite all the production turmoil, the result was a highly energetic and entertaining album that was successful in blending accessible and commercially songs with flourishes of musical virtuosity, which was the longtime trademark of the band. There is also a great mix of song styles and tenor, making the listening experience very diverse and interesting.


Big Generator

by

Yes
Released: September 17, 1987 (Atco)
Produced by: Trevor Horn, Paul De Villiers, Trevor Rabin, & Yes
Recorded: Various Studios in England, Italy, & USA, 1985-1987
Side One
Side Two
Rhythm of Love
Big Generator
Shoot High, Aim Low
Almost Like Love
Love Will Find a Way
Final Eyes
I'm Running
Holy Lamb
Band Musicians
Jon Anderson – Lead Vocals
Trevor Rabin – Guitars, Keyboards, Vocals
Tony Kaye – Keyboards
Chris Squire – Bass, Vocals
Alan White – Drums

The opener "Rhythm of Love" contains some of the best harmonies every put on tape outside of the Beach Boys. This complex vocal ensemble during the intro and chorus refrain turns an otherwise typical late 1980s pop song into a very unique and enjoyable listen. On this track lead vocalist Jon Anderson shares the vocals to an extent with Rabin, a pattern which ids common on the album. "Rhythm of Love" would become the last charting single for the band in 1988. The title song "Big Generator" follows with as a more standard rock song but with some added elements that make it unequivocally Yes. There are low key soundscapes during the verses, the orchestral-hit effects during the choruses, it also contains a very odd, short guitar lead which is almost out of tune with minimal backing instrumentation.
"Shoot High, Aim Low" was one of the first songs recorded for the album while Horn was still the producer in Italy. This is a well-crafted and accessible for a slow and dramatic tune, held together by a crisp and steady beat by drummer Alan White and accented by some lead keyboard riffs by Tony Kaye. The 7-minute song never really breaks out of its original pattern, in vast contrast to much by Yes through their career. Still, it never lags or drags due to some interesting counter riffs of flamenco guitar and lead vocals which literally trade lines during the verses. "Almost Like Love" finishes off the first side with a foray into the world party rock, as a strong and fast, upbeat tune with brass accents and a clear hook.
"Love Will Find a Way" is a solo composition by Rabin which he had originally written for Stevie Nicks before deciding to use it on this Yes album. It starts with a string quartet intro before breaking into a crisp rock guitar riff. It is a very accessible and radio-friendly pop song with Rabin firmly in the lead vocally aside form a counter-post-chorus with Anderson offering a alternate take on the hook. The ballad "Final Eyes" is the best song on the Big Generator. It begins with a heavily effect-driven choppy guitar riff before breaking into the main 12-string acoustic riff in a beautifully blended transition. Starting with excellent lead vocals by Anderson, everything on this song is melodic and romantic with just the right proportions of sonic decor in differing parts to keep it fresh and exciting throughout. There is just a short bit of new age lull at about the 5 minute mark, which may seem out-of place until the song reprises strongly about 30 seconds later to a climatic finish which dissolves into a rather upbeat acoustic solo fade-out.
"I'm Running" begins with a crisp bass riff by Chris Squire, building with Caribbean beats and overtones make for an interesting intro. A marimba-led verse leads into lots of different sections where the band seems to attempt a reprise of their prog-rock past. However, this may be a bit superfluous as they are repeated in differing lights and the song ends up too long by perhaps two minutes. "Holy Lamb (Song for Harmonic Convergence)" is a solo composition by Anderson which is melodic and pleasant enough but a bit of a letdown as a quasi-religious ballad to conclude the album, leaving the listener a bit unsatisfied in the climax.
After Big Generator, the personnel shifts continued with the group actually splitting in two when Anderson organized a reunion project with three former members of Yes from the 1970s with the short-lived group Anderson, Bruford, Wakemen & Howe, who released a single studio album in 1989. However, these two factions united for a one-of-a-kind Yes album in 1991 called Union which included eight members of Yes from previous eras.
~

Part of Classic Rock Review's celebration of the 25th anniversary of 1987 albums.