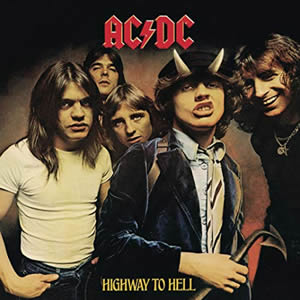 The first era of the group AC/DC climaxed with their sixth studio album in 1979, Highway to Hell. Displaying the group's signature riff-driven hard rocker from cover to cover, this album was both the first to find commercial success in the United States, reaching the Top 20 on the album charts, and the last to feature lead vocalist Bon Scott. Highway to Hell went Platinum in five nations around the world and would ultimately become the group's the second highest selling album.
Australian guitarist brothers Angus Young and Malcom Young formed the group in late 1973. They first portrayed a glam rock image and found minor local success with a rotating lineup of vocalists and rhythm players. When veteran Melbourne promoter Michael Browning later became the group's manager, he suggested abandoning the glam rock image for a harder rock sound. Scott and drummer Phil Rudd joined as permanent group members in Autumn 1974 and AC/DC soon quickly recorded their debut album, High Voltage. Starting by becoming a successful act in Australia, the group methodically built an international following through the late 1970s. Bassist Cliff Williams debuting on the critically acclaimed 1978 release Powerage which, like all previous releases, was produced by George Young, older brother of Angus and Malcom.
The group's label, Atlantic Records, wanted a more radio-friendly sound and insisted on a more mainstream producer for the record that would become Highway to Hell. Eventually, Mutt Lange got the gig and spent close to three months in England developing the material and perfecting the sound.

Highway to Hell

by

AC/DC
Released: July 27, 1979 (Atlantic)
Produced by:Robert John "Mutt" Lange
Recorded: Albert Studio, Sydney, Roundhouse, London, Criteria Studio, Miami, December 1978–April 1979
Side One
Side Two
Highway to Hell
Girls Got Rhythm
Walk All Over You
Touch Too Much
Beating Around the Bush
Shot Down in Flames
Get It Hot
If You Want Blood (You've Got It)
Love Hungry Man
Night Prowler
Group Musicians
Bon Scott – Lead Vocals
Angus Young – Guitars
Malcom Young – Guitars, Vocals
Cliff Williams – Bass, Vocals
Phil Rudd – Drums
The album takes off with its definitive title track, which portrays the group's bluesy hard rock at its best and features great vocal melodies by Scott. The theme of "Highway to Hell" reflects the incredibly stressful nature of touring and the song became so successful that it was named the "Most Played Australian Work Overseas" in 2009. Next comes perhaps the most accessible pop/rocker on the album, "Girls Got Rhythm", which was later released as both a single and the title track of a four-song EP.
"Walk All Over You" tries a bit too hard to be an anthem, especially with its shifting rhythms and intensities, but the song does gain some momentum in third verse, post lead section. "Touch Too Much" has more typical AC/DC good guitar tones by the brothers Young, along with call-and-response vocals in the later verse ad intense vocals by Scott in song's coda. The first side concludes with "Beating Around the Bush" is an interesting, upbeat blues track influenced by early Fleetwod Mac, featuring stop/start timing in the music arrangement and strong sexual lyrical connotation.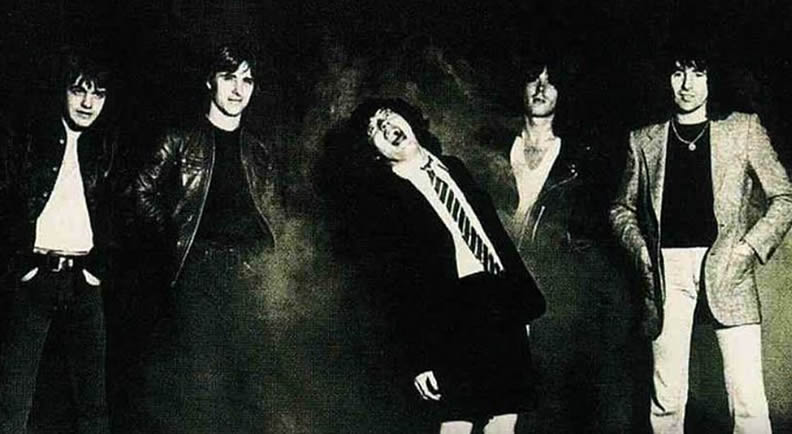 Much like the first side, the second begins with tight, catchy rocker. "Shot Down in Flames" has great riffs throughout to back strained hard vocals during song's hook. After the highly formulaic "Get It Hot", "If You Want Blood (You've Got It)" provides social commentary on "living in the human zoo" and features potent bass by Williams and a slow, bluesy but effective guitar lead. The funky "Love Hungry Man" adds some overall variety, leading to the closer "Night Prowler". This moderately paced, dramatic song with a tone of fear and loathing became controversial when it was cited by serial killer Richard Ramirez, who murdered more than 15 souls in California in 1985.
With the breakthrough success of Highway to Hell, the group began work on a highly anticipated follow-up in early 1980. Sadly, Scott died during a night off from recording in February 1980, leaving AC/DC the tough decision to disband or carry on with a new vocalist. With encouragement from Scott's family, the group continued with new vocalist Brian Johnson and the ultimate result, Back In Black, would ultimately become the group's most successful album.
~

Part of Classic Rock Review's celebration of 1979 albums.