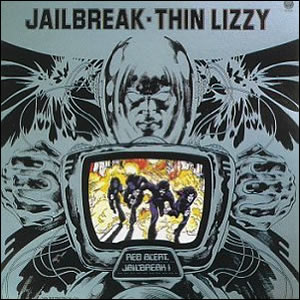 After a long musical journey which included style shifts, various lineup changes and five less-than-commercially successful albums, Thin Lizzy finally broke through in 1976 with Jailbreak. This quasi-concept record has an overlying theme about a figure simply known as "The Warrior" breaking away from the despotic "Overmaster" to lead the oppressed masses in a dystopian-shattering revolution. But the real beauty of this album is tilted far more towards its sound than its lyrics, as Thin Lizzy had fully mastered the the crisp, harmonized guitar attack with much rhythmic movement to complement the distinctive, barked-out lead vocals of composer and front-man Phil Lynott.
Thin Lizzy was founded in Dublin in 1969 when Lynott and drummer Brian Downey left their group Orphanage to form a new band with musicians formally from the band Them. In 1971, the group relocated to London but the musical style remained distinctly Celtic with lyrics strongly referencing Dublin and surrounding areas. In 1972, Thin Lizzy's version of a traditional Irish ballad, "Whiskey in the Jar" was a smash hit in their native Ireland and reached the Top 10 in the UK. However, album sales did not follow suit and after, the departures of several guitarists, Lynott decided to morph the group's sound towards harder rock and recruited Scott Gorham and then-18-year-old Brian Robertson for a double lead-guitar attack starting with the 1975 album, Fighting.
However, the record label was growing impatient with lackluster sales and gave Thin Lizzy one final chance to produce a commercially successful album. With producer John Alcock, the band extensively composed, rehearsed and recorded tracks over the winter of 1975-76, developing a tight arrangement on each of Jailbreak's nine track.

Jailbreak

by

Thin Lizzy
Released: March 26, 1976 (Vertigo)
Produced by: John Alcock
Recorded: Ramport Studios, London, December 1975–February 1976
Side One
Side Two
Jailbreak
Angel From the Coast
Running Back
Romeo and the Lonely Girl
Warriors
The Boys Are Back in Town
Fight or Fall
Cowboy Song
Emerald
Group Musicians
Phil Lynott – Lead Vocals, Bass
Scott Gorham – Guitars
Brian Robertson – Guitars
Brian Downey – Drums, Percussion
The opening title track, "Jailbreak", is a pure hard rock song of action with timeless theme of escape. It musically builds tension a bit during verses, setting up a satisfying chorus release, and contains other cool distinctions ranging from the corny alarm section under the bridge to the cool lyrical nod to Robert Johnson's "Hellhound on My Trail". Co-written by Robertson, "Angel From the Coast" picks up where the opener left off and accelerates with much movement in the hyper-funk lead riff and rhythm. This song features exceptional drumming by Downey with great rudiments throughout by the entire band and the soaring, harmonized lead precedes a rapid funk chord effect by the two guitars in an extended bridge jam.
"Running Back" was the album's most controversial track, internally. Intended as the lead single from the album, Lynott and Alcock brought in session keyboardist Tim Hinkley to add more "pop" elements. This was done against the objections of Robertson, who had played a large role in the original arrangement, including his own additions of piano and bottleneck guitar, and Robertson ultimately did not play on the album version of this song. Although a bit tacky lyrically, "Romeo and the Lonely Girl" features a pleasant music mix with acoustic backing the blues/jazz electric guitar, animated drums and a later piercing guitar lead. The dramatic "Warriors" was co-written by Gorham and is the hardest rocker on the album, employing some mid seventies-style heavy metal with just a tad of punk, adding to the overall sonic diversity of the album.
The original second side of Jailbreak is where the true musical gems are found. "The Boys Are Back in Town" is, by far, the most distinctive Thin Lizzy song. It features interesting chord progressions during the verses, a brilliantly simple chorus hook and one of the most indelible rock riffs ever put to record as Gorham and Robertson perfectly harmonize their guitars during the post-chorus breaks. Lyrically, the song originated as a tribute to a returning vet from Vietnam but later morphed as a sort of party anthem dedicated to any number of traveling heroes. Although the song was not a tremendous charting hit upon its original release, it has been used countless times at sporting events, in movies, on television and as a permanent fixture on classic rock radio all over the world. In contrast to the preceding popular upbeat number, "Fight Or Fall" is quite mellow and laid back with acoustic guitar and subtle electric overtones, but with a still steady and upbeat rhythm by Lynott and Downey. This fine track is divided by slight rudimentary breaks between the verses and features a bit of American soul added to the ending section.
"Cowboy Song" starts as a subtle, Western ballad with Lynott's bass imitating a trotting horse. But soon breaks into a riff-driven hard rocker, especially with the infectious riff which builds to triple harmonized guitars, post lead section. The final verse cools with just bass and drums, before this all explodes into a blistering, blues/rock guitar lead later in the song. The album concludes with "Emerald", a strong rocker in tribute to Irish heritage and one more thematic "fight" against invaders, with dueling guitars to nicely symbolize the battle and rebellion. This closing track is also notable as the only composition on this album credited to all four band members.
Jailbreak was the group's first Gold album and it set them up for subsequent success in the years that followed. However, a bit of the commercial tailcoats were severed when both Lynott and Robertson suffered ailments and injuries which caused large parts of the 1976 tours to be cancelled and expedited the production of the group's follow-up album, Johnny the Fox.
~

Part of Classic Rock Review's celebration of 1976 albums.