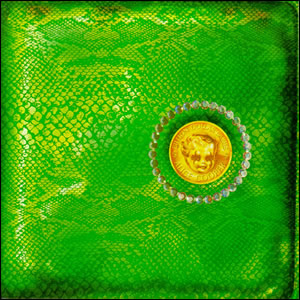 The Alice Cooper Band reached their commercial peak with 1973's Billion Dollar Babies. This sixth Alice Cooper album, produced by Bob Ezrin, refined some of the basic rock grit of earlier work with the theatrical glam of the now famous (or infamous) live shows. The album's title derives from the surprise the band felt about their massive success following their two 1971 albums and 1972's School's Out. They literally went from living together in a basement to one of the top rock acts in two years. The band's leader Alice Cooper wrote the bulk of the album's lyrics, some of which touched on very controversial subjects for shock value.
The album was first recorded at a mansion the band purchased called the "Galecie Estate" in Greenwich, Connecticut. Ezrin used various methods to achieve certain effects, including using a greenhouse with a marble floor as an echo chamber. The group completed the album at Morgan Studios in London, where the sessions became "party central" with many famous guests such as Harry Nilsson, Rich Grech, Marc Bolan, and Keith Moon stopping in, but all were too inebriated to contribute musically. Band guitarist Glen Buxton also struggled with substance abuse at the time and two session guitarists were needed to be brought in to finish his parts.
After the album was released, the band embarked on a massive tour that included 64 concerts in 59 cities in less than three months, which broke many U.S. box office records. These live performances featured Cooper doing skits that included tearing apart baby dolls and attacking mannequins while using several stage props and effects which required a crew of 40 to 50 people and used about 1 tons of equipment. This stagecraft all came with a cost as the tour, originally estimated to bring in $20 million, barely cleared $5 million.

Billion Dollar Babies

by

Alice Cooper Band
Released: February 25, 1973 (Warner Brothers)
Produced by: Bob Ezrin
Recorded: The Galecie Estate, Greenwich, CT, August 1972-January 1973
Side One
Side Two
Hello Hooray
Raped and Freezin'
Elected
Billion Dollar Babies
Unfinished Sweet
No More Mr. Nice Guy
Generation Landslide
Sick Things
Mary Ann
I Love the Dead
Band Musicians
Alice Cooper – Lead Vocals, Harmonica
Michael Bruce – Guitars, Keyboards, Vocals
Glen Buxton – Lead Guitars
Dennis Dunaway – Bass, Vocals Guitars
Neal Smith – Drums
Although the majority of the music on Billion Dollar Babies was composed by guitarist/keyboardist Michael Bruce, the opener "Hello Hooray" was written by singer/songwriter Rolf Kempf and was actually originally recorded by Judy Collins. This is a true show tune with soaring vocal melodies, a Bowie-esque rock arrangement, and a climatic coda section, which truly separates Alice Cooper from any of his shock rock successors like Marilyn Manson. "Raped and Freezin'" is an upbeat rock song with a temperament much lighter than the lyrical content. The lyrics tell of someone chased through the desert in Mexico and the arrangement attempts a Mexican-flavored end section, but fall just a bit short.
The sparse lyrics of "Elected" are nicely supplemented by energetic and entertaining music. This effect-laden song is actually a remake of an earlier band track called "Reflected" and the lyrics take the form of a campaign speech. Drummer Neal Smith provides stomping drum beats and Ezrin adds a cinematic touch with brass arrangements that complement the well crafted guitar riffs. The title song "Billion Dollar Babies" is riff driven and keeps Cooper keep his hard rock cred with guest Donovan providing background vocals. "Unfinished Sweet" contains some strong sound effects with the simple guitar riffs and vocals which mimic the primary riff along with a movie-like middle section with many more effects.
The second side begins with the satirical "No More Mr. Nice Guy", a clever story song about the sheer outrage over Cooper's stage antics. The music is upbeat and melodic with singalong chorus and a doo wop-tinged backing. The song was a Top 40 hit in the U.S. and Top 10 hit in the U.K. The album peaks with "Generation Landslide", a unique gem which starts with blue-grassy acoustic riff before switching to a drum-marched infused verse with a throbbing bass line by Dennis Dunaway. Although not released as a single, the song became a live staple and fan favorite throughout Cooper's career.
The rest of the album is dedicated to pure theatrics. "Sick Things" is a doomy and melodramatic tune dedicated to the band's fan base with strong horn arrangements by Ezrin above a simple bass line. "Mary Ann" is a rare ballad where Bruce's distant-sounding pianos offer sharp contrast to Cooper's near-sounding vocals. "I Love the Dead" is, the most controversial song of Cooper's career to that point with an overt theme that unabashedly promotes necrophilia. Although it was no doubt manufactured just for this shock effect, it may be a bit much for those who cherish some sliver of taste in rock and roll.
Billion Dollar Babies reached the top of the album charts on both sides of the Atlantic and would be the peak of the Alice Cooper Group. But just when it appeared like this hard rock band was about to step into the top echelon, tensions between the members led to a split after just one more album, Muscle of Love. Alice Cooper continued as a solo artist for decades to come while Bruce, Dunaway, and Smith went on to form a new group which took its name from this album, Billion Dollar Babies.
~

Part of Classic Rock Review's celebration of 1973 albums.