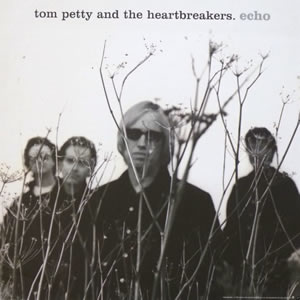 Closing out the century with their tenth studio album, Tom Petty and the Heartbreakers blended folk/rock arrangements with introspective lyrical themes on Echo. The album's tracks were composed and produced in the wake of Tom Petty's divorce from his wife of two decades and his own subsequent bought of depression and the isolation of living alone in a cabin. Petty stated that in this era he didn't see a lot of people because he wasn't happy and "didn't want to lay that on everybody".
Prior to Echo, Petty had been on a decade-long streak of commercial and critical success. In 1988 he became a member of the impromptu super group The Traveling Wilburys, immediately followed by the phenomenal success of Petty's 1989 debut solo record, Full Moon Fever. In the 1990s, Petty alternated albums between the Heartbreakers (Into the Great Wide Open in 1991 and She's the One in 1996) and solo (Wildflowers in 1994), all of which achieved great success in charting and airplay. During this era, the group also released a 1993 Greatest Hits compilation, which reached number 1 on the album charts and went Platinum a dozen times over, as well as Playback, a 1995 six-disc box set.
Echo was produced by Rick Rubin and recorded over the span of 1997 and 1998. Rubin had previously produced Wildflowers and She's the One and had enlisted the Heartbreakers in backing up the legendary Johnny Cash on his 1996 album , Unchained.

Echo

by

Tom Petty and the Heartbreakers
Released: April 13, 1999 (Warner Bros.)
Produced by: Tom Petty, Mike Campbell & Rick Rubin
Recorded: 1997–1998
Track Listing
Primary Musicians
Room at the Top
Counting on You
Free Girl Now
Lonesome Sundown
Swingin'
Accused of Love
Echo
Won't Last Long
Billy the Kid
I Don't Wanna Fight
This One's for Me
No More
About to Give Out
Rhino Skin
One More Day, One More Night
Tom Petty – Lead Vocals, Guitars, Harmonica
Mike Campbell – Guitars, Vocals
Benmont Tench – Piano, Keyboards
Howie Epstein – Bass, Vocals
Steve Ferrone – Drums


At over an hour of running time, Echo is a 15-song album with the length of a traditional double LP. It is book-ended by tracks which share the common theme of isolation and observation. The opening "Room at the Top" is a melancholy lament of lost love which Petty later described as one of the most depressing songs in rock history". The closing "One More Day, One More Night" is a bluesy ballad which concludes with Mike Campbell's understated blues rock guitar lead. In between these two tracks is an ebb-and-flow of songs of high and low moods and arrangements.
"Counting on You" is a crisp folk-rock track with a fine rotation of sonic ear candy including piercing guitar licks, electric piano and slight fiddle. Harkening back to the group's late seventies post-punk era, "Free Girl Now" is an upbeat rocker which comes down for a cool third verse with picked electric guitar and choppy organ by Benmont Tench. This song was the lead single from the album and it reached the Top 10 the Mainstream Rock charts. Tench's country-esque piano introduces the ballad "Lonesome Sundown" which hits some nice chords and features Petty's vocals at top notch, hitting some of the higher notes in his range. The next track, "Swingin'" is a fine example of Petty's interpretation of Bob Dylan's style, while "Accused of Love" is a bright and upbeat acoustic pop song. The title track, "Echo" is a sad acoustic ballad driven by Petty's melancholy lyrics.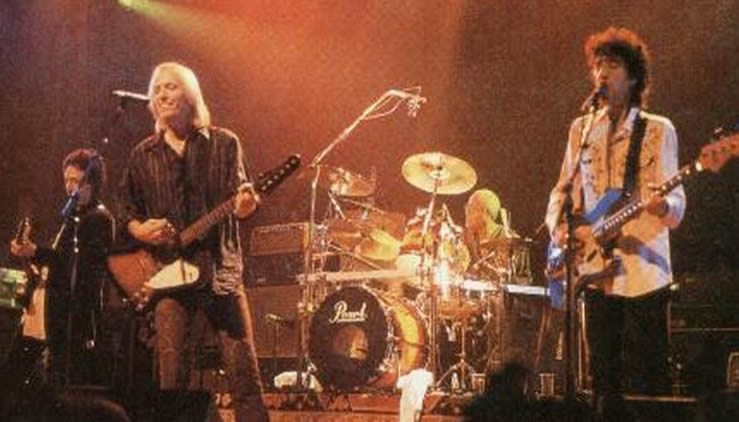 The album's latter half features some of its more interesting tunes, "Won't Last Long" features a blend of driving, double strummed acoustic guitars in the verse and complex vocals patterns in the chorus along with a mid section where everything come down to reveal a subtle, penny-whistle organ. The acoustic "Billy the Kid" is topped off by tremolo guitar and backed with strong drum beat by Steve Ferrone, the newest member of the Heartbreakers. Campbell's "I Don't Wanna Fight" is a unique song in the Heartbreaker's catalog, as this quasi-punk hard rocker is the only one to feature a lead vocal from someone other than Petty, while "This One's for Me" is a bright and melodic ode to self interest. The sad but beautiful ballad "No More" features strings, percussion and other sweet instrumentation and effects in the arrangement, as the mood comes back up on "About to Give Out", featuring a country-boogie piano lead by Tench. The album climaxes with the profound "Rhino Skin", with the sharp lyrics accompanied by deadened guitar accompanied by a moody string arrangement and Howie Epstein's sharp bass rhythms.
Sadly, Echo would be the final album Heartbreakers' album to feature Epstein,, who died in 2003 from a heroin overdose. Due to the painful memories associated with this album, Petty did not listen to this album for many years after its release, but was pleasantly surprised by its quality when his wife insisted they listen to during a long drive together.
~

Part of Classic Rock Review's celebration of 1999 albums.