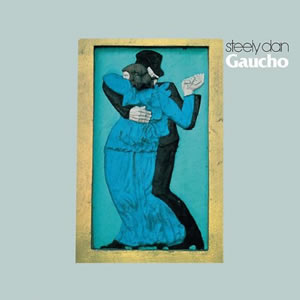 Steely Dan had a smooth and steady upward climb through their heyday in the 1970s, with an album-a-year released for six straight years and each gaining in popularity. The group's seventh album however, 1980's Gaucho, proved to be a laborious project which was plagued by personal, legal, and creative problems. When finally complete, the album is a quasi-concept of interrelated tracks with frank lyrical themes and simple (or at least simple for this band) rhythms and musical structures.
After the tremendous success of 1977's Aja, the group's core duo of Donald Fagen and Walter Becker decided to migrate from Los Angeles back to their native New York City to record a follow-up album with producer Gary Katz. However, their perfectionism in recording did not translate well for New York session musicians when recordings began in 1978. Despite using over 40 studio musicians during a year of intense recording, Fagen and Becker were still not satisfied and spent in excess of $100,000 extra just on innovative processing of the drum beats alone. Further complicating the process, the recording of a song intended for the album called "The Second Arrangement" was accidently erased in 1979 and had to be replaced by another track late in the process. The album's mixing sessions were no less intensive, expensive, and time consuming.
While recording the album, the group's label was involved in a merger, which caused some legal static and prevented Becker and Fagen from changing labels. Also during this time, Becker was hit by a car and broke his leg, resulting in extensive hospitalization. Becker also battled substance abuse and his girlfriend tragically died of a drug overdose in early 1980. Gaucho was finally released in November 1980, over three years after its predecessor.

Gaucho

by

Steely Dan
Released: November 21, 1980 (MCA)
Produced by: Gary Katz
Recorded: New York, Philadelphia, Los Angeles, 1978-1980
Side One
Side Two
Babylon Sisters
Hey Nineteen
Glamour Profession
Gaucho
Time Out of Mind
My Rival
Third World Man
Primary Musicians
Donald Fagen – Lead Vocals, Keyboards
Walter Becker – Bass, Guitars, Piano, Synths, Vocals
Rob Mounsey – Piano, Keyboards
Steve Khan – Guitars
The album opener, "Babylon Sisters" ,comes in with a cool, slow and deliberate rhythm with some embellishment by the electric piano of Don Grolnick. Subtle horns and reggae elements sneak in just prior to the commencement of the first verse, along with the famous "Purdie Shuffle" by drumming legend Bernard Purdie. The album's lyrical pace is also set here with simple but profound lines like "here comes those Santa Ana winds again."
"Hey Nineteen" is one of the finest sonic pieces ever, and where the group's meticulous production really pays off. A simple but completely infectious beat is complemented with each subtle instrument finding its own space, while the lyrics lightly discuss the disconnect between a thirty-something and a nineteen-year-old trying to make a go but finding little in common. The song peaked at #10, making it the last major hit for Steely Dan. The first side ends weakly with "Glamour Profession", a song with a close to moderate disco beat and slight funk and soul elements, but very little movement in its seven and a half minutes.
With the title track, "Gaucho", the album gets back on track. Driven by a sax riff in the intro and interludes and great bass by Becker, who also later adds a potent guitar lead to conclude the song. Steely Dan was sued by jazz pianist Keith Jarrett, for "borrowing" a bit from one of his songs. Fagen and Becker relented, making this the only song with a writing credit beyond those two. "Time Out of Mind" is poppy and catchy with a main chorus hook that builds nicely. However, the lyrical content is much darker with an unabashed celebration of one's first experience with heroin. "My Rival" is almost like a movie or television soundtrack with storytelling lyrics of determination and interesting sonic qualities with an interspersing old-fashioned Hammond organ and modern square-font synth being used. The album closes with "Third World Man", a slow and deliberate track which is  darker than the other material on the album.
In spite of its tortured conception, Gaucho was another solid hit for Steely Dan, reaching the Top Ten in the US and winning the 1981 Grammy Award for its engineering. However, the turmoil of the preceding years proved to be the breaking point and the group disbanded in mid 1981 and did not release another album for almost two solid decades.
~
Part of Classic Rock Review's celebration of 1980 albums.