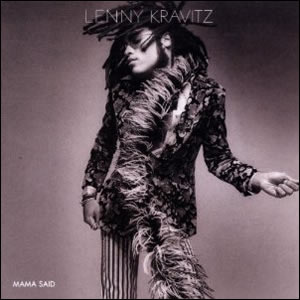 Lenny Kravitz followed up his brilliant 1989 debut, Let Love Rule with Mama Said two years later. Although many critics thought this sophomore effort paled in comparison, Mama Said was Kravitz's commercial breakthrough. The album was a stylistic evolution from his debut reflecting the changes in Kravitz's life. His recent breakup with wife Lisa Bonet made Mama Said an album filled with emotions of loss and sadness as well as the denial of such. Some have referred to this as Kravitz's "divorce album".
As the sole producer of the album and performer of most of its music, Kravitz was innovative and inspired, fusing elements of jazz, soul, rock, and dance music. He was also free to enlist musicians of his choosing to help out. Former high school classmate and current Guns n' Roses guitarist Slash helped out on a few songs. Kravitz even co-wrote a song with Sean Ono Lennon, the 15-year-old son of his musical idol John Lennon. The song was "All I Ever Wanted", on which Lennon also played piano. For the most part, however, Kravitz was pretty much a one man band on this album with engineer Henry Hirsch filling in on a variety of instruments where needed.
Some listeners have also noted that Kravitz moved forward a couple years in parallel from the late sixties influence fixations of Let Love Rule to the early seventies sound of Mama Said, which sounds like it could have been produced during that era.

Mama Said

by

Lenny Kravitz
Released: April 2, 1991 (Virgin)
Produced by: Lenny Kravitz
Recorded: 1990-1991
Track Listing
Primary Musicians
Fields Of Joy
Always On the Run
Stand By My Woman
It Ain't Over 'til It's Over
More Than Anything In This World
What Goes Around Comes Around
The Difference Is Why
Stop Draggin' Around
Flowers For Zoe
Fields Of Joy (Reprise)
All I Ever Wanted
When the Morning Turns to Night
What the Fuck Are We Saying?
Butterfly
Lenny Kravitz – Vocals, Guitars, Bass, Keyboards, Drums
Henry Hirsh – Bass, Keyboards, String Arrangements
Karl Denson – Saxophone
David Domanich – Drums
Slash joined in for the first two songs, the emotive "Fields of Joy" and the intense "Always On the Run". This latter song was a dedication to Kravitz's mother, actress Roxie Roker, and the default title song of the album. It was also co-written by Slash and combines some very funky Sly Stone-esque grooves and horns with some Hendrix-like heavy rock guitars.
The following two songs, seem to indicate non-acceptance of his faltering marriage, the Lennon-esque "Stand By My Woman" and the swirling Philly soul sound of "It Ain't Over Til It's Over". Both are very entertaining and melodic hits, with the latter featuring a pulsating bass line, a sitar riff, many strings, and the singer's flawless, high pitched vocals. The video for this song is nearly an exact replica of the Doors 1968 performance on The Smothers Brothers show, complete with Kravitz dressed nearly exactly the way Jim Morrison did for that performance.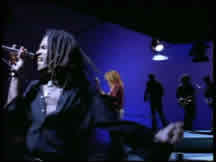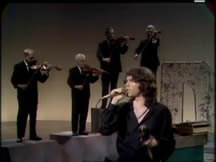 Other standouts on Mama Said are the quiet ballad "Flowers For Zoe," written for Kravitz's daughter , the anti-song anthem "When The Morning Turns To Light", and a psychedelic song with a vulgar name, "What The Fuck Are We Saying?". Kravitz returns to the high falsetto on the brilliant, jazz influenced "What Goes Around Comes Around", which gradually builds with guitars, horns, strings, and saxophone, while remaining cool and refrained throughout.
With the commercial success of Mama Said, Lenny Kravitz was poised to deliver a string of successful albums through the rest of the nineties, although the edge that he possessed on his first two releases would never quite return.
~
Part of Classic Rock Review's celebration of 1991 albums.