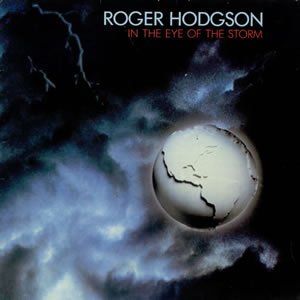 Although it was not a great commercial success, Roger Hogdson's debut album did well in advancing the compositional foundation that he established in his decade-plus as one of the leaders of Supertramp. On, In the Eye of the Storm, Hodgson wrote, arranged, produced, and performed just about every note and, more importantly, found the proper synthesis of Supertramp inspired prog rock and a contemporary, mid-eighties sound. The album reveals that Hodgson, who had always shared vocal and songwriting duties with Rick Davies through seven studio albums with Supertramp, is more than apt at carrying an entire LP by himself.
Following the breakout success of Supertramp's, Breakfast In America, and the worldwide tour that followed, Hodgson decided to relocate to remote Nevada City, California, where he built  Unicorn Studio. The rest of the group remained in Los Angeles through the recording of 1982's, Famous Last Words, which caused a bit of a logistical situation that effected the group harmony. Following a final tour, Hodgson decided to leave Supertramp and concentrate on solo projects.
Originally, Hodgson recorded an album titled, Sleeping With the Enemy, but he decided to withhold it at the last minute when he was dissatisfied with the overall quality. In this light, In the Eye of the Storm, was a second pass at much of the material with a more deliberative approach, resulting in a well-crafted and highly listenable album.

In the Eye of the Storm

by

Roger Hogdson
Released: December 7, 1984 (A&M)
Produced by: Roger Hodgson
Recorded: Unicorn Studios, Nevada City, California, 1983-84
Side One
Side Two
Had a Dream
In Jeopardy
Lovers In the Wind
Hooked On a Problem
I'm Not Afraid
Give Me Love, Give Me Life
Only Because of You
Primary Musicians
Roger Hodgson – Lead Vocals, Piano, Keyboards, Guitars, Bass
Jimmy Johnson – Bass
Michael Shrieve – Drums, Percussion
The album begins with a long and dramatic movie-like intro to "Had a Dream". Eventually, this gives way to thumping rhythms and a familiar bouncy piano that harkens back to Supertramp, as the song proper contains a high-end rock arrangement with anti-war lyrics. There is an interesting, laid back bridge section which is moody and melodic with a slow guitar lead before the track comes back full-fledged with a more traditional guitar lead into the final verse and long outro built on Hodgson's piano and guitar motifs. An edited version of "Had a Dream" was released as a single and reached number 48 on the charts.
The next song, "In Jeopardy", was also released as a single. Built on pleasant little piano riffs, call and response vocals, and percussive flourishes, the song contains a couple of modern synth leads but Hodgson. While the musical mood is light and upbeat, the song's theme continues the dark theme of uncertainty established by the opening track. After a minor key piano intro, which meanders a bit, "Lovers In the Wind", moves into a melodic but melancholy, soft-rock song with rich harmonies. This accessible, adult-contemporary track features fretless bass by Jimmy Johnson, adding a really smooth edge to the song, which was a huge hit in some Southeast Asian countries.
Perhaps the closest track to traditional Supertramp, "Hooked On a Problem" is built on the consistent ¾ beat during the verse and a pleasant and extra-melodic chorus. The song has a carnival-like feel with plenty of sonic treats, and is presented in a machine-like rotation with a cool organ and some slight saxophone by guest Scott Page. Still, the lyrics are a bit foreboding;
"I'm walking a tightrope with stars in my eyes, In danger of falling, won't you kiss me goodbye? Can somebody help me? What they trying to do?"
The album's original second side contains three extended tracks of over seven minutes each. "Give Me Love, Give Me Life" starts with a distant vocal and piano and eventually launches into an upbeat hook, built mostly on simple synth motifs. The song has almost a Meatloaf-like vibe in its emotional and theatrical mix. "I'm Not Afraid" is a mini-suite, starting with pure eighties synth-piano and the grittiest vocals on album. Following a bluesy lead section where Hogdson's lead guitar trades licks with the harmonica of Ken Allardyce, comes a long and rhythmic outro section. The album concludes with the uplifting piano track, "Only Because of You", which is almost religious in theme. The song contains a long mid-section with scat vocals by guest Claire Diament and some short synth and guitar leads by Hodgson before winding down to the final verse sections.
Although In the Eye of the Storm only reached number 46 on the Billboard album charts, it did perform far better elsewhere around the globe, and eventually sold over two million copies worldwide. Hodgson followed-up with a second solo record, Hai Hai, in 1987, before taking an extended break from recording to pursue other projects.
~

Part of Classic Rock Review's celebration of 1984 albums.