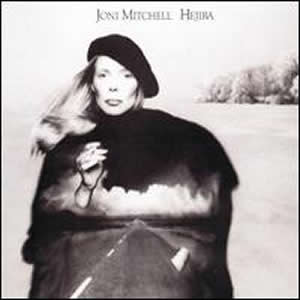 Joni Mitchell once said, "from time to time the river of my music needs new tributaries." And so it was with Hejira. She slowly tilted towards a more jazz influenced sound, but in a very original way. This album may be her best overall artistically, even though mainstream critics will always echo each other in insisting that 1971's Blue is Mitchell's masterpiece album. No doubt that is a fine album but it is a bit too "folk" for some of us rock fans. On Hejira the sound is forged by the finger-picked electric guitars of Joni Mitchell, the odd yet pleasant bass flourishes of Jaco Pastorius, and very minimal forms of any other instrumentation. This is all the canvas beneath the poetic and pretty vocals of Mitchell, whose extraordinary talents are at their height on this album.
The title is apparently a transliteration of the Arabic word heijra, which means "journey." This makes sense because the songs were written by Mitchell on a solo drive from Maine all the way across country to her home in Los Angeles. Having traveled solo across the country myself on a few occasions, I can relate to some of the scenery painted in these songs fueled by a bittersweet combo of restless adventure and surreal isolation. While many of the songs speak of specific places and events, the underlying theme of the album is set in the music itself. The inflections of Mitchell's voice capture the constant motion of the road and scenery. It is the languid occupation of the driver's seat while all the "action" takes place within the mind.
Remarkably, the album contains a healthy dose of musical diversity from these very sparse instrumental arrangements. Each song is guitar based because of the mobility of that instrument unlike Mitchell's other primary instrument, the piano. But it is really hard to lock many of the songs into a specific genre because they are truly original. For this reason many critics employed their favorite catch-all and deemed Hejira a "jazz" album, but I don't think this is totally accurate.

Hejira

by

Joni Mitchell
Released: November, 1976 (Asylum)
Produced by: Joni Mitchell
Recorded: A&M Studios, Hollywood, CA, 1976
Side One
Side Two
Coyote
Amelia
Furry Sings the Blues
A Strange Boy
Hejira
Song For Sharon
Black Crow
Blue Motel Room
Refuge of the Roads
Primary Musicians
Joni Mitchell – Lead Vocals, Acoustic & Electric Guitars
Jaco Pastorius – Bass
Larry Carlton – Acoustic & Electric Guitars
John Guerin – Drums
Bobbye Hall – Percussion
The album begins with its strongest and most forceful song "Coyote", with the triple sonic delights of the guitar strumming, fret-less bass, and very melodic vocals. It is clear from the start that this is nothing typical as the song turns on several dimes, never quite letting the listener relax into any specific groove. The lyrics tell of a presumed affair on one of the stops along her travels.
On the opposite end of the album, "Refuge of the Roads" contains more fantastic fretless bass by Pastorius, although this song is not quite as strong as others and kind of breaks off and whimpers with distant bass flourishes as the song (and album) concludes. "Amelia" contains a most poetic lyric and is closer to a traditional folk song than most songs on the album, but with its own share of alternate sounds. It is reminiscent of calmer folk songs by rock bands,such as "A Pillow of Winds" by Pink Floyd and "That's the Way" by Led Zeppelin. Mitchell's lyrics superimposed her own solo trip to that of Amelia Earhart, with a slight sense of trepidation.
"She was swallowed by the sky or by the sea
like me, she had a dream to fly…"

"Furry Sings the Blues" is probably the most controversial song on Hejira as it directly references (and somewhat mocks the style of) blues man Furry Lewis, who Mitchell had met the year before in Memphis. Problem is, Lewis despised the song and decried the unauthorized use of his name, at one point demanding to be paid royalties. Pastorius returns on "Black Crow", a faster paced, tension filled song that is accented by electric overtones, while "Blue Motel Room" takes a complete turn towards a night club style, slow and bluesy jazz standard with Chuck Domanico on bass and John Guerin on drums.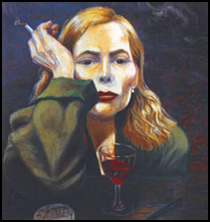 "Song for Sharon" is of epic length at nearly nine minutes and harkens back to the long folk pieces by Bob Dylan, as this piece focuses on the vocals and lyrics more than any other. However, it also contains a catchy swing beat and some nice female background vocals and refers to a trip to the famous Mandolin Brothers music store in Staten Island, New York. The title track, "Hejira," is perhaps the best single example of the fantastic sound scape of this album of the same name. It features some clarinet by Abe Most, more wild bass motifs by Pastorius and a really cool picked electric riff, which gives the feeling of traveling more than anywhere else.
By the time Joni Mitchell wrote and recorded Hejira, she had already surpassed the apex of her career as far as commercial sales and critical acclaim. Consequently, the album did not sell as well as her earlier, more "radio friendly" albums. However, the test of time has shone on this album favorably and Mitchell herself believes the album to be a unique and personal gem stating, "I suppose a lot of people could have written a lot of my other songs, but I feel the songs on Hejira could only have come from me."
~

Part of Classic Rock Review's celebration of 1976 albums.