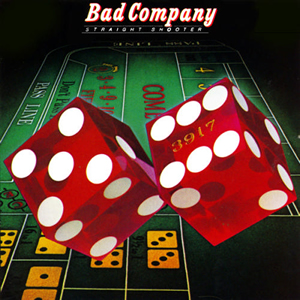 Bad Company returned in 1975 with their sophomore album, Straight Shooter, which built on the successful formula of their 1974 debut album while adding some variety in arrangement. The quartet built on their solid rock foundation with the fusion of several types of sub-genres added to the mix. Further, the success of two consecutive albums proved that Bad Company was a solid force in its own right and would remain in the top echelon of pop rock for years to come.
Prior to Bad Company's formation, each of the four member of this "super group" had success with previous acts. Lead vocalist Paul Rodgers and drummer Simon Kirke originated in the group Free, while guitarist Mick Ralphs was from Mott the Hoople and bassist Boz Burrell came from King Crimson. Managed by Led Zeppelin's manager Peter Grant, the group became the first to release an album on the new Swan Song label in 1974, which found instant critical and commercial success.
Just three months after the release of the debut month, the group began recording a follow-up album at a remote castle in England using a mobile unit, engineered by Ron Nevison. In contrast to the simple, sometimes stark hard rock of Bad Company, this second album adds much variety with the addition of acoustic guitars, keyboards and occasional strings. Along with the album's eight tracks, the group recorded a song called, "Whisky Bottle", which eventually ended up as a B-side to a single.

Straight Shooter

by

Bad Company
Released: April, 1975 (Swan Song)
Produced by: Bob Dylan
Recorded: Clearwell Castle, Gloucestershire, England, September 1974
Side One
Side Two
Good Lovin' Gone Bad
Feel Like Makin' Love
Weep No More
Shooting Star
Deal With the Preacher
Wild Fire Woman
Anna
Call on Me
Group Musicians
Paul Rodgers – Lead Vocals, Guitars, Piano
Mick Ralphs – Guitars, Keyboards
Boz Burrell – Bass
Simon Kirke – Drums
The album thunders in with Ralphs', "Good Lovin' Gone Bad", a song which was released as a single ahead of the album. This is a strong, pure rock, shooter with some slight compositional caveat in the pre-chorus where Burrell's bass temporarily takes the forefront in this otherwise guitar-dominated song. Of particular note on this song is Rodgers' vocals, which are strained in rock n roll excess during the verses and choruses but come back down to Earth during pre-chorus sections. "Feel Like Makin' Love" offers much contrast to first song, from the bright acoustic intro, to the Country-esque verses with somber lead vocals, to the choruses which explode with Ralph's distorted electric riffs. The true beauty of this popular song is its incredible contrast within, which all somehow works so harmoniously, especially near the end where a cool, laid back, minimal guitar lead moves to a long, building coda crescendo.
Written by drummer Simon Kirke, "Weep No More" starts with some heavy, theatrical orchestration, which almost sounds like it was influenced by the music of Queen. From there, it settles into a steady, piano-driven rocker with a heavy presence of organ and overdubbed, bluesy lead guitar during the verses. Rodgers', "Shooting Star" is the climax of the first side, the Straight Shooter album, and possibly the Bad Company library as a whole. Lyrically, this timely anthem addresses the rock n' roll lifestyle, which all too often leads to untimely death. Musically, the intro has wild tremolo guitar effects, the verses have folksy acoustic rhythms, and the choruses feature strong, electric riffs, hooks and harmonized vocals. The rhythms are strong by Burrell and Kirke throughout, which pretty much means everyone playing at their best on this track, while the band as whole employs great restraint, which lets the song unfold seamlessly.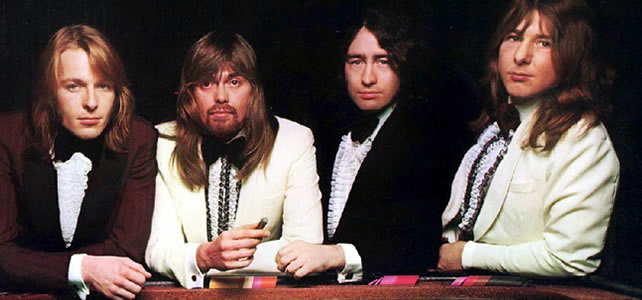 The lesser known second side begins with a couple of collaborations between Rodgers and Ralphs. "Deal With the Preacher", is a hard rocker with sharp, bluesy guitars and soulful vocals. The song does later dissolve to a calmer bridge section before coming back fully as an unabashed rock jam as the tone of Ralphs' guitar seems to predate that of Eddie Van Halen by several years. "Wild Fire Woman" seems to try a bit too hard to be a pop anthem, especially during Rodger's stratospheric chorus vocals, but falls just a little short of this group's compositional abilities.
The album concludes with a couple of calmer numbers. Kirke's, "Anna", is a re-recording of a song from one of his earlier groups as a moderate love ballad about a "simple woman for a simple man". Driven by electric piano, it is Kirke's exceptionally strong and assertive drumming which makes this song distinct from any typical mid-seventies soul ballad. "Call on Me", the closing track written by Rodgers, is another calm, electric piano song with subtle musical flourishes. The good chord progression through the verses alternates with a dramatic sound-sphere interlude which, during the extended final stretch, borrows the bassline from The Beatles' "While My Guitar Gently Weeps", while Ralphs' lead guitar lazily floats in the background.
Straight Shooter reached the identical lofty spot of #3 in the UK, US, and Canada and it was certified gold within a month of its release. Although slightly less successful than its predecessor, the album has remained an indelible classic for Bad Company four decades after its release.
~

Part of Classic Rock Review's celebration of 1975 albums.