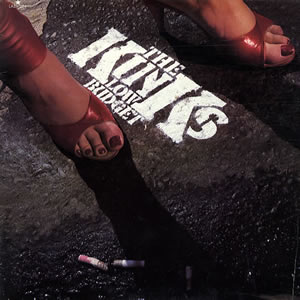 The Kinks closed out their very prolific 1970s with Low Budget, their most commercially successful album of the decade. Composer, producer, and frontman Ray Davies put together a collection of songs that form a very loose concept album. Davies explored both the macro condition of the outside world (economic recession, soaring inflation, energy crisis) as well as the micro conditions of individuals. Along the way, Davies goes to the extreme to make his point without ever taking himself too seriously. Musically, the album returns to a simple rock formula similar to what the Kinks used in the mid 1960s, but with the added elements of the contemporary punk and new wave genres added to the mix.
Over the course of the 1970s, the Kinks released one album per year, starting with the Top 40, Lola Versus Powerman and the Moneygoround, Part One in November 1970. However, many of these did not fare as well commercially, as Davies explored many various genres, ranging from music hall to Caribbean to Dixieland to country and bluegrass. Davies also explored the theatrical style with the two-part rock opera Preservation and wrote music intended for a television project that became the album, A Soap Opera, in 1975. The following year, The Kinks recorded their final theatrical work, Schoolboys in Disgrace, but soon after found themselves without a recording contract. In 1978 Van Halen achieved a hit with a cover of "You Really Got Me", which signaled the start of a commercial resurgence for The Kinks. The non-album single "Father Christmas" and the 1978 album Misfits, saw the band simplifying their sound back to basic rock and roll.
Low Budget was the seventeenth studio album for the band and, according to Davies, recorded during their most tranquil period. The Kinks had become infamous for inner turmoil and personnel shifts throughout their long career. Lead guitarist and Ray's younger brother, Dave Davies, was often involved with these spats with his older brother, but during the end of the seventies everything was going smoothly as they moved to New York to work on Low Budget. Compared to past Kinks' albums, this one was done quickly to capture a lot of qualities that are lost when a project is too streamlined.

Low Budget

by

The Kinks
Released: July 10, 1979 (Arista)
Produced by: Ray Davies
Recorded: The Power Station & Blue Rock Studios, New York, January–June 1979
Side One
Side Two
Attitude
Catch Me Now I'm Falling
Pressure
National Health
(Wish I Could Fly Like) Superman
Low Budget
In a Space
Little Bit of Emotion
A Gallon of Gas
Misery
Moving Pictures
Group Musicians
Ray Davies – Lead Vocals, Guitars, Keyboards  |  Dave Davies – Guitars, Vocals
Jim Rodford – Bass, Vocals  |  Mick Avory – Drums
Opening track "Attitude" is rocking in tempo with a pure punk "attitude" during the verse before it moves into more melodic sections through the complex chorus, with lyrics that are simple and advice-giving. "Catch Me Now I'm Falling" is more indelible than the opener, starting as piano ballad, but soon breaking into a stronger riff which almost plagiarizes The Rolling Stones' "Jumpin' Jack Flash". With the reprise about "Captain America calling", the overall theme of the song looks at fair weather friends on the international stage as an Englishman looks at the apparent desertion of the world as America goes through its stiffest challenge,
"I stood by you through all of your depressions and I lifted you when you were down / Now it's your chance to do the same for me, I call your office and your secretary tells me that you've gone out of town…"
The frantic "Pressure" is quasi-punk and quasi-old-time-rock-n-roll and probably the best track on the album for bassist Jim Rodford. Lyrically, it looks at the common man being beset by situations not of his own making. After "National Health", a grinding song with a real new wave vibe, comes the slightly disco influenced "(Wish I Could Fly Like) Superman". Here, an arpeggio synth pattern accompanies the steady drum beat of Mick Avory, with guitars, effects, and melodic vocals above. The lyrics move from fantasy to the reality of depressed economy,
"I switched on the radio and nearly dropped dead, the news was so bad that I fell out of bed / There was a gas strike, oil strike, lorry strike, bread strike, got to be a Superman to survive…"
The album's second side begins with the title track "Low Budget", which is about as lyrically cheap as its title, but is musically entertaining with Dave Davies' grinding, distorted guitars and brother Ray's equally gritty vocals. "In a Space" is a good, melodic rocker with nice harmonies and a mixture of guitars, bouncy bass, and synths, and lyrics which literally speak about taking up space. "Little Bit of Emotion" is held together by a steady acoustic guitar with nice, bluesy electric overdubs. Later on the guitar of Dave Davies and the saxophone of Nick Newall trade leads. Here the lyrics are a bit trite but poppy and slightly comical,
"Look at that lady dancing around with no clothes, she'll give you all her body that's if you've got the dough / She'll let you see most anything but there's one thing that she'll never show…"
"A Gallon of Gas" is a pure tongue-in-cheek track about the rising costs of fuel in 1979 (back then they peaked at near $1.00 per gallon!) The music is bluesy throughout while vocals are more whimsical to give the song a distinct edge. "Misery" continues as a partial medley with the previous track. The music is excellent, upbeat rock with some boogie piano by Ray Davies, while his lyrics encourage the antagonist to loosen up and to not "take yourself so seriously". The album concludes with "Moving Pictures", a fine track built like a standard late seventies pop song, with an almost disco beat, quasi funk guitar riff, decorative synth flourishes, and smooth vocals with accents of soprano notes. This makes this unlike previous Kinks songs and leaves the listener with an appreciation for this album.
Low Budget became the highest charting studio album for The Kinks in the US, peaking at #11 on the charts. The group supported the album with an extensive tour which spawned the 1980 live record, One For the Road, and set the group up for further success into the 1980s.
~

Part of Classic Rock Review's celebration of 1979 albums.