This week Classic Rock Review joins the celebration of the 45th Anniversary of the historic 1969 Woodstock Music Festival. In conjunction with Top 9 Lists, we present a list of the Top 9 Rock Festivals of all time, along with a bonus list of Top 9 Single Day, Single Location Concerts.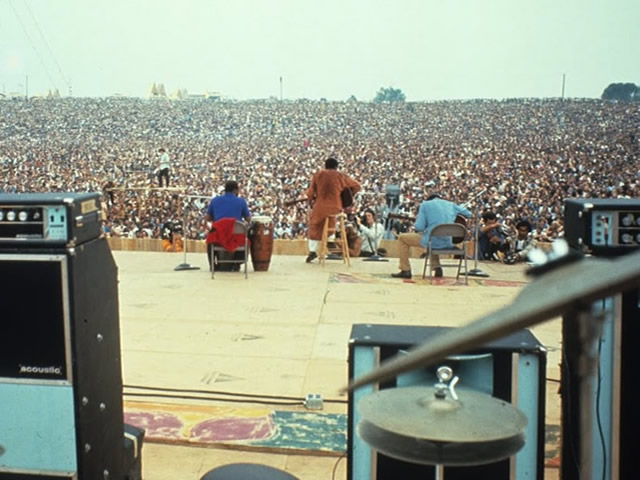 1. Woodstock
August 15-18, 1969 Bethel, New York
This remains the mother of all music festivals, held at a 600-acre dairy farm owned by Max Yasgur. A series of coincidental events unfolded which effected the location and operation of this festival, which grew to become a "free" event for over 400,000 attendees. Regarded as a pivotal moment in popular music history, 32 acts performed during the rainy weekend, starting with Richie Havens, and concluding with a memorable performance by Jimi Hendrix as the crowd dispersed mid-morning on Monday, August 18th. Woodstock was immortalized in a later documentary movie as well as a song by Joni Mitchell, who was one of many major acts that did not attend by later regretted it.
Woodstock Performers: Richie Havens, Sweetwater, Bert Sommer, Tim Hardin, Ravi Shankar, Melanie, Arlo Guthrie, Joan Baez, Quill, Country Joe McDonald, Santana, John Sebastian, Keef Hartley Band, The Incredible String Band, Canned Heat, Mountain, Grateful Dead, Creedence Clearwater Revival, Janis Joplin with The Kozmic Blues Band, Sly and the Family Stone, The Who, Jefferson Airplane, Joe Cocker and The Grease Band, Ten Years After, The Band, Johnny Winter, Blood, Sweat & Tears, Crosby, Stills, & Nash, Paul Butterfield Blues Band, Sha Na Na, Jimi Hendrix and Gypsy Sun Rainbows
Buy Woodstock soundtrack
Buy Woodstock: Three Days of Peace & Music DVD
2. Monterey Pop Festival
June 16-18, 1967 Monterey, California
Credited as the event which sparked the "The Summer of Love", The three-day Monterey International Pop Music Festival had a rather modest attendance but was soon recognized for its importance to the performers and significance to the sixties pop scene. The lineup consisted of a blend of rock and pop acts with memorable performances by The Who and Jimi Hendrix Experience.
Monterey Pop Performers: Jefferson Airplane, The Who, The Jimi Hendrix Experience, Janis Joplin, Otis Redding, Booker T. & the MG's, Ravi Shankar, The Mamas and the Papas
Buy Monterey Pop Festival Live album
3. Live Aid
July 13, 1985 London and Philadelphia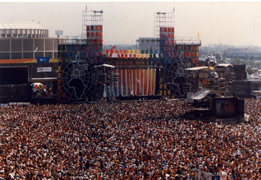 Still the largest benefit concert 30 years on, Live Aid was a also the first live multi-venue event, with over 70,000 at London's Wembley Stadium and close to 100,000 at JFK Stadium in Philadelphia. Organized by musician Bob Geldof of the Boomtown Rats as relief for the Ethiopian famine, the concert evolved from Band Aid, a multi-artist group who recorded "Do They Know It's Christmas?" in 1984. Live Aid was also one of the largest worldwide television broadcasts, with an estimated audience of 1.9 billion in about 150 nations. Memorable performances and moments included those by Queen, U2, Dire Straits, a reunited Black Sabbath, and a loose reunion by members Led Zeppelin, the first since their breakup in 1980.
Live Aid Performers: Status Quo, The Style Council, The Boomtown Rats, Adam Ant, Spandau Ballet, Elvis Costello, Nik Kershaw, Sade, Sting, Phil Collins, Branford Marsalis, Howard Jones, Bryan Ferry, David Gilmour, Paul Young, U2, Dire Straits, Queen, David Bowie, Thomas Dolby, The Who, Elton John, Paul McCartney, Band Aid, Joan Baez, The Hooters, Four Tops, Billy Ocean, Black Sabbath, Run–D.M.C., Rick Springfield, REO Speedwagon, Crosby, Stills and Nash, Judas Priest, Bryan Adams, The Beach Boys, George Thorogood and the Destroyers, Simple Minds, The Pretenders, Santana, Ashford & Simpson, Madonna, Tom Petty and the Heartbreakers, Kenny Loggins, The Cars, Neil Young, The Power Station, Thompson Twins, Eric Clapton, Led Zeppelin (announced as "Jimmy Page, Robert Plant, John Paul Jones, Tony Thompson, Paul Martinez, Phil Collins"), Duran Duran, Patti LaBelle, Hall & Oates, Mick Jagger, Eddie Kendricks, David Ruffin, Tina Turner, Bob Dylan, Keith Richards, Ronnie Wood, USA for Africa
4. Isle of Wight Festival
August 26-30, 1970 Isle of Wight, UK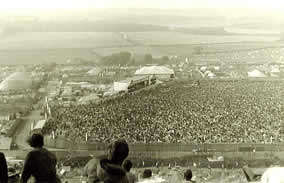 In sheer numbers, the 1970 Isle of Wight Festival may be the largest ever, with estimates of over 600,000, which is an increase of about 50% over Woodstock. Promoted by local brothers Ronnie, Ray and Bill Foulk, the 5-day event caused such logistical problems (all attendees had to be ferried to the small island) that Parliament passed the "Isle of Wight Act" in 1971, preventing gatherings of more than 5,000 people on the island without a special license. Memorable performances included late career appearances by Jimi Hendrix and The Doors, and The Who, who released their entire set on the 1996 album Live at the Isle of Wight Festival 1970.
Isle of Wight 1970 Performers: Judas Jump, Kathy Smith, Rosalie Sorrels, David Bromberg, Redbone, Kris Kristofferson, Mighty Baby, Gary Farr, Supertramp, Howl, Black Widow, The Groundhogs, Terry Reid, Gilberto Gil and Caetano Veloso, Fairfield Parlour, Arrival, Lighthouse, Taste, Rory Gallagher, Chicago, Procol Harum, Voices of East Harlem, Cactus, John Sebastian, Shawn Phillips, Joni Mitchell, Tiny Tim, Miles Davis, Ten Years After, Emerson, Lake & Palmer, The Doors, The Who, Sly & the Family Stone, Melanie, Good News, Ralph McTell, Heaven, Free, Donovan, Pentangle, The Moody Blues, Jethro Tull, Jimi Hendrix, Joan Baez, Leonard Cohen, Richie Havens
Buy Message to Love, The Isle of Wight Festival DVD
5. Ozark Music Festival
July 19-21, 1974 Sedalia, Missouri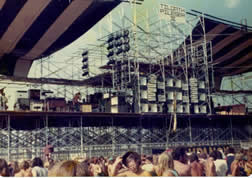 "No Hassles Guaranteed" was the motto of the Ozark Music Festival, held at the Missouri State Fairgrounds in 1974. While this festival offered an impressive lineup of artists as well as a crowd upwards of 350,000 people, the Missouri Senate later described the festival as a disaster, due to the behaviors and destructive tendencies of the crowd.
Ozark Music Festival Performers: Bachman–Turner Overdrive, Aerosmith, Premiata Forneria Marconi, Blue Öyster Cult, The Eagles, America, Marshall Tucker Band, The Nitty Gritty Dirt Band, Boz Scaggs, Ted Nugent, David Bromberg, Leo Kottke, Cactus, The Earl Scruggs Revue, Lynyrd Skynyrd, Electric Flag, Bob Seger & the Silver Bullet Band, Joe Walsh and Barnstorm, The Souther Hillman Furay Band, The Ozark Mountain Daredevils, Charlie Daniels Band, REO Speedwagon, Spirit
6. US Festival
May 28-30, 1983 Devore, California
Steve Wozniak's US Festivals were staged on two occasions in September 1982 and May 1983. The second of these was packed with a lineup of top-notch eighties acts who performed in an enormous state-of-the-art temporary amphitheatre at Glen Helen Regional Park.
1983 US Festival Performers: Divinyls, INXS, Wall of Voodoo, Oingo Boingo, The English Beat, A Flock of Seagulls, Stray Cats, Men at Work, The Clash, Quiet Riot, Mötley Crüe, Ozzy Osbourne, Judas Priest, Triumph, Scorpions, Van Halen, Los Lobos, Little Steven & the Disciples of Soul, Berlin, Quarterflash, U2, Missing Persons, The Pretenders, Joe Walsh, Stevie Nicks, David Bowie
7. The Crossroads Guitar Festival
June 4-6, 2004 Dallas, Texas
Starting in 2004, the Crossroads Guitar Festivals have been held every three years to benefit the Crossroads Centre for drug treatment in Antigua, founded by Eric Clapton. These concerts showcase a variety of guitarists, with the first lineup at the Cotton Bowl stadium in 2004 featuring some legends along with up-and-comers hand-picked by Clapton himself.
2004 Crossroads Guitar Festival Performers: Eric Clapton, Johnny A, Vishwa Mohan Bhatt, Ron Block, Booker T. & the M.G.'s, Doyle Bramhall II, JJ Cale, Larry Carlton, Robert Cray, Sheryl Crow, Bo Diddley, Jerry Douglas, David Honeyboy Edwards, Vince Gill, Buddy Guy, David Hidalgo, Zakir Hussain, Eric Johnson, B.B. King, Sonny Landreth, Jonny Lang, Robert Lockwood, Jr., John Mayer, John McLaughlin, Robert Randolph, Duke Robillard, Carlos Santana, Hubert Sumlin, James Taylor, Dan Tyminski, Steve Vai, Jimmie Vaughan, Joe Walsh, ZZ Top, David Johansen
Buy Eric Clapton: Crossroads Guitar Festival 2004 DVD
8. Live 8
July 2, 2005 locations world wide
Held 20 years after he organized Live Aid, Bob Geldof's Live 8 was even more ambitious, being held in nine different locations around the world on the same day. Timed to coincide with the G8 conference in Scotland that year, the goal was to raise money to fight poverty in Africa. The most memorable moment from the concerts was at Hyde Park in London where the classic lineup of Pink Floyd reunited for the first time in over two decades.
Live 8 Performers: U2, Paul McCartney, Annie Lennox, Mariah Carey, R.E.M. The Killers, The Who, UB40, Pink Floyd, Elton John, Bob Geldof, Velvet Revolver, Madonna, Coldplay, Robbie Williams, Will Smith, Alicia Keys, The Black Eyed Peas, Kanye West, Linkin Park, Jay-Z, Rob Thomas, Sarah McLachlan, Stevie Wonder, Maroon 5, Deep Purple, Neil Young, Buck Cherry, Bryan Adams, Mötley Crüe, Brian Wilson, Green Day, a-Ha, Roxy Music, Dido, Peter Gabriel, Snow Patrol, The Corrs, Zola, Lucky Dube, Jungo, Pet Shop Boys, Muse, The Cure
9. Woodstock '94
August 12-14, 1994 Saugerties, New York
Organized to commemorate the 25th anniversary of the original Woodstock festival, Woodstock '94 was promoted as "3 More Days of Peace and Music". in fact, this concert took place near the originally intended location of that first show and other similarities such as common performers, similar crowd size, rain, and mud.
Woodstock '94 Performers: Blues Traveler, Candlebox, Collective Soul, Jackyl, King's X, Live, Orleans, Sheryl Crow, Violent Femmes, Joe Cocker, Blind Melon, Cypress Hill, Rollins Band, Melissa Etheridge, Crosby, Stills, & Nash, John Sebastian, Nine Inch Nails, Metallica, Aerosmith, Country Joe McDonald, Sisters of Glory, Arrested Development, Allman Brothers Band, Traffic, Santana, Green Day, Paul Rodgers Rock and Blues Revue, Spin Doctors, Porno For Pyros, Bob Dylan, Red Hot Chili Peppers, Peter Gabriel
Read more on Woodstock '94 from our recent Comebacks and Reunions special feature
---
Bonus Top 9 List
Best Single Day, Single Location Shows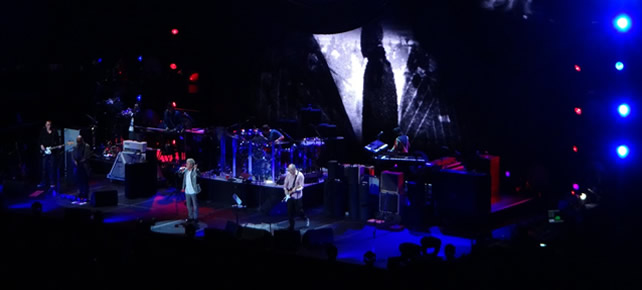 The Concert for New York City

October 20, 2001 New York, NY

The Band's Last Waltz

November 25, 1976 San Francisco, CA

Atlantic Records 40th Anniversary Celebration

May 14, 1988 New York, NY

Concert for Bangladesh

August 1, 1971 New York, NY

Knebworth Festival

June 30, 1990 Knebworth, UK

Texxas Jam

July 1, 1978 Dallas, TX

Farm Aid (I)

September 22, 1985 Champaign, IL

Canada Jam

August 26, 1990 Bowmanville, Ontario

Altamont Free Concert

December 6, 1969 Tracy, CA